One of the difficulties of writing online is that the audience may not understand your point or the emotion you're trying to express.
What you need here is something that can help to cheer up your posts, engage the audience and portray your emotions
Emojis are exactly what we're talking about. 
Emojis, regardless of who your audience is, always convey some kind of meaning to them and help to engage them in your brand promotion.
Let's find out what emojis are and how to use TikTok emojis in your video.
What are TikTok emojis?
Emojis are small icons that represent an emotion, symbol, or object. Emoji are frequently used in communication platforms such as social networking apps and text messaging systems.
Emojis have appeared on every social media platform over the past few years, including Instagram, Facebook, and now TikTok.
Where did emojis come from?
The origins of emojis were humble. In fact, it all started with something simple and, to some, uninteresting: punctuation.
Emoji, as we know them today, originated in Japan. In fact, the term "emoji" literally means "image character." 
Emojis were first used by a man named Shigetaka Kurita and the company he worked for, Docomo, in the 1990s.
They began as a derivation of standard typographic emoticons that were popular on the internet at the time. These images gave the emoticons personality and added another level of self-expression to online communications.
Emoji became popular around the world in 2012, when Apple released their iOS 6 operating system, which included the ability to send icons in text messages. 
Emoji vs. emoticons
The idea for emojis was inspired by the emoticons of the 1990s, but the two words still represent two distinct sets of characters.
The distinction is actually quite simple: emoticons are combinations of keyboard symbols such as letters and punctuation marks, whereas emoji are pictures.
Emojis enhance the depth and realism of previous emoticons. Unlike emoticons, emoji can be customized with different skin tones, hair colors, and textures.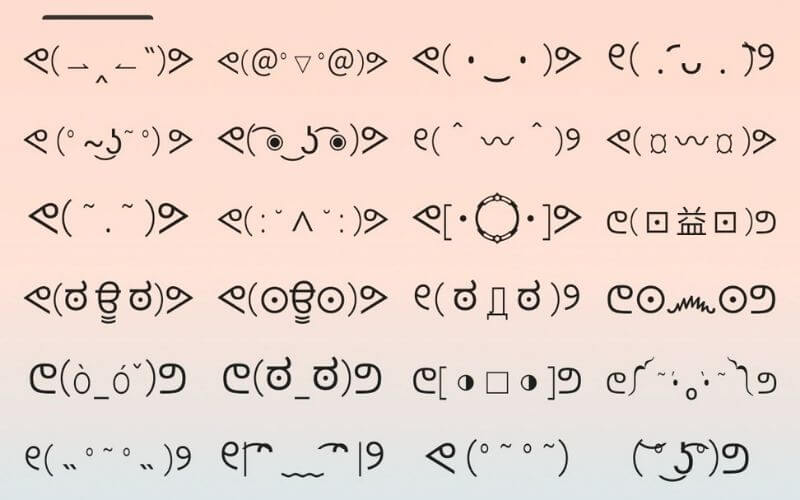 Why should we use TikTok emojis?
Emoji are used to add depth and context to a message because they typically represent a specific feeling or thought. Emoji are frequently used by people to: 
Add excitement to a message,

Express a specific emotion,

Convey what stand-alone text cannot, or 

Enhance the text in their messages
Emoji are meaningful in both daily life and marketing strategies. On average, brands that use emoji in their email subject lines see a 45% increase in open rates. The primary reason for this is that emojis represent a universal language which almost every customer can associate with.
Here are the main reasons why you should use TikTok emojis in your video caption:
A better way to connect with customers

: Emojis allow businesses to introduce a more "human" experience to online interactions. Companies use emojis to convey the nuances of face-to-face interactions by mimicking facial expressions and emotions.

Improve communication

: It is often difficult to determine the tone of voice or meaning of a message written on a smartphone or a social media post. Emoji help to contextualize information and demonstrate how a person was feeling as they typed.

Show personality

: Emojis are widely used by brands today to convey the human side of their businesses. Emoji give companies a playful side in a world where customers struggle to trust faceless corporations.

Stimulate natural conversations

: Using emoji to convey feelings frequently persuades others to respond with their own emotions. Many social media platforms, especially TikTok, are now using emojis as "reactions" to allow users to express their feelings about posts without using words.
How are TikTok emojis different from other emojis?
TikTok's emojis are distinct from those used on Apple and Android devices. These are more graphic and flat, with less detail. There are no emojis for foods or objects like fruits or balls.
Furthermore, no matter what phone operating system you use, the TikTok emojis always seem the same.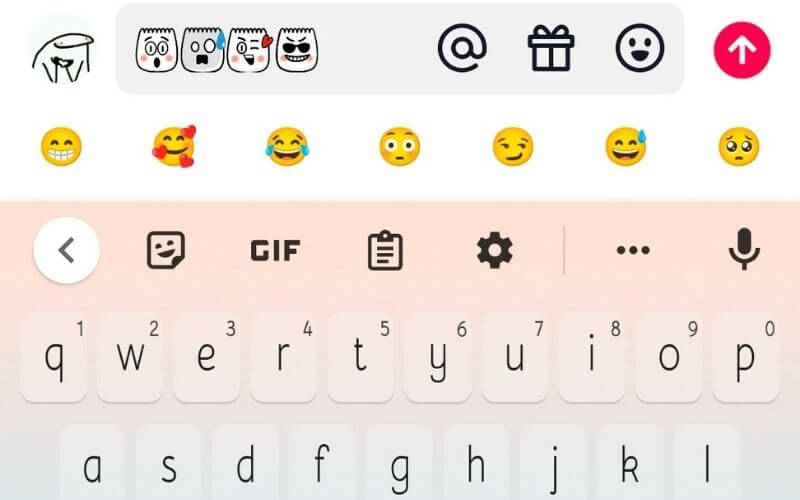 It's really easy to get access to the TikTok's hidden emojis from your keyboard.
Step 1: Browse the TikTok emojis list and select your favorite emoji
Step 2: Copy and paste the TikTok emojis code into your comment section, and the emoji will automatically appear.
Or you can simply type the emoji code between two square brackets [like this], your TikTok emojis will and your TikTok emoji will appear right away.
Available TikTok emoji codes for you to try
After learning how to use hidden TikTok emojis, let's give it a try with the list of TikTok emoji codes below.
| | |
| --- | --- |
| [smile] | |
| [happy] | |
| [angry] | |
| [cry] | |
| [embarrassed] | |
| [surprised] | |
| [wronged] | |
| [shout] | |
| [flushed] | |
| [yummy] | |
| [complacent] | |
| [drool] | |
| [scream] | |
| [weep] | |
| [speechless] | |
| [funnyface] | |
| [laughwithtears] | |
| [wicked] | |
| [facewithrollingeyes] | |
| [sulk] | |
| [thinking] | |
| [lovely] | |
| [greedy] | |
| [wow] | |
| [joyful] | |
| [hehe] | |
| [slap] | |
| [tears] | |
| [stun] | |
| [cute] | |
| [blink] | |
| [disdain] | |
| [astonish] | |
| [rage] | |
| [cool] | |
| [excited] | |
| [proud] | |
| [smileface] | |
| [evil] | |
| [angel] | |
| [laugh] | |
| [pride] | |
| [nap] | |
| [loveface] | |
| [awkward] | |
| [shock] | |
In short
Emojis have a long history of development and evolution. It is now popular on social media platforms such as Facebook, Instagram, and TikTok.
Although emoticons inspired the creation of emojis, they are very different from one another.
TikTok emojis, unlike other emojis, can be used on the platform by typing the emoji's code. They are also unchanged if you switch to another device.
Using TikTok emojis will add a lot of value to your videos, especially if you're using TikTok to promote your business. 
In other words, TikTok emojis give brands  a better way to communicate with their customers, engage others to the conversations and drive the responses.
New to TikTok? Perhaps you would love to learn more about how to use TikTok filters and effects to attract more viewers and promote your products more effectively.