Unlike selling products on Etsy, selling through Shopify is more flexible. You can design the banners for your Shopify store with your own designs, and you don't have to follow the rules like the specified Etsy thumbnail size.
Shopify Banner Sizes are an extremely important factor affecting customer experience.  Visual content has a great influence on the emotions and decisions of buyers towards people.
The following post will help you understand the importance of banner optimization and how to do it on Shopify.
Why are Shopify Banner Sizes so important?
An appealing product description is good. However, images are always the first thing customers notice when buying online. 
To successfully leave a good impression on customers, you need to optimize Shopify Banner Sizes as much as possible.
Increase customer experience
Because each platform has a unique structure, the banner will appear differently on each platform. As a result, the appropriate Shopify banner size for each platform will be variable. Customers will not be interested and will ignore products with blurry images.
Therefore, you should pay attention to adjusting the size and subject of the photos accordingly before updating them on your online store. The consistency in visuals will make your product pages look more professional.
However, clear banners will come with large image sizes, leading to slow page loading speed. Therefore, e-commerce platforms all have their own optimal banner sizes for a better customer experience.
Paying attention and following the optimized banner sizes of the platform will help your store impress buyers as well as not interrupt the buying process.
Display your product properly 
A properly sized banner also helps to show your product properly. The right size and resolution will make the product look more realistic.
Customers always prioritize banners that are clear and show all aspects of the product. If the picture does not depict the true proportions of the product in real life, the buyer is likely to be disappointed after receiving the item because it doesn't look like the one in your image.
Influencing purchasing decisions
Bright North, a data feed technology vendor, reported in 2014 that high-quality product pictures converted three times better than low-quality pictures.
Visual is an extremely important factor affecting the purchasing decision of customers. Good experiences with banners will make buyers trust your products more.
The right Shopify Banner Sizes will help customers get the best view of your brand and products. From there they can make purchasing decisions easier and faster.
Detailed Instructions for Shopify Banner Sizes
To build an online store on Shopify you need to pay attention to many different types of banners. 
The dimensions you'll need to make the perfect Shopify banner size will vary depending on where you're going to put it and what theme you're using.
Don't forget to take note of recommended Shopify Banner Sizes below to make your store look better.
Shopify Banner Sizes (Slideshow Image sizes)
These are banners, blog-featured photos, or complete store backdrop images that are displayed on the homepage hero section as image slides (also known as slideshow images).
Recommended size: 1800 or 1200 x 800 px
Resolution: 960KB
Shopify Feature Promotion Image Size
These are photos designed to attract customers to discover your hot offers and other things currently on sale.
Recommended size: 840 x 840 px
Resolution: 882KB
These are the pictures that appear when a Shopify expanded menu is triggered.
Recommended size: 360 x 640 px
Resolution: 288KB
These are the images you'll use in the header block. They could be a backup logo or a promotion for a forthcoming event.
Recommended size: Height no more than 120 px
Resolution: 144KB
Newsletter/discount popup
These are popups that encourage customers to take a specific activity such as learning about new products or purchasing a combo of things they're interested in.
Recommended size: 425 x 575 px
Resolution: 250KB
Which is the most suitable Shopify image format for you?
Except for Shopify Banner Sizes, store owners also need to pay attention to the format of images to be able to optimize the design and user experience of their online store.
Depending on the using purpose, you should choose for your online store the most appropriate image format for your Shopify banners.
Let's take a look at the common image formats below.

The PNG format was developed to improve the GIF format by reducing the 256-color limit. 
It's quite popular among Shopify merchants as it gives designers more control over the backdrop, colors, and patterns. PNG is also stronger at producing higher contrast, and detailed images than other image formats.
Because of the lossless compression, PNG file sizes can be huge, and the format is not as generally compatible as JPG. They can cause your website to load slowly and negatively affect the user's experience.
You can overcome the disadvantage of large file sizes by using TinyPNG to reduce the size of PNG images.
JPEG/JPG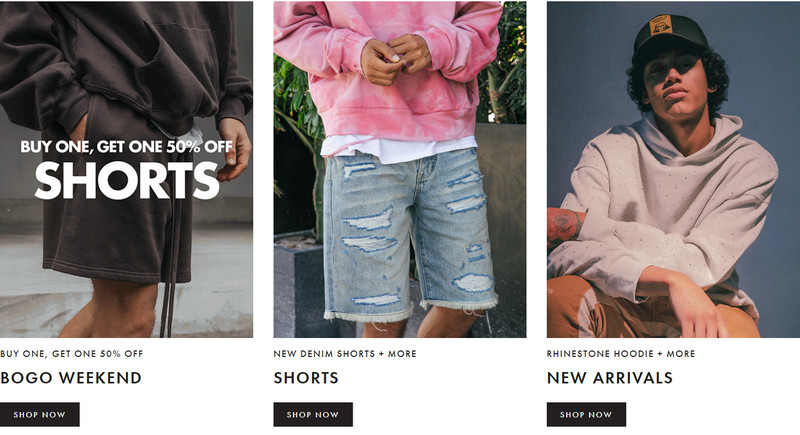 JPG is the most widely used digital picture file format. It has a large user base and a tiny file size with a wide color palette.
It's also simple to compress, letting users easily adjust the size and quality to make it load faster.
JPG is recommended by Shopify because it can produce images that are both tiny and high quality, which is ideal for product images.
TIFF
TIFF is a lossless image compression format that all Shopify stores support. It has a high-resolution display and allows you to save many images and pages in a single file.
This is a great choice for editing photos, making it easier for store owners and designers to customize images for campaigns. The file size, on the other hand, is usually quite large.
GIF

GIF is the most widely used animation format. The Shopify image format reduces the naturally huge GIFs by compressing and lowering product photos to 256 colors only. 
They are saved in a lossless format, which means that compression will not affect their quality.
Despite the fact that PNG has mostly replaced it, GIFF is still frequently used for animation because this is the only format that both supports animated images and is generally recognized by browsers.
WEBP
WebP is a new image format that offers improved compression for web images, with an average file size reduction of about 30% compared to standard file formats like PNG and JPEG.
Each format of the image has its own characteristics in terms of size as well as advantages and disadvantages. You need to consider the intended use of each image to choose the right formats and Shopify Banner Sizes.
Conclusion
Shopify Banner Sizes are something that any store owner needs to pay attention to build a successful and professional brand.
You can use functions from your phone and computer or online tools to resize the photos according to your needs.