As we all know, Amazon is one of the eCommerce giants for any merchant to start their business online. Since its establishment in 1994 by Jeff Bezos, Amazon has also made its way to become one of the most well-known online marketplaces around the world.
To fulfill the rising demand from online sellers, Amazon released the FBA service. The term 'FBA' stands for Fulfilled by Amazon, meaning that Amazon will store your products in their inventory, fulfill your orders, and offer customer service.
Therefore, it is important to create your Amazon seller account and add the FBA service. That's one of the things in the guide about how to sell on Amazon.
What you need to know before starting out
Before you can start selling on Amazon, there are a few things that you need to know and research. The more time you spend on preparing, the fewer unforgiving moments you may encounter while selling on this platform.
Choose your pricing plan
You have to decide which Amazon pricing plan will fit your business. Besides those plans, there are some additional fees that you should take into account for your eCommerce business. By acknowledging what you have to pay for your business, you can make your online selling business a lot smoother and more effective.
Moreover, Amazon also includes a Cost calculator to estimate your sales margin. As a result, you can get an overview of your revenue and have more time getting your business ready.
Working on your selling strategy 
To start selling on Amazon, you will need to identify a niche that is profitable to your business. In other words, you will have to find products that are trendy and easy to sell. Therefore, you should conduct market research to find competitive products that suit your business niche.
Then, the next step you should start market research, not only the products but also other competitors in the market. By tracking your competitor's sales for a while, you can get a more realistic view of the market, niche, and segment. 
Once you have consistent numbers in the market, you can plan and take your business to the next step. 
How to sell on Amazon for beginners
Knowing what you're getting yourself into, you can now continue and learn how to sell on Amazon.
First and foremost, register an Amazon account
You will have to sign up for an Amazon seller account if you don't have one yet. There will be 2 types of seller accounts depending on how to sell on Amazon, which is Individual and Professional.
Moreover, these are also included in the pricing plans that we have mentioned earlier. That's the reason why you should take a look at these plans in advance to decide which one suits your business.
Create your product listings on Amazon
To start selling on Amazon, you have to create product listings on the platform first. There are many parts in your product listing that need covering to ensure customer engagement. Moreover, some important details need to be included in your listings:
Your product's GTIN, UPC, EAN, or ISBC.

Stock Keeping Unit (or SKU).

Product description, and remember to use the bullet points.

Product name, price, brand, and images.

Keywords and relevant search terms.
You can consider this as one of the most important steps in the whole process. Because this is how customers can reach your products, you need to spend more time optimizing your listings.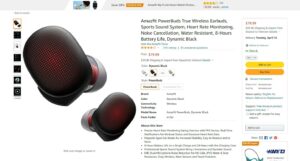 To be detailed, you have to optimize your product descriptions for search engines (also known as SEO). The idea is to increase the visibility of your products by adding relevant or most common keywords to the descriptions. As a result, you can have a higher chance of getting more sales when more people find your products.
Similarly, product images are just as important as the descriptions. If customers find your product images boring or confusing, they will lose interest easily. Therefore, you should try taking quality photos with resolutions ranging from 500x500 to 1000x1000.
With that said, you can try some tools or even hire someone to help you with such hard work.
It's time to Attract your customers!
There are thousands of sellers and retailers on Amazon. So, if you want to compete with them, you will need to make your products stand out.
However, not all of the methods are eligible for attracting customers. The best practices that you can consider are shipping, competitive prices, and advertisements.
Offer fast shipping:

Shipping can play an important role in attracting customers, yet easily ignored. You should remember that the faster your customers get their orders, the happier they feel. That's why you need to make sure to deliver orders on time. In addition, you can take advantage of Amazon Prime to keep things under control.

Set your products with competitive prices:

Customers always try to find the best deal they can get. Therefore, you can use built-in Amazon tools to

automatically reprice your listings

. There is also a tool for

bulk pricing

to help you attract

Amazon Business

customers and stay competitive.

Advertise your products:

You can boost the visibility of each product with advertising in search results. Moreover, you can enhance brand awareness with this method. On the other hand, you can also run a deal or promotion to promote your products.
Get reviews from your customers
Now that you have made your first sale, you still need to complete one thing. And, that is taking your customer's review.
Customer reviews can be beneficial for both other customers and sellers. They prove that you are providing great products with great service. Or, they can even show negative feedback. Therefore, trying your best to take reviews is a must.

However, not all kinds of reviews asking are eligible. There are rules about what you can and cannot do while asking for a review. If you violate them, your account can be banned permanently. 
Therefore, you must read through the Customer product reviews policies to avoid getting into trouble. 
Final thoughts
Selling on an eCommerce platform can be both simple and difficult at the same time. That's the reason why you should take time and put effort into learning how to sell on Amazon.
Once you've got the hang of it, you can run your eCommerce business successfully in no time.