Pinterest is a paradise for inspiration on any subject, and you may lose hours looking through the thousands of popular boards from companies, businesses, and influencers alike.
But when talking about Pinterest board ideas, it's a totally different thing.
The most essential thing to remember while using Pinterest is to be very selective about what you pin and the type of boards you make.
Simply said, you should stop posting stuff that you enjoy and start pinning information that your target audience would enjoy.
For those who are new to Pinterest, it is a social platform where you can create (and explore) themed boards to which you may pin photos or videos that you find attractive or meaningful.
If you want to try creating a Pinterest board for yourself, we have prepared a list of the coolest Pinterest board ideas for you to get started.
What is a Pinterest board?
First off, if you're new to Pinterest, let's take some time to get to know more about what exactly a Pinterest board is.
Unlike adding pictures to your Facebook or Instagram accounts, your pictures (or pins) on Pinterest are arranged into boards.
A Pinterest board is a collection of pins that users save. Typically, each board has its own distinct theme or meaning.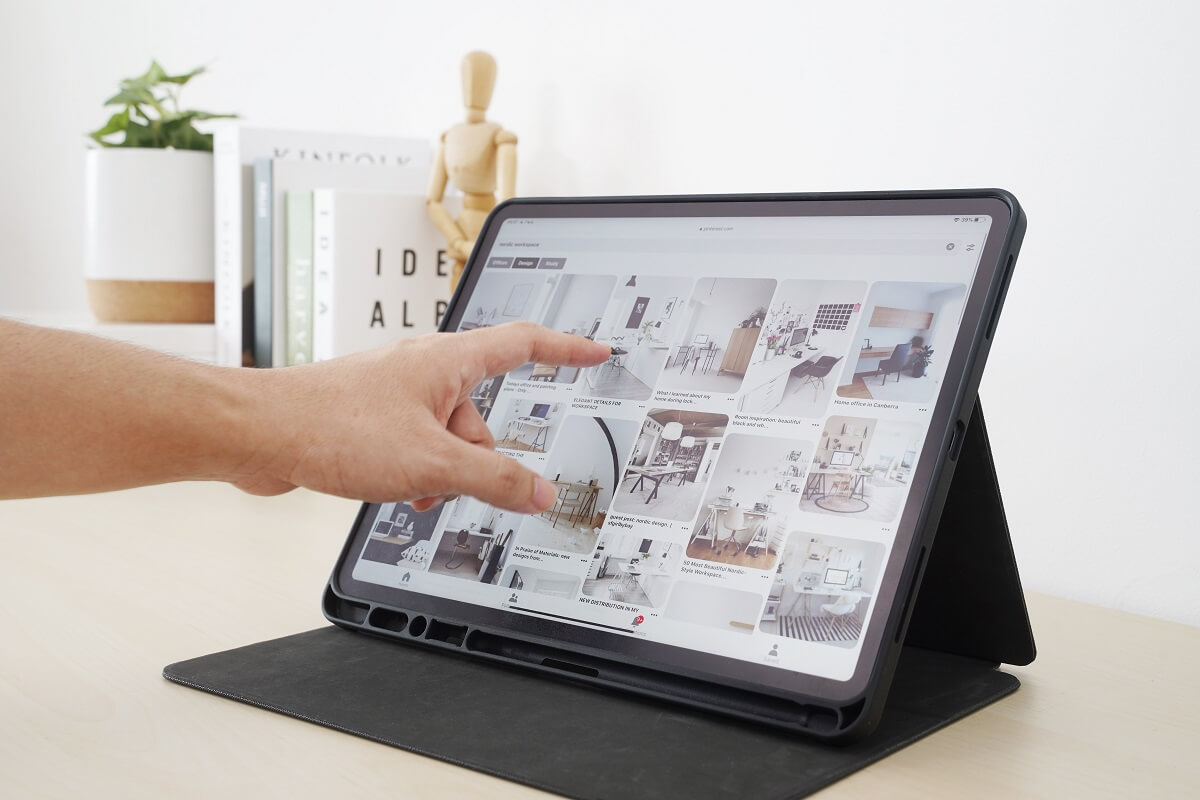 You may, for example, have a digital marketing board or a visual design board.
Your Pinterest profile consists of several boards that suit each of your interests.
Users either upload new content to their Pinterest boards or create new ones as time passes.
Other Pinterest users can follow your whole Pinterest account or only the boards that interest them the most.
List of Pinterest board ideas you should try
After we've got ideas about what a Pinterest board looks like, now let's check out the list of most creative Pinterest board ideas that we've prepared for you.
Pinterest Board Ideas #01: DIY/Craft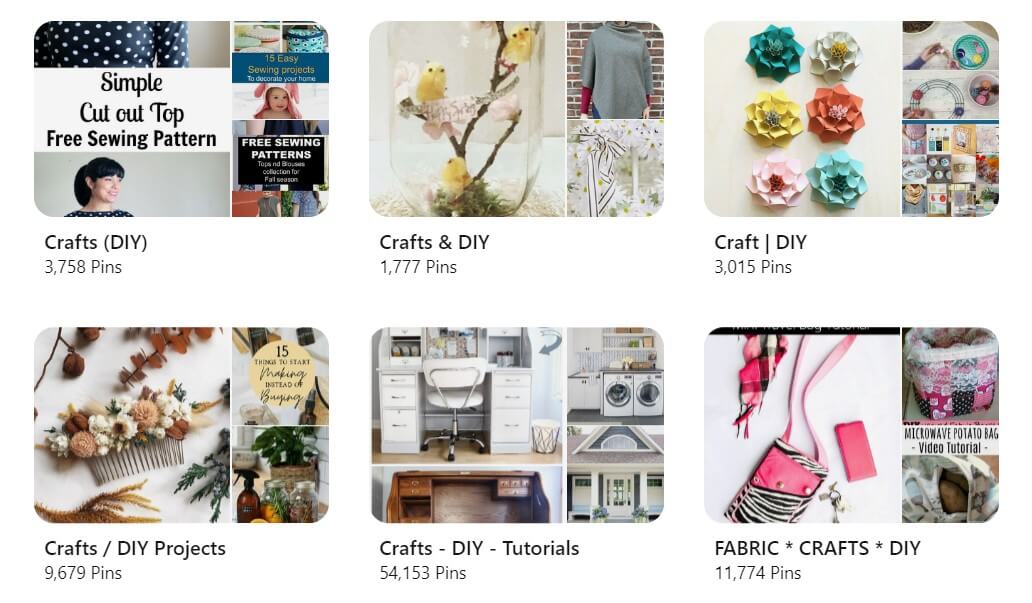 If you love crafting or if your target audiences are mostly parents and children, then a DIY board would surely be an excellent source of engagement.
This board can consist of as many fun activities as possible for parents to enjoy with their children.
You should also pick projects that are not too challenging. Boards categorized by difficulty level or time spent performing crafts may be an option to consider.
Pinterest Board Ideas #02: Travel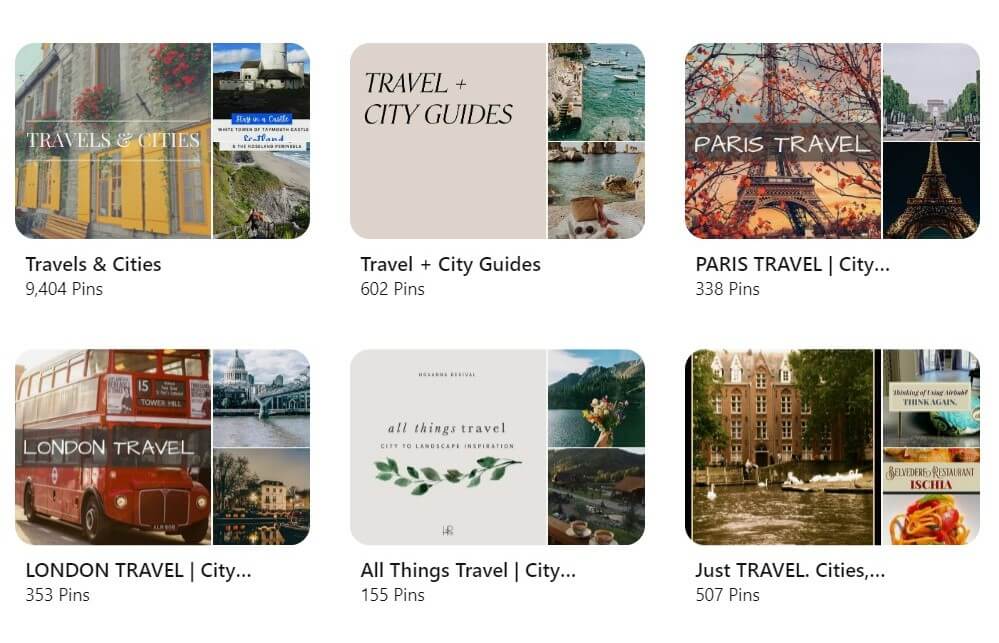 Making a significant collection of breathtaking destinations that inspire serious wanderlust is one of the most creative Pinterest board ideas that we've proposed to you.
Your followers are curious about places they could visit one day. So, simply make sure you're showing them the greatest possible places!
Another way to organize your boards is to split them into nations or continents. This will help to impress those who are really interested in a country or a specific region.
Pinterest Board Ideas #03: Dinner Recipes
Who doesn't want to try cooking? Especially when they're inspired by pictures of well-garnished meals.
Dinner recipes may be the most diversified board, with a wide range of items to meet the demands of any fan. With an increasing number of easy, tasty, and click-worthy recipes, this is something you should consider.
Pinterest Board Ideas #04: Quotes
A thought-provoking collection of journal prompts, meditation tutorials, and personal growth and self-reflection recommendations should not be missed on your Pinterest boards.
Make sure to include a mix of hilarious and uplifting phrases that may be posted several times.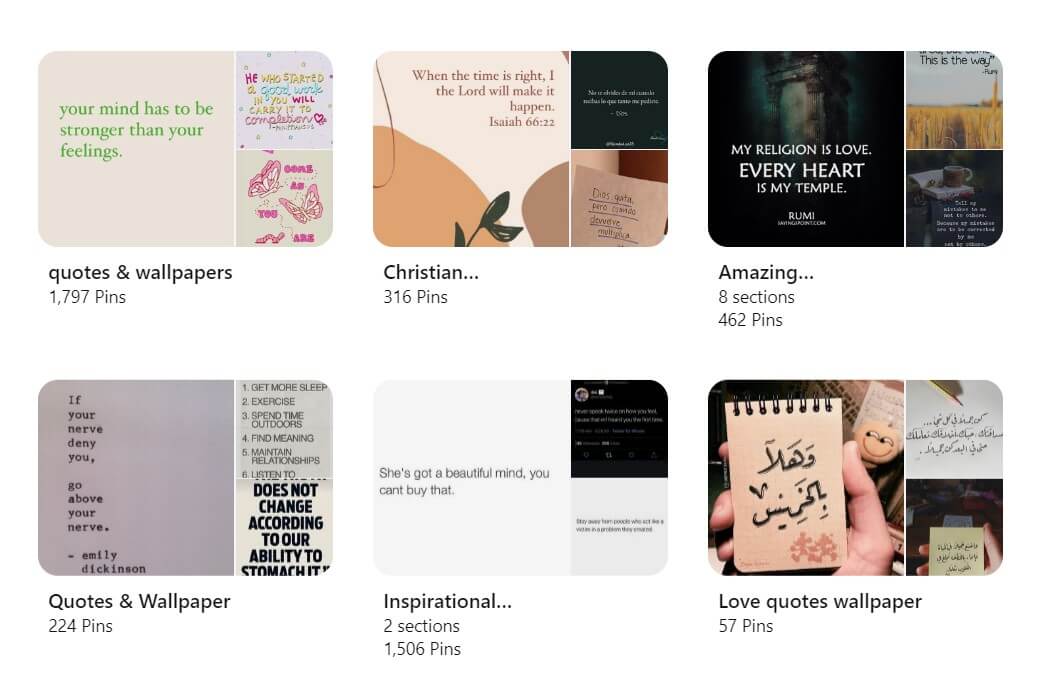 Furthermore, you may keep your quotations consistent by using a consistent color palette and pattern. It also depends on whether memes are appropriate for your business or not. Just make certain that you only pin information that reflects your brand's identity.
Pinterest Board Ideas #05: Architecture
The list of the most creative Pinterest board ideas would be incomplete without the notion of an architectural board.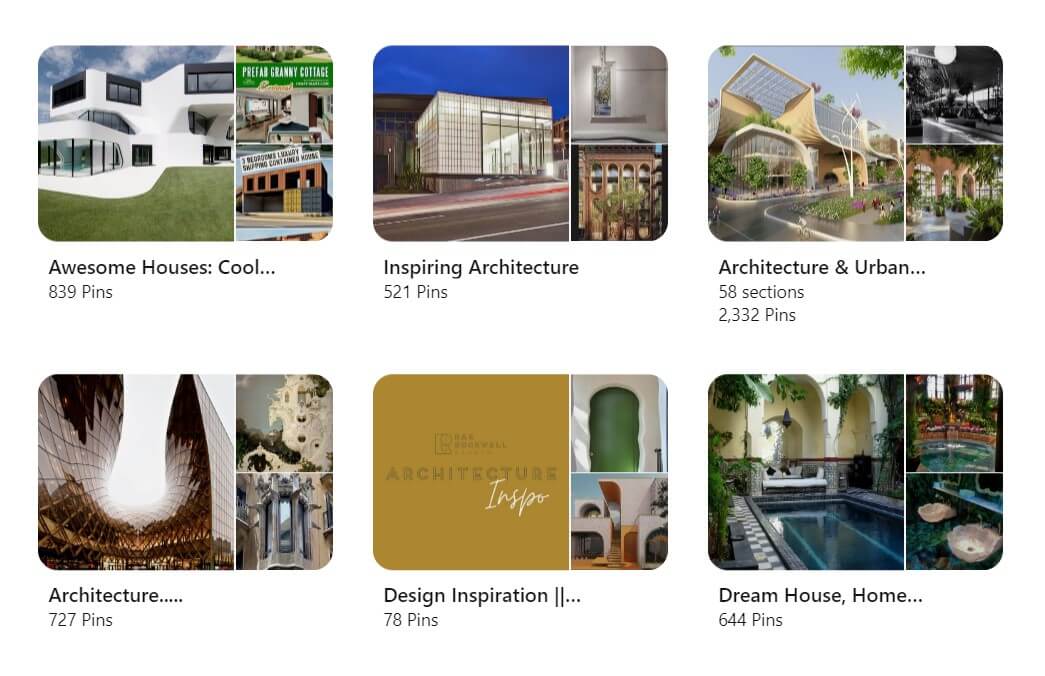 People that are interested in gazing at beautiful and distinctive structures may be drawn to it.
Furthermore, this board is a must-follow for any architectural guru who is a lover of original architecture concepts or is seeking ideas for their new house.
Pinterest Board Ideas #06: Fashion
Keep in mind that this may be a hard idea to follow, but it is rather simple to pin styles that you enjoy.
It is worth noting that you should prioritize your target market, and their favor of style instead of yours.
You should also research the blogs and fashion publications that your target audiences read and follow those companies on Pinterest.
Try to Pin the sorts of blogs and magazines that have previously been made directly from the style boards.
Pinterest Board Ideas #07: Home Decoration
When it comes to home decorating, you should avoid pinning articles on organizing and instead focus on aspirational designs.
Keep in mind that your followers only want to see something truly intriguing and that you may supply them with as much inspiration as possible.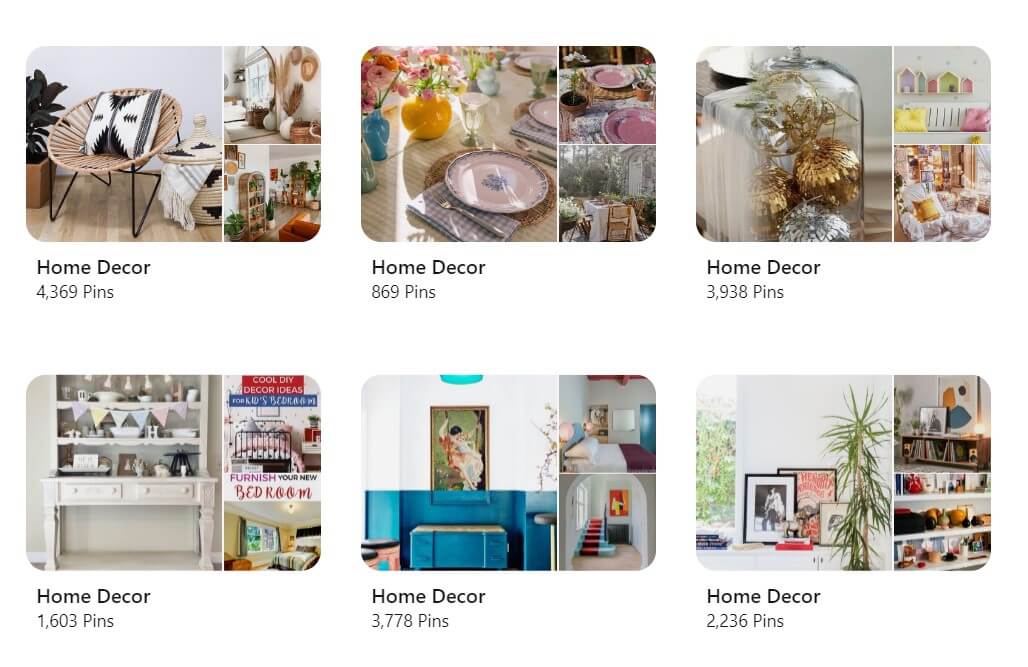 Make sure you understand what a 'dream house' would appear to be like for your target market and thoroughly choose the greatest photos for them to enjoy.
It is worth mentioning that no one needs to pin photographs of their specific house. They're using Pinterest to escape the realities.
A wonderful collection of basic and gorgeous home elements might be a terrific alternative because it will help your audience discover the ideal finishing touches for their living space!
Pinterest Board Ideas #08: Food and Drink
It is without a doubt the Food and Drink board idea is one of Pinterest's most well-known categories.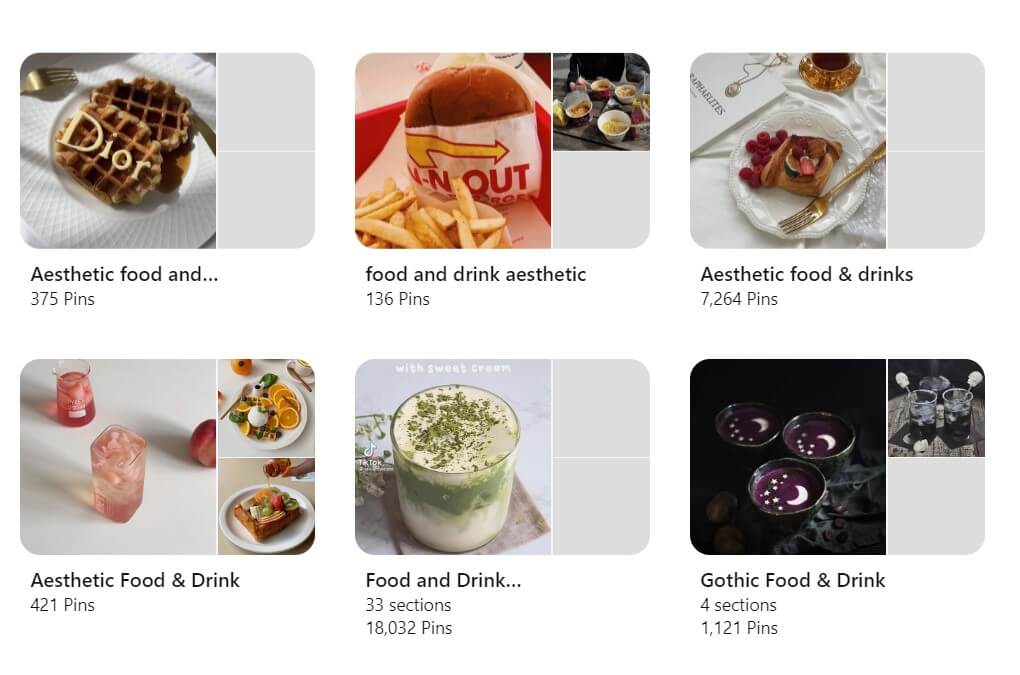 Pinterest users enjoy browsing through recipes, especially when they are arranged and categorized in boards.
Those appealing and well-organized boards will not only satisfy viewers who enjoy seeing well-decorated food and drink but will also provide them with plenty of ideas for their own meals.
Furthermore, creating boards with useful and simple recipes for beginners will help attract a huge number of users who will come to your board when looking for similar recipes on Pinterest.
Pinterest Board Ideas #09: Culture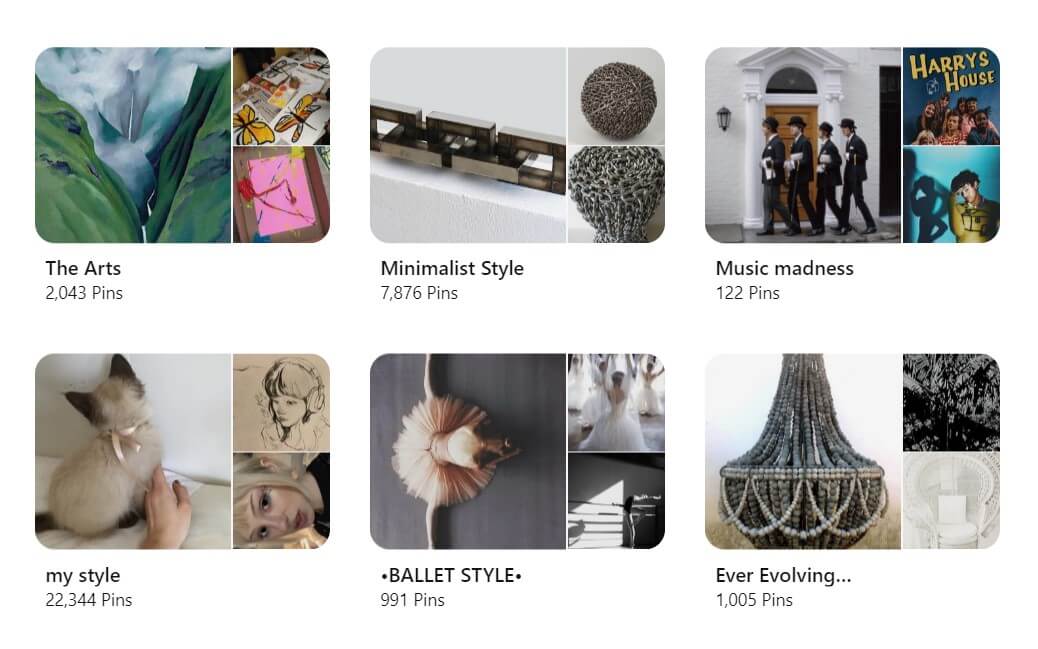 Culture is a wide concept with several variables ranging from modern style, music, art, and movies.
It must be fascinating for your target market if they are interested in recognizing and keeping up with the current trends.
Pinterest Board Ideas #10: Wedding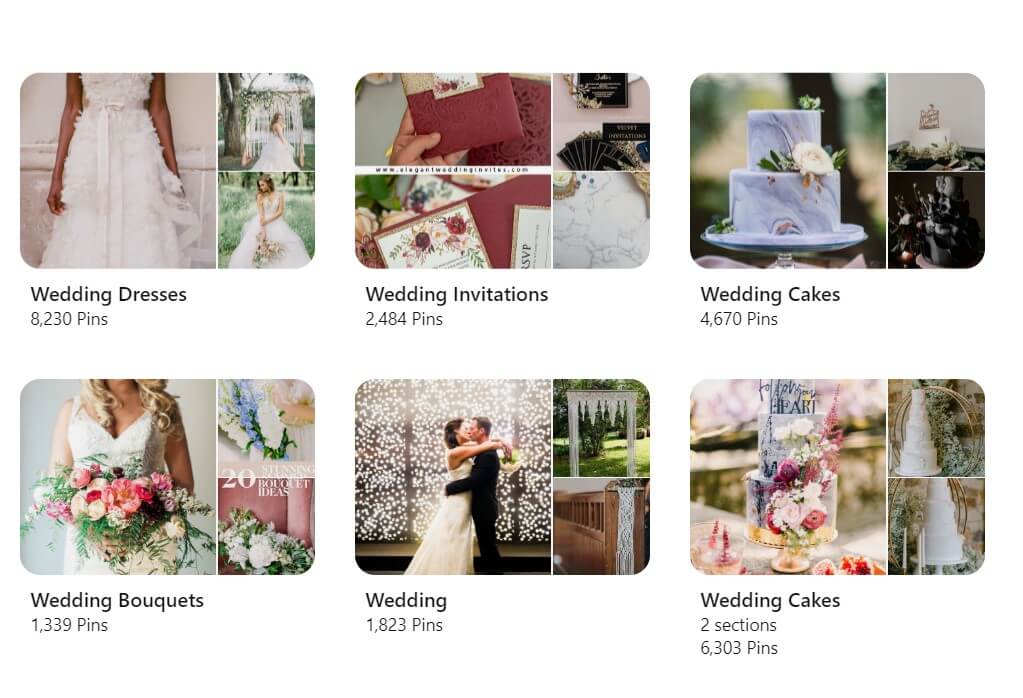 Pinterest is well-known for providing some of the most incredible wedding ideas and planning suggestions.
As a result, it should come as no surprise that weddings should not be missed while talking about the ideal Pinterest board ideas.
If your target audience is fantasizing about the perfect wedding, you should provide them with this chance.
In Short
Pinterest is just a great place to engage tons of people and also promote your business if you want to.
Hope that our list of the most creative Pinterest board ideas has helped you a lot in creating and arranging your own boards on this platform.
If you find this blog helpful, don't hesitate to share it with your friends and anyone you know, who are also interested in making a Pinterest board.