With over 1 billion monthly active users, Tiktok has become one of the most delicious lands for all eCommerce merchants who want to expand their market to social commerce.
We have witnessed many businesses have successfully built large and highly engaged followers on TikTok in a very short amount of time, even overnight.
With all of this in mind, TikTok presents a significant potential for marketers looking to increase their brand awareness, develop new and compelling content, and reach a quickly rising audience.
It's time to start thinking strategically about how you can use TikTok to drive traffic and sales to your brand 
Look no further, we have the best advice for you right below. Scroll down!
Tip #1. Add a link in your bio
Let's say you've created an engaging video and your video goes viral. People who are interested in your video will click on your bio to learn more about you. And your bio is what makes the very first impression on TikTok users. 
If the content in your bio is interesting and relevant, the visitors will very much likely become your followers. 
In this case, the visitor might take some time to click on the link you place on your bio to see what products you're selling and therefore increase your organic traffic significantly. 
Like what Nike did: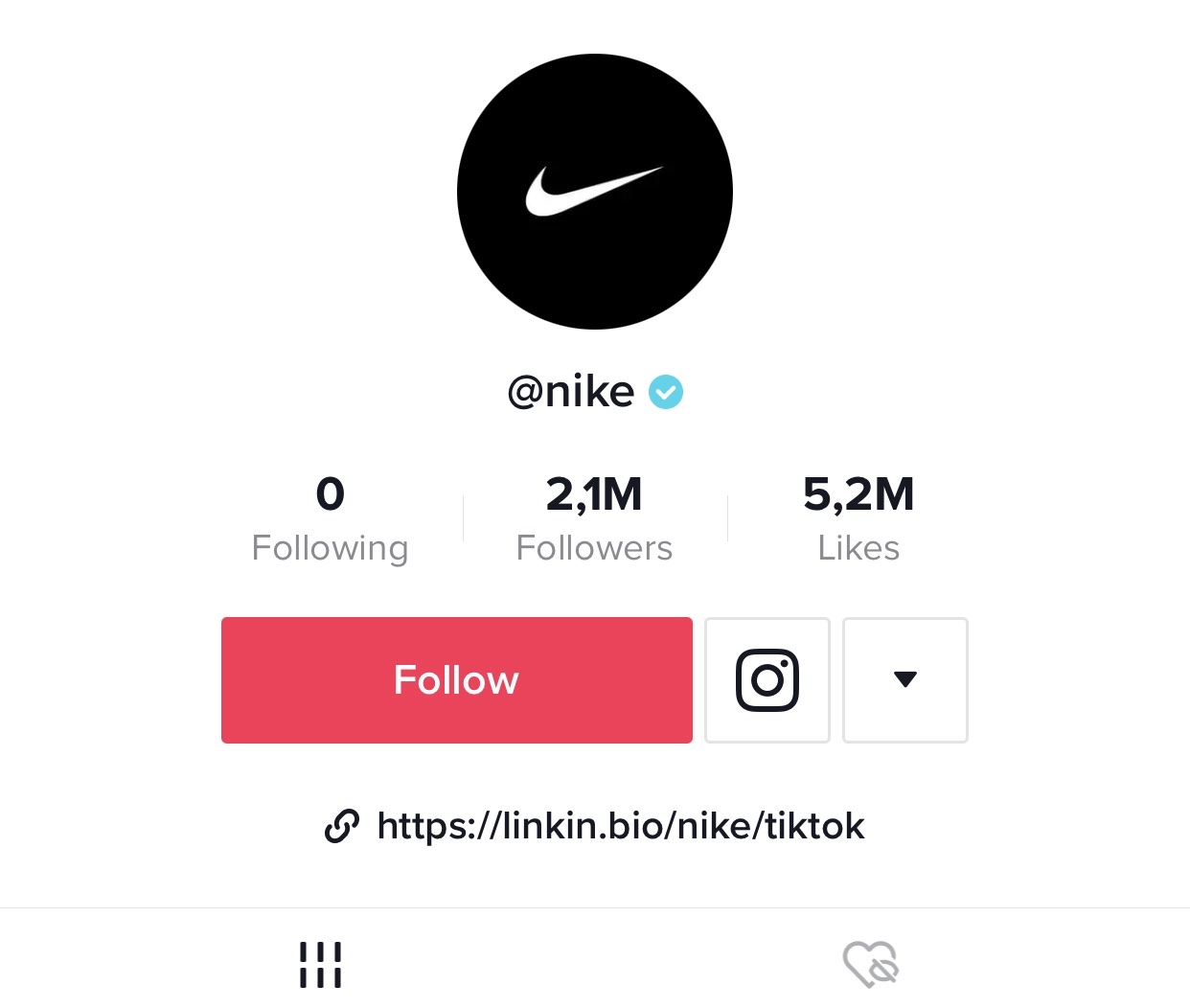 However, TikTok only allows certain accounts to incorporate links. If you're one of the lucky ones, you'll see a "Website" field after clicking "Edit Profile" on your TikTok profile page.
For the unlucky ones, fortunately, there is still a way: you have to join the TikTok tester programs. Here's how:
Step 1: From your TikTok profile, tap the three dots icon in the top right corner. Choose "Setting privacy"
Step 2: Scroll down and select the option "Join TikTok Testers". 
Step 3: Next, tap into TestFlight and download it from the app store. 
Step 4: Click "Start Testing" and download the new version of TikTok. 
Step 5: Then reopen your TikTok profile. 
Step 6: Tap "edit profile". 
From here you will be able to add your website link in the "Website" field and hit Save. 
Note:Bear in mind that there are still cases when you cannot add your website link to the bio even when you have signed up for the Tester program. In this case, the cause might be due to the fact that you do not have enough followers or simply because of the policy of the country that you're based in. 
Tip #2. Connect to your Social profiles.

 
This is probably the easiest but most effective way to drive traffic and sales from Tiktok. 
Our recommendation is to connect to the social platform where you have built a comprehensive collection of content about your products and services. This could work really well.
For example, if you have a Youtube channel where you make videos about how to use your products or just simply showcase the beauty of your app listings, connect it to TikTok right away!
In order to do that you have to select "Edit profile" from your TikTok profile page. From here you'll see the option to connect Instagram, Youtube, and Twitter to your TikTok channel:
Once you do that, now your social accounts are cross-promoting each other. 
Tip #3. Establish your own content strategy
TikTok is all about the content. Therefore, an effective content strategy is critical to your success on this platform. 
Here are some pro tips that you may want to apply: 
Define your objective when using TikTok
Knowing your niche is the first step in creating a TikTok content plan. You need to know who you're talking to before choosing a topic, format, or song for your TikTok video. What are you marketing on TikTok and why are you there? Your objective, for example, could be to expand your impact, other social media accounts, or email list.
Once you've determined why you're utilizing TikTok, the next step is to figure out what kind of TikTok content will help you achieve your goal.
Decide what type of content to create
In addition to the popular dancing videos, TikTok also has comedic videos, business suggestions videos, series, and trending videos. If you're running out of ideas, look at what your fans and competitors are uploading on TikTok.
Also, take a look at the Discover page, which you can access by touching the magnifying glass symbol at the bottom of the screen. To find information relevant to your expertise, type your search word in the box at the top.
Scroll through the For You page on the Home screen to get a sense of what's currently popular. The TikTok algorithm has provided you with this material.
For your own TikTok content strategy, I recommend a content mix of 70% trends and 30% evergreen.
To capitalize on content that's designed around trends, make sure you publish it while that trend is still fresh. For your evergreen TikTok content, you can batch-record it and post it throughout the day.
Once you've decided what kind of content you want to make, use TikTok to look for hashtags that will help you reach your target audience. 
Look for hashtags with between 300,000 and 2 million views that are closely related to your target demographic. If you use hashtags with more views than that, your material will get lost in the shuffle.
Choose the best time to post
Setting a publication plan for your videos is the final stage in this TikTok content roadmap.
Examine your TikTok data to find the best moment to reach out to your followers. This information will show you when your followers are most active throughout the day and week. Once you have this information, I propose that you publish your TikTok videos one hour before most people log on.
Or, you can base on the Global best time to post on TikTok conducted by Influencer Marketing Hub as follows:
Consider when individuals are most engaged on social media if you want to reach a larger audience. That's probably early in the morning, shortly before they go to bed when they get off work.
Use trending sounds
When making how-to and business videos for TikTok, including a popular sound in your video, will help you get more views and engagement.
Begin by pressing the addition button at the bottom of the screen and filming your TikTok video as usual. Then, in the lower left-hand corner, tap the music box.
From there you can choose from a list of recommended sounds for your TikTok videos.
Tip #4. Use TikTok ads
Trying to increase organic reach is always the ultimate goal of any marketer. However, sometimes when you need to target a specific group of audience, paid advertising will be the best option. 
In fact, advertising on TikTok is considered pretty costly compared to other social networks like Facebook or Instagram. Although the company doesn't specify its rates for all ad types, we witnessed that regular in-feed advertising costs at least $50 per campaign and $20 for each ad group. 
Because of such a high price tag, most small businesses would opt for the most basic in-feed ad type, which still performs really well.
Here are some of the most popular TikTok ad types that you should choose from:
In-feed videos: This ad type appears just like normal videos on people's feeds. Thanks to the native nature, in-feed videos are easier to track the performance and they fit perfectly into the feed of TikTok users. 
Brand takeover: this ad type shows as a full-screen immersive ad. It appears in the first few seconds of the app is opened and usually lasts for 5-6 seconds. 
TopView: TopView is essentially a mixture of in-feed and brand takeover videos. The ad starts the moment someone opens TikTok, takes up all the space, and lasts for up to 1 minute. If the user is not interested in the advertising content, he can skip the ads and continue with their feed.
Hashtag challenge: Hashtag challenge is pretty popular these days with so many brands adopting it including TikTok. To run a challenge, brands will post their videos and encourage the viewers to create their own videos using a specific hashtag. The winners will be determined by the interaction that the video receives. 
The pro tip here is to use UTM tags to track the performance of your campaigns to further optimize. 
Tip #5. Partner with influencers and content creators. 
On TikTok, collaborating with influencers and content creators is a terrific method to raise brand recognition and boost product sales.
However, as with any relationship, it's critical to define your objectives and identify the ideal ambassadors to assist you in achieving them.
Consider how their target audience matches yours, and how genuine their support of your brand would be.
As a result, when they make TikTok content about your brand, it's more likely to be an authentic (and hence more powerful) recommendation.
Brands can use the platform to locate content creator partners based on performance statistics, as well as make introductions and manage campaigns.
Tip #6. Live Streaming on TikTok
If you have more than 1,000 TikTok followers, you may be able to benefit from TikTok LIVE for your business.
Going live on TikTok is a fantastic opportunity to interact with your audience in a direct and genuine way, which is critical for developing brand affinity and trust on any platform.
Hosting a TikTok LIVE can also help you stand out on the platform, as "Top LIVEs" displayed at the top of a user's Inbox feed.
Select the + icon and swipe across to the LIVE tab to go live. You can choose a cover image and a title for your broadcast from here.
While you can't add a clickable link to a TikTok LIVE right now, it's still a useful tool for increasing brand exposure and sales, especially when combined with a good content strategy.
Sharing your brand values and talking about your latest items and how to apply them will humanize your brand and boost purchases.
Wrapping up
To sum up, TikTok monthly active users are still on the rise and this is a golden opportunity for merchants and marketers to bootstrap their social presence to drive more traffic and sales.
If you have any other tips that you want to share, feel free to comment down below!
Hey, want to know more about OneCommerce? CHECK IT OUT!