AliExpress is a popular Chinese marketplace with over 10,000 sellers and millions of products worldwide. With new products appearing every day, it can be hard to know which ones are good quality and which aren't. That's where AliExpress customer reviews come in – they're one of the best ways to gauge whether or not a product is worth buying.
Additionally, people often assume that store owners know how valuable product reviews from AliExpress can be. This platform can provide users with unique experiences and insights that you can't find anywhere else. And that's why this is a potential resource you can leverage to import AliExpress reviews to Shopify and take your business to the next level!
Luckily, this process is absolutely easy and can be done in less than 5 minutes. In this blog, we'll go over a step-by-step guide on how to import reviews from AliExpress to Shopify. 
Let's dive in!
Why should you import AliExpress reviews to Shopify?
Perhaps the most important reason is that the reviews can help increase sales, build trust and boost conversion rates for your Shopify store. 
Moreover, this is especially helpful if you have just started doing dropshipping on Shopify or have just uploaded a new product to your store. Chances are, it doesn't have any reviews yet. Then how can customers know whether your products are high or low quality? 
That's when you can take advantage of the available reviews on AliExpress. By doing this, shoppers will see other people happy with their purchase of your products. And eventually, customers will have more trust in your products, and they are more likely to buy from you. However, if you are still not convinced, the statistics below will help you.
As you may know, eCommerce platforms are snowballing as digitalization speeds up, changing the customer experience in many industries. 
When confidence is key, some surveys show that 95% of consumers read online reviews before they make a purchase, and 58% say they would spend more on products from a brand with good reviews. That's a good signal, right? And if you are reading this, you are half on the right track.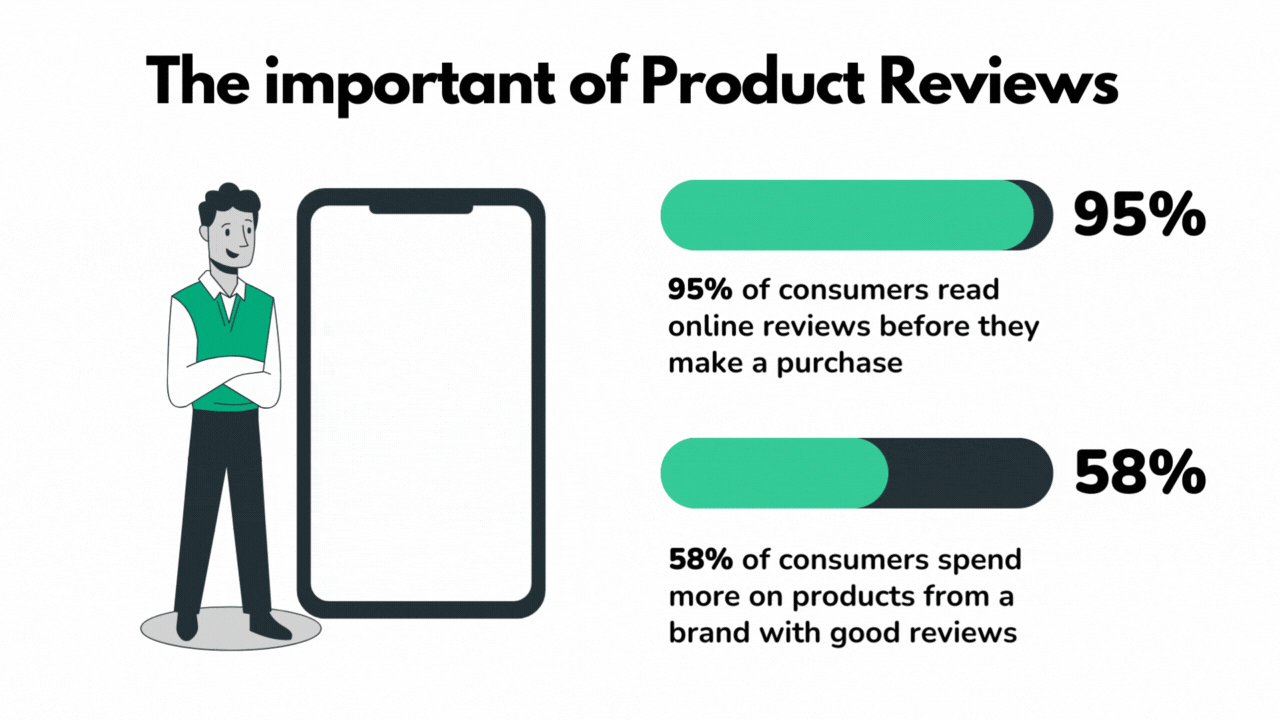 Well, you may know how beneficial importing AliExpress reviews to Shopify is. Now it's time to find a Shopify import review app to complete the primary process! 
Recommended apps to import AliExpress reviews to Shopify stores
Ali Reviews is a well-known product reviews app in the Shopify merchants community, particularly if you sell products from AliExpress and want to import AliExpress reviews to Shopify. It's possible that "Ali Reviews" was named based on this feature.
More importantly, Ali Reviews from OneCommerce has empowered over 181,000 small and medium-sized global brands to build trust, increase sales and gain approximately 10,000 positive reviews on Shopify. They provide a more flexible way to collect product reviews, easily create strong social proofs, and increase ROI for your store. 
With Ali Reviews, you can import 100+ photo reviews from AliExpress, Amazon, and CSV files in only 1 click. You can also get attractive sample reviews with photos and transfer reviews easily from other apps without any adjustments. 
2. Monimo: Aliexpress Reviews App

(formerly Reviify)

by ShopBooster

 
Looking for an easy way to collect customer reviews? Look no further than Monimo! 
This product reviews app is packed with features to make it straightforward to get the feedback you need. 
Besides, you can import reviews from popular sites like Amazon, AliExpress, eBay, and Etsy in just a few minutes. This app also provides a great way to encourage all of your customers to leave positive reviews. 
3. Amazon Reviews & Ali Reviews by EzApp
Amazon Reviews & Ali Reviews by EzApp is one of the best tools to increase your conversions. It allows you to build trust with your customers by collecting and using real ratings that matter most to them. With photo reviews, you can turn your happy customers into brand ambassadors and boost sales by building strong trust.
Nowadays, consumers are more likely to trust product reviews and photos over marketing assets. Hence, Amazon Reviews & Ali Reviews app will help you collect AliExpress reviews from actual customers and import them to your Shopify store quickly.
Additionally, there are plenty of great review apps available on the market that can help you add reviews to your Shopify store. Check out our blog post on the top 10 best Shopify product review apps To Build Credibility (2023) 
How to install an AliExpress import reviews app on Shopify
Just follow these simple steps:
Step 1: Log in to your Shopify store with the admin account. 
Step 2

: Go to the

Shopify App Store

and search for the name of the app that you want to install. For example, type in "Ali Reviews."

Step 3: Browse through the search results and click on the app that matches your intention. 
Step 4

: Click on the "

Add app

" button.

Step 5: Enjoy the app!
How to import AliExpress reviews to Shopify with Ali Reviews
If you choose Ali Reviews, here's how you can use the app to import reviews from AliExpress! 
Before we start, ensure you're using Chrome on the desktop and have the Ali Reviews Extension added.
Step 1: Open Import Reviews on the app menu > AliExpress tab > Click on the Import Reviews button.
Step 2: Copy and Paste the product URL from AliExpress into Ali Reviews. Customize the product settings before hitting the Import Reviews button.
You can customize the following components in the General Import Settings section to make your review page more appealing:
Import reviews in a date range:

it allows you to specify the date range when importing reviews from AliExpress.

Review quantity per import:

A limit on how many reviews can be imported at once. Each Ali Reviews plan will have a specific quantity limit.

Publish imported reviews: automatically update the latest reviews from AliExpress.
Content moderation:

When importing reviews, you can convert reviewer names that contain AliExpress Shopper to ***. Besides, the Ali Reviews app allows you to eliminate keywords by default to improve the quality of your product reviews.

Translate reviews and Reviews location:

assist you in localizing your reviews and engaging target foreign customers.
Step 3: Once you're pleased with your settings, click the Import Reviews button. 
Now, you can stop by your store and check out the final result!
Final Thoughts
Importing AliExpress reviews to Shopify is a great way to help new customers feel more comfortable about your products. So, if you haven't imported product reviews into your Shopify store yet, we highly recommend you should do it now with Ali Reviews! 
This is an excellent opportunity to let your potential buyers see the positive feedback of the products in your store! Moreover, if there is any trouble occurring during your process, please let us know. We are always willing to bring you the best experience on Shopify.