In TrueProfit V47, you can now set your shipping cost by weight. With this update, we hope you could have more flexible ways to set and track your shipping cost accurately.
TrueProfit V47: Set shipping cost by weight
In TrueProfit V47, we've added the weight-based shipping cost settings. This means you can now set your shipping cost by weight (besides quantity-based shipping).
💡 You can even set weight-based shipping costs by multiple zones. This is an exclusive feature that none of the other profit-calculating apps support. And we hope it could help you track your exact shipping fees while selling globally.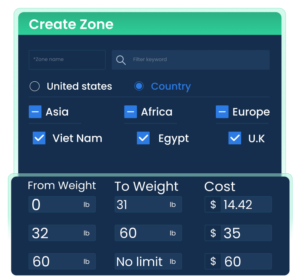 Set weight-based shipping cost for different zones!

Whether you ship to different states in the US or globally, your shipping costs are accurately calculated with TrueProfit!

Get TrueProfit
For instance, you can set weight-based shipping costs for France as below:

In this case, if an order that weighs 9kg gets shipped to France, your shipping cost will be $10.
NOTE: We pull data from your Shopify store to calculate the shipping cost. So remember to set weights properly for all products in your catalog.
Wrapping up!
And that's everything we're going to bring you in TrueProfit V47, should you need any further assistance, don't hesitate to reach out to our dedicated customer support team at support@socialhead.io.