We are excited to announce that TrueProfit is now available on Amazon for free! Gone are those days when you have to wait 10+ days for Amazon transaction reports just to see data of the past.
TrueProfit Is Officially Available On Amazon
As the #1 Shopify profit tracker app, TrueProfit by OneCommerce has helped thousands of  Shopify merchants know their real-time profit insights and make data-backed decisions.
And now, with our expansion to Amazon, we aim to empower even more businesses to do so, particularly over 9 million Amazon sellers.
The Ultimate Amazon Profit Analytics Is Here!
This app is an absolute must-have for any online shop. It allows you to always have a complete picture of the financial situation of your shop quickly and accurately. Customer service is prompt and competent.
DRiiBE from Switzerland
A current user who loves using TrueProfit to track all your Shopify store's real-time profits and losses like DRiiBE? Let's try TrueProfit For Free and stay on top of your Amazon's financial health as well.
Here are some noticeable highlights of the TrueProfit app for Amazon:
Real-time Profit & Loss report:

With a one-time setup, you'll forever unlock access to all your Amazon store's crucial metrics, ranging from income, revenues, expenses, fees, and more.

All numbers from all data points:

TrueProfit tracks both Amazon-related fees and all the expenses scattered across 10+ different channels.

In-depth product & order analytics

: Unlike many other profit-tracking apps that only let you see the surface of the iceberg, with TrueProfit, you can dig down into the profit insights of each ASIN and order.

Handy mobile app: With TrueProfit's mobile app version, you can monitor your Amazon store performance anywhere and anytime. Available on both iOS and Android.
Would You Try TrueProfit For Free Today?
That's it! TrueProfit is now officially available for Amazon, which you can install on your Amazon Seller Central in clicks. 
If you have any questions or concerns regarding TrueProfit for Amazon, feel free to contact our dedicated customer team at support@onecommerce.io.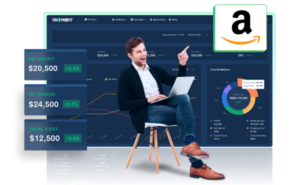 Spreadsheets are history. TrueProfit is now!
Stay on top of all your Amazon store's real-time profits and losses today and every day!
Get TrueProfit for FREE!