A P&L report is an important document since it's reflective of your business's financial health. However, manually creating a P&L report can be a daunting task. Hence, with TrueProfit V44, we're more than happy to introduce you to the brand-new P&L report. 
Let's scroll down to see what we have to offer!
What is a P&L Report and why is it important?
Along with the balance sheet and cash flow statement, a profit and loss report (aka statement of operations) is the most commonly used financial report that shows how much profit or loss a business generates in a specific time range (usually quarterly or annually).
A P&L report is one of the most vital financial statements since it reflects your business's financial health. 
By looking at your profit and loss report, you can tell how well your company manages to minimize expenses and maximize profit, and thereby, come up with timely improvements.
Instantly access your Profit and Loss Report with TrueProfit V44!
With TrueProfit V44, we're more than delighted to announce that you can access your P&L report right in-app.
What's even more awesome is that TrueProfit's P&L report metrics are updated in real-time so you don't have to manually edit your P&L report on boring Sheets.
From your dashboard, click on the 'Dashboard' at the top left corner > as the drop-down menu collapses, select the 'P&L Report' we've just added for you.
Herein, you can view your comprehensive Profit & Loss report as shown: 
It's necessary to compare P&L reports from different periods. This is because any changes in revenues, shipping fees, ad expenses, and net income over time are more meaningful than the numbers themselves.
For instance, your e-store's revenue can grow steadily but the expenses may grow at a much faster rate. That's why we make it easy for you to compare your P&L report by month or by quarter:

💡 Please be noted that P&L report is only available for users on Advanced & Ultimate plans.
So, perhaps you may love to take a look at TrueProfit's P&L report demo or refer to our help docs for more details. 
Wrapping up!
And that's everything we're going to bring you in TrueProfit's latest version. Should you need further assistance regarding this new update, please feel free to reach out to our dedicated customer support team at support@socialhead.io.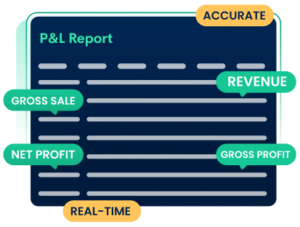 Get real-time Profit & Loss Report today!
Instantly access your accurate P&L report that is updated in real-time!
GET APP NOW