In this latest version of Swift, we're going to bring you an exciting update to the app– Product Audit Powered By ChatGPT. With this brand-new feature, we aim to help you audit your products and improve your SEO rankings without the sweating part. 
Let's explore what Swift V3.19 has to offer!
Why Should You Do A Product Audit Frequently?
With the ever-increasing ad costs, optimizing your website's SEO should be among your top priorities. Hence, you have to frequently audit your products to spot areas where you can improve and boost your product page rankings.
Here is how a properly carried out product audit can help fuel your sales growth:
Optimizing searchability and discoverability

: A thorough product audit allows you to optimize product tags, keywords, and attributes, improving the searchability and discoverability of your products. For instance, you can ensure that relevant keywords are included in product titles and descriptions to enhance search engine visibility.

Improving product accuracy

: By conducting a product audit, you can ensure that all necessary information is provided for each product, such as specifications, dimensions, or materials used.

Enhancing brand reputation and customer trust:

A well-conducted product audit ensures consistent and reliable information across all products, which strengthens the brand reputation and fosters trust with your customers.
Luckily, with Swift's brand-new product audit feature, you can now do product audits with ease!
Product Audit With ChatGPT: Easily Rank Your Products Higher!
After you hit the scan website button, in the newly-added Product Audit tab, you'll see a list of your products and their SEO optimization status (optimal, improved needed, not yet analyzed, and undefined).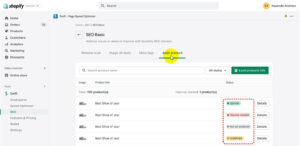 When you click on a specific product, you can optimize its meta tag (meta title, meta description), alt text for images, and product information– all with the help of the newly-integrated ChatGPT.
The integrated ChatGPT will help you with:
Analyze your meta tag, alt text, product information 

Suggest more optimal versions for your title, description, and alt text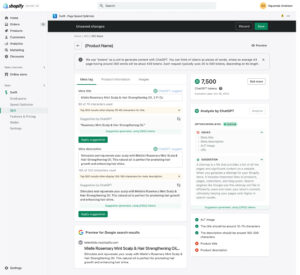 Important note: This feature is charged on tokens. Each time you hit the Analyse button, the number of tokens you are charged will increase.
💲Here are the token prices:
10K Tokens: $4 (expire in 4 days)

20K Tokens: $7 (expire in 60 days)

30K Tokens: $10 (expire in 90 days)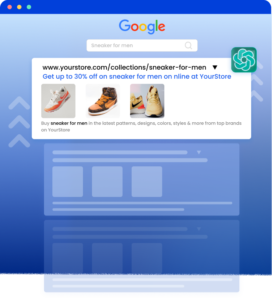 Improve product rankings with Smart Product Audit 
Are you ready to embark on a smarter and easier way of doing product audit? It's time to give a boost to your product rankings!
TRY IT OUT
Wrapping Up!
All in all, with this brand-new feature, we hope you can do product audits more regularly and easily to improve your product rankings on search engine result pages (SERPs).
If you need support or have any concerns regarding this feature, don't hesitate to contact us at support@onecommerce.io