In OneUpsell V2.1, we're bringing you two important updates:
Let's scroll down and see what OneUpSell's latest version has to offer!
OneUpSell V2.1: Post-purchase upsell model
In OneUpSell's previous versions, we brought you a lot of upselling and cross-selling features such as quantity breaks, volume discounts, product bundles, etc, 
And today, with OneUpSell V2.1, we're thrilled to bring you the brand-new post-purchase upsell model. This is the offer you give your customers after they have completed a purchase on your site.
With this new feature, we hope you will have more tools to keep boosting your conversions and average order value.
Why should you offer Post-purchase Upsell to your customers?
Wondering whether it is a wise choice to give post-purchase upsell offers to your customers? Here are 3 reasons why you should use this smart upselling strategy for your Shopify store:
Boost average order value

: clearly, just like any other upselling types, post-purchase upsell offers help you boost your Average Order Value and Customer Lifetime Value- the two metrics that directly influence your bottom line

Improve customer experience

: since the upsell happens after your customers have already bought something from your store, your offer won't disrupt their buying journey. Instead, by giving your customers relevant upsells that they can accept with 01 click, you can enhance their shopping experiences

Increase customer retention:

even if a customer doesn't accept your offer, they will definitely remember your brand for their future purchase when they need to buy something relevant. So, you have nothing to lose!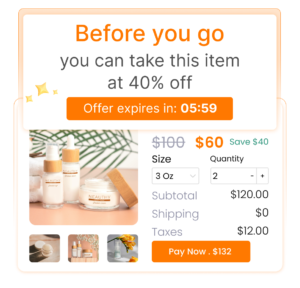 Maximize your AOV with post-purchase upsells

With OneUpSell, you can offer your customers irresistible post-purchase upsells that they can accept in 1 click.

Get OneUpSell
Give post-purchase upsells to your customers with OneUpSell!
Now after you've logged into your OneUpSell dashboard, you'll notice a Post-purchase Upsell section has just been added for you. Click on + Create Offer to get started.
A page as shown below will appear and all you need is a few clicks to set up your post-purchase upsell offers.
What are 'trigger product' and 'upsell product'?
To be concise, if you offer your customer a keyboard after they've just bought a laptop, then the trigger product is the laptop while the upsell product is the keyboard.
After you finish setting up your post-purchase upsell offer, it should look something like this:

OneUpSell V2.1: Enhancement to Product Bundle
In addition to the post-purchase upsell, in OneUpSell V2.1, we also improved the product bundle model to let you add irresistible discounts to your bundles, making your Frequently Bought Together even more high-converting than ever before.
For example, you can add a discount like "Buy this bundle for $10 Off / 10% Off" to your product bundles. 
With this enhancement, we hope you could cross-sell your products more effectively.
Try OneUpSell V2.1 Today!
That's everything in this version of OneUpSell. Should you have any questions or concerns regarding this update, please feel free to reach out to our dedicated customer support team at support@socialhead.io.