With OneMobile V1.17, we're thrilled to bring various updates to OneMobile, from a new premium theme, app review pop-up to more plug-ins, integrations, and more!
Let's explore in detail what OneMobile's latest version has to offer!
For 'Growth' Plan: New Theme, Pro Feature & Integration!
First, let's look at all the cool new features we update exclusively for users on OneMobile's Growth plan!
#1. New Pro Feature – 'App Review Pop-up' 
Did you know that Google Play Store & App Store are both using app reviews and ratings as key signals for ranking algorithms? 
Hence, let's try OneMobile's App Review Pop-up, a feature we developed to help you grow more reviews, thereby improving your rankings on App Store and Google Play Store.
With this feature, when your customers open your mobile app, they will see a pop-up review as shown: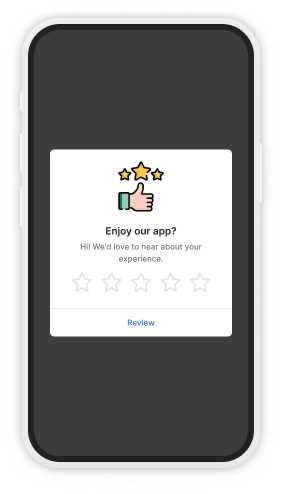 The best part? After your customers finish rating your app, you can direct them to your app on App Store or Google Play Store, where they can leave a review about their experience using your app.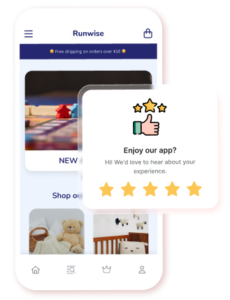 Get more ratings, boost your rankings!
Quickly choose from various review pop-up templates, add your branding, and start getting more reviews in no time!
Add App Review Pop-up
#2. Introducing Platinum Theme– 'Sprout'
Tadaa! Apart from the review pop-up feature, we also brought Sprout, another platinum app theme exclusively made for Growth users.
If you're finding a theme for your hobby or baby store, Sprout is the answer you're looking for. The theme will leave your customers in 'aww' with its cheerful color palette paired with cute, spacious designs, and powerful mobile app features.
#3. Integration with Boost AI Search, Filter & Discovery
Plus, in this version, we'd also love to inform you that we will support integration with Boost AI Search, Filter & Discovery, another robust Shopify sort & filter app.
This means you can now integrate the powerful sorting and searching features of Boost AI into your mobile app, thus, improving your customer experience, product discoverability, and conversions.
For All Plans: Automatically Hide Out-of-stock Variant
In addition to the exclusive updates for 'Growth', we also brought an exciting feature– which is accessible to users of all plans.
Specifically, we've just upgraded the out-of-stock hiding plug-in. Once activated, the plug-in will automatically hide out-of-stock variants from your mobile app (in-stock products and variants won't be affected). This will improve your customer shopping experience, as they won't encounter disappointment after selecting an item, only to find out it's out of stock.
To use this feature, simply go to 'Setting' > Toggle on the 'Out-of-stock hiding' plug-in.
Try OneMobile V1.17 Today!
That's it! Above are all the fantastic updates we brought to OneMobile V1.17. If you have any questions or concerns, please feel free to contact our dedicated customer support at support@onecommerce.io.