Today, we are more than thrilled to bring you the update you've been asking for. Tada! It's the QR code download pop-up– a promising feature to level up your app's downloads.
Plus, we also bring up some cool new integrations to help keep enhancing your app's works and looks.
Let's find out more about what OneMobile V1.14 has to offer!
QR Code Download Pop-up: Let's Boost Your App's Growth Rate
Here's how OneMobile's scan-to-download QR code pop-up can help you instantly convert your site visitors into lifetime app users:
You pick a template and customize it to your brand theme.

You display the QR code on your Shopify storefront.

When anyone visits your web store and scans the code, they will be brought to your mobile app– where they are one tap away from the download button.
How to add a QR code download pop-up with OneMobile?
To display this QR code pop-up on your Shopify store with OneMobile, follow these steps:
1. On the OneMobile dashboard, go to Mobile app tab > click ⚙️Settings.

2. Navigate to the Mobile app download popup, and click Set up.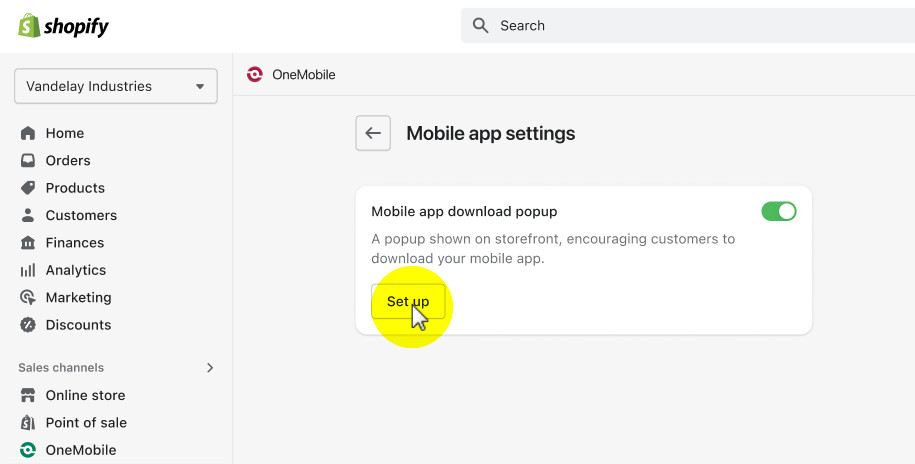 3. And herein, you can customize your QR code download pop-up's appearance and location on your website.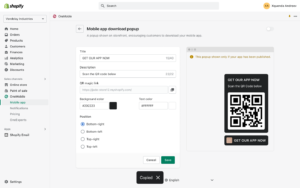 👑
The fantastic things about OneMobile's QR code feature? 
If your customers scan the QR code with an iPhone, they'll land on your app on the App Store. Otherwise, they'll be brought to your app on Google Play Store.

You can customize the looks and feels of your QR code to ensure that it matches your brand theme.
Why add a mobile app download pop-up to your Shopify store?
How do you manage to encourage your customers to download your mobile app all the past time? Email them a link to your mobile app on App Store and Google Play Store? Embed a link on your website to direct people to your app?
Well, if your customers are browsing your web store on desktop screens, they will have to search for your app name on their phones manually. This takes time, meaning your impatient shoppers will likely skip it. 
Hence, displaying a scan-to-download QR code on your Shopify store can be of great help with:
Seamless app promotion

: Display a visually appealing QR code popup on your website, attracting visitors' attention and encouraging them to scan the code.

Instant download access

: By scanning the QR code, potential customers will be directed straight to the download link, eliminating the need for manual searching and making the app installation process effortless.

Enhanced user experience

: With this feature, you provide an intuitive and convenient way for customers to access your mobile app, ensuring a smooth transition from your website to the app.

Increased visibility

: The QR code popup acts as an eye-catching call-to-action, generating curiosity and engagement among your website visitors and ultimately boosting app visibility and potential downloads.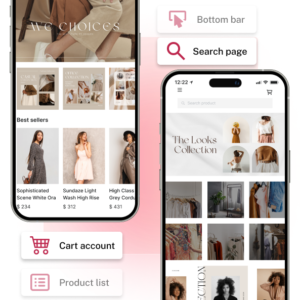 Want a bespoke mobile app that drives sales?
OneMobile turns the costly, time-consuming task of building a feature-rich mobile app into a few taps of your fingertips!
Try OneMobile At 50% OFF
Bonus: More App Integrations Supported
In addition to the mobile app download pop-up, in this version of OneMobile, we also expand the integration scope, allowing you to integrate with four more apps:
Judge.me

: build trust by adding stunning product reviews to your mobile app. 

Searchanise

: improve your customer experience and product visibility with advanced sort & filter.

Shopify Inbox

: support your app users better with embedded live chat.
OneMobile V1.14: Say Hi To More App Users & More Sales!
That's all we're going to bring you with OneMobile's latest version. Here comes the OneMobile V1.14 Recap:
New feature

: Scan-to-download QR code pop-up to boost your app downloads to new heights

New integrations

: improve user experience and your app conversions with new integrations– Judge.me, Searchanise, and Shopify Inbox.
If you need further assistance or have any questions about OneMobile V1.14, do not hesitate to reach out to our dedicated customer support team at support@onecommerce.io