If you're a business looking to sell your products, build a brand image, and grow, then setting up Instagram shopping is the way to go. Instagram released the shop feature not too long ago and statistically, India is the 2nd most populous country in the world. And this means – Instagram shopping India is a great place to sell your products and upscale your business. 
Thanks to Instagram's exceptional marketing features, brands have always been able to sell products. With the introduction of the Instagram shopping feature takes it to a whole new level. From incorporating your product catalog with your brand's profile to letting you tag your products in your posts, this is turning out to be a potential marketplace.
For businesses in India, this is a great opportunity to get in front of a large audience and sell their products. For consumers, this is a great way to discover new products and brands. Either way, it's a win-win situation. Therefore, opening Instagram shopping India is the best course of action if you want to take your business to the next level.
What is Instagram Shopping?
Instagram Shopping is a set of features across Instagram that let users shop your photos and videos. It gives your business an immersive storefront for shoppers to explore your best products. 
With Instagram Shopping, you can turn your photos and videos into shoppable posts that make it easy for people to buy the products they see on your Instagram. 
To get started, simply add a product to your post and tag it with the relevant product details. When people see your tagged product, they'll be able to tap to learn more and buy the product without ever leaving Instagram. 
Plus,  you can reach even more potential customers by tagging products in your Stories with this feature. One more thing you should keep in mind is that Instagram Shopping can only be used to sell physical products. And of course, you cannot sell services through this feature.
1. What features do you get with Instagram shopping?
Instagram Shopping is a new feature added to the Instagram platform that allows brands and businesses to sell their products directly to customers through the app.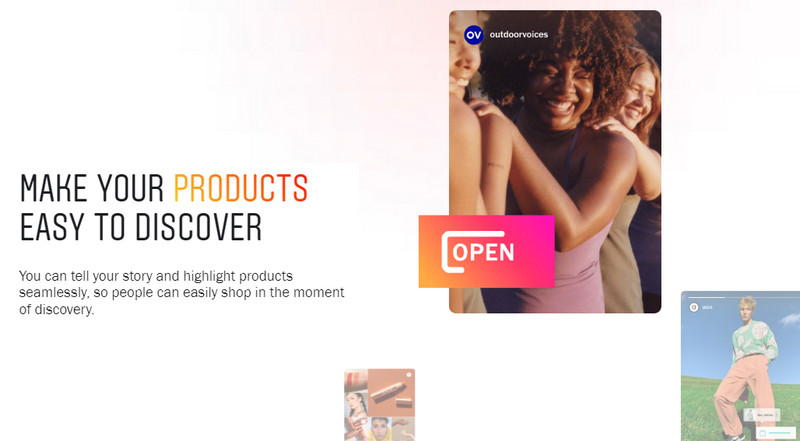 This is a huge opportunity for businesses to increase sales and reach a wider customer base. The features of Instagram Shopping include
Shops

: A customizable storefront that lets users shop directly on business profiles.

Shoppable Tags

: Tags that feature products from your catalog that can direct customers to purchase those products from your website or inside the app.

Shop in Explore

: A tab in Explore that lets people browse tagged shoppable content from brands and creators.

Collections

: A set of products that businesses can curate for their store to help customers find their favorite products.

Product Detail Page

: A product-focused page that showcases relevant information about an item, such as pricing and product descriptions(color, size, material,…). These specifics are pulled from your product catalog.

Ads with Product Tags

: Businesses can create new advertisements with product tags or boost existing shopping posts via

Ads Manager

and the Instagram app, to increase the reach of their shoppable content. These ads drive conversions, link clicks, and post engagement.
This makes it easy for customers to find the products they want and purchase them directly from your store. Finally, other related products are also displayed, so customers can find everything they need in one place.
2. How to make the Best use of Instagram Shopping India?
Instagram has been continually changing the way users shop in the past few years and if you want your company to stay ahead of the curve, then you must know how to use Instagram Shopping.
Instagram Shopping can help you take your sales to the next level. 
With this feature, you can create a product catalog and make that catalog accessible with a "View Shop" button on your Instagram account's profile page.
Here are a few of Instagram's other e-commerce features that you can use:
Instagram Shoppable Posts

: You can tag up to 5 products in every post.

Instagram Shoppable Stories

: You have the option of tagging one product in each story.

Instagram Reels and IGTV Shopping

:  You can tag products in your Reels and IGTV videos to increase sales.

Instagram Live Shopping

: This feature is amongst the most innovative, you can go live on your Instagram, showcase your products and tag them for people to buy. Instagram allows you to tag up to 30 products before you go live, provided you have access to

Instagram checkout

.

Instagram also offers "

Instagram Guides

" to help assist you up your sales game. It will share several tips and tactics to help you increase your sales.
Why Instagram Shopping India is a potential market?
In India, Instagram is projected to be the most popular social media site in 2022, with 76.50% of social media users having profiles on the platform. The number of active Instagram users in India comes up to 253.5 million (based on DIGITAL 2022: INDIA).
Young people, especially teens, make up a large portion of Instagram's user base, and the parent firm, Facebook, has invested heavily in the platform. 
Instagram has evolved into a lucrative source of revenue for artists and a valuable sales channel for corporations.
In India, Instagram is the most popular social media platform among businesses, politicians, and the general public, and it will continue to be so for many years. Hence, many well-known firms have utilized Instagram to interact with their followers, and the platform has played a significant role in the growth of various businesses in India.
Moreover, India's eCommerce market could outpace more mature markets to become the third largest market in the world with US$ 350 billion by 2030.
This growth is being driven by several factors, including the increasing penetration of internet and mobile phone users, the growing middle class, and rising disposable incomes.
Instagram is well aware of this potential market and is in the process of completing Instagram Shopping India. This will allow users to purchase products directly from brands and businesses through the Instagram app. This move will no doubt give a boost to the eCommerce market in India and help it reach its full potential.
How to enable Instagram Shopping India?
Before you enable Instagram Shopping India, there are a few things you need to make sure you have in place:
First, ensure you have the

latest version

of the app. 

Second, your business account

must be approved by Instagram

to use the Shopping feature. To get your account approved, make sure you

comply with Instagram's policies

and

represent your business

accurately. 

Third, your Instagram must be linked with your Facebook page. Additionally, you must be

based in a region

where the Shopping feature is

supported

. If you're not, you must be a "

managed client

." Currently, this feature is

only available

to managed clients in

India

. 

Finally, make sure you have products, catalogs, and creative posts ready to go. 
Once you have all of this in place, you can enable the Shopping feature on your Instagram account.
Another important thing that Instagram informs businesses in India you should not miss: 
Businesses in India
who didn't take action to update their business account to comply with Instagram's
Commerce Eligibility Requirements
by
January 31
,
2022
, will no longer be able to access Instagram Shops features. While Instagram is currently unable to support new Shops in India, they are working to expand access to eligible businesses.
What is a managed client on Instagram shopping India?
Managed clients are brands who have been given access to certain features or their accounts are being managed by Facebook. 
According to Facebook, managed clients are brands with popularity, availability, features, etc. 
Currently in India, only managed clients are eligible to set up an Instagram shopping account. If your brand is not a managed client, you will not be able to get approval from this platform.
Even if you live in a managed client country, you are ineligible for Instagram shopping unless Facebook assigns a manager to you. 
Once your account is eligible, representatives from Facebook will connect with you and give you access to the required features. 
But you can rest assured that this feature will be released in India soon. When that happens, you will be able to utilize these features without being a managed client. 
However, the Instagram payment option is still not available in India, and users have to go to the seller's website, enter their address, and make payments through the seller's payment gateway.
This is a major inconvenience for Indian users, as most of them do not have access to international payment methods.
How to set up Instagram Shopping India?
As mentioned earlier, if you want to be able to set up Instagram Shopping India for your business, you need to make sure that you're located in a supported market and selling physical goods.
Additionally, you also need to make sure that you comply with the merchant agreement and the commerce policies.
Once you've fulfilled the above conditions, you're all set to start your journey from now on!
You can follow these steps to set up Instagram Shopping in India.
Step 1: Create a Facebook Business Manager for an Overview
As a business owner, you know that social media is a powerful tool to make new customers and grow your business. However, managing all your social media accounts may cause you quite a problem since it's time-consuming and overwhelming. 
That's where Facebook Business Manager (Meta Business Suite) comes in.
Business Manager is a free Facebook account that lets you manage all your Facebook business pages and the people who work on them, all in one place. You can use it to assign roles to employees, create and approve ads, and track your page's performance.
Most importantly, you'll need a Business Manager account to connect your Instagram account to Facebook and ultimately to WooCommerce. That way, you can sell your products directly on Instagram Shopping India.
Setting up a Business Manager is really easy. You just need to go to Facebook Business Manager and click "Create Account" and then follow the instructions.
Step 2: Add your product catalog on Facebook Shop
Creating a catalog is a great way to showcase your products and services to potential customers on Instagram shopping India.
With the Commerce Manager, you can easily create and manage your catalog, making it easy to keep your inventory up-to-date and your customers informed about your latest offerings.
Simply go to Facebook Commerce Manager and select "Get Started".
After that, select "Create a catalog".
Then, select "Ecommerce"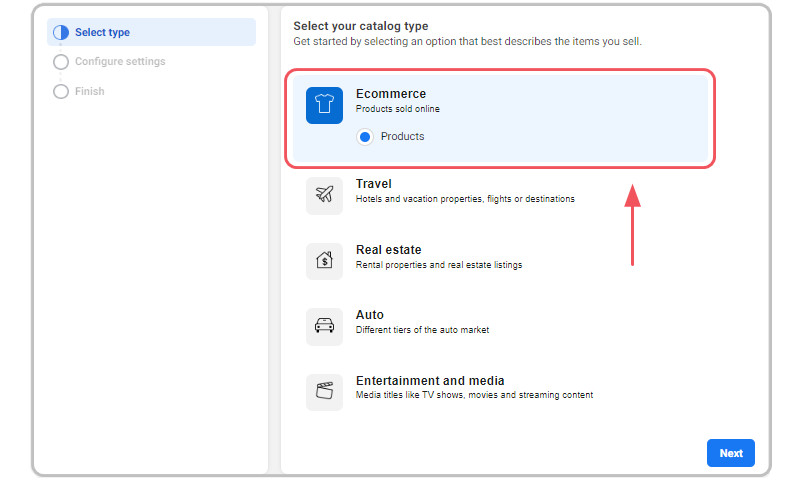 Instagram shopping is a great way to showcase and sell your products. However, please note that the Instagram shop takes data from your Facebook catalog. So whichever items you upload here, will be synced with the Instagram shopping. There are many ways to upload products on Facebook Catalog, such as:
Adding products, descriptions, and prices manually on the Facebook business manager.

Syncing your

Woocommerce

store on the WordPress website to the

Facebook catalog

.

Connect your Shopify store to the Facebook catalog. 
Moreover, if you have a website, you can ask the developer to link your website store with a Facebook business manager. This way, your products will be seamlessly synced between your website and Instagram shopping India
Step 3: Wait for your Instagram business account to be approved
If you're based in India or any other country where the Instagram Shopping feature isn't available yet, don't worry – there are a few things you can do in the meantime to get your account ready. Make sure your professional Instagram account links to your Facebook page. 
Finally, if there are any missing details in your product catalog (like descriptions, prices, or product names), try to fill them in.
When you've done everything, all you need to do is wait for Instagram to roll out the complete Instagram Shop feature in India. Once that happens, Instagram will automatically review your account before allowing you to create an Instagram Shop. The review process takes time, but you'll be notified by Instagram once your account is approved.
Step 4: When your account is approved
After you receive approval for Instagram shopping India, you will need to select the Facebook shop that you want to connect to your Instagram profile. To do this, go to Settings > Business Settings > Shopping. 
Once you have selected the Facebook shop that you want to connect to your Instagram profile, your Instagram shop will be set up and you will be able to start tagging products on posts and stories.
Great! Now you have successfully set up Instagram Shopping India!
How to upload Instagram shoppable posts that can convert viewers into customers
Several brands have different ways to convert viewers into customers, and it all depends on your line of business. But with that being said, if you are mindful of a few things, you will easily be able to convert and increase sales. Here are a few things to keep in mind:
Post-visually-appealing photos

. This helps capture the attention of people and prompts them to take a closer look at your products. 

Use Call-to-action (CTA) buttons

to motivate users to action

Use relevant hashtags

to reach a wider audience. 

Try to use

user-generated content(UGC)

to show off your products in the best light. 

Create aesthetically pleasing videos

that capture attention and keep viewers interested.
If you keep these things in mind, you will be well on your way to success on Instagram Shopping. India is a potential market for online shopping, so jump on the bandwagon now and reap the benefits!
In a nutshell
We all know that Instagram is a great place for people to discover and share their passions. With Instagram shopping India, this sense of discovery goes even further by giving people in this country a visual shopfront to explore new products from businesses they follow. With easy access to pricing and product details, shoppers can tap on a tagged post within the feed or through the shop button on a business's profile to take the next steps to learn more.
This makes shopping on Instagram in India an incredibly convenient and fun way to explore new products from businesses that they love. So if you're looking for some inspiration for your next purchase, make sure to check out the businesses you follow on Instagram – you might just find something perfect.