Have you ever managed an Instagram account for your business, and had to set an alarm (yes, you're not misreading) not to wake up, but to post at the right time that your target customers are the most active on the Internet?
Don't let work interfere with quality time with your loved ones. Instead, let's take a look at Instagram Content Creator now to not only schedule posts but also manage posts and collect user data, and even earn money for your business's Instagram account.
Without further ado, let's find out about Instagram Creator Studio and how it can help you with not only your work-life balance but also the big picture of how you should approach your Instagram content strategy for your business.
What is Instagram Creator Studio?
If you're searching for an easy-to-use tool to help you improve the effectiveness of your Instagram posts, Instagram Creator Studio is a good choice, and it's also FREE.
Initially, there was only Facebook Creator Studio launched in 2017, with the aim of helping content creators manage the presence of their brands on different fan pages.
Later, in 2019, Facebook did a study and found that 81% of users tend to research information about products – services, and 80% come to a buying decision through the content they search for on the brand's Instagram account. Creating content for brands on Instagram would therefore soon become the number 1 priority for businesses.
Until 2020, Facebook officially launched Instagram Content Creator to assist businesses with optimizing their content strategy, saving time with the pre-scheduling posts function, measuring and analyzing target customer insights to create content that sells including ad revenue, brand collaborations, or support from fans.
Note: Creator Studio is now only available on desktop as Facebook withdrew the Creator App. 
Who does Instagram Creator Studio assist with? 
Instagram Content Creator is a tool for Creators or business accounts. If @louisvuitton or @starbucks are examples for business accounts, bloggers, or influencers like @theonlinebusinessguide (Business and Marketing), @jeffreestar (Beauty) or @loic.lagarde (Photography) are examples for Creator accounts on Instagram –  the story they tell is a personal brand story.
You need to connect the Instagram account you are in charge of with a Facebook page to take advantage of the Instagram Content Creator features. For more details on this step, check out Facebook's help center article here.
Once you've identified the account you're in charge of, read on to learn more about each specific feature of Instagram Content Creator in the next section.
How to use Instagram Creator Studio? 
As mentioned above, connecting your Instagram account to a Facebook Page is the first step you need to take to start exploring each specific feature of Instagram Creator Studio.
Start by clicking on Instagram's icon ( pretty nice pink) in the top corner of the screen, you will see an overview dashboard of the features that Instagram Creator Studio offers such as Content Library, Calendar, Insights, and Monetisation.
#1. Manage your Instagram posts with Content Library 
In Creator Studio, the Content Library tab displays a list of all your Instagram videos, photo, carousel, stories, and IGTV posts.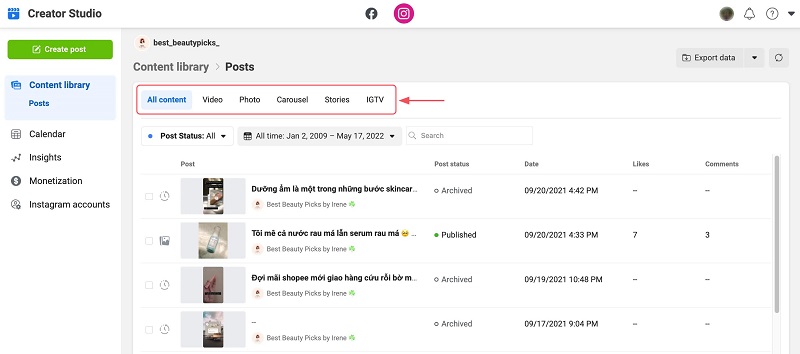 The filters below the content format help you track some useful information related to your posts as follows:
Post Status – Shows the status of your posts Published, Scheduled, Draft, and Archived.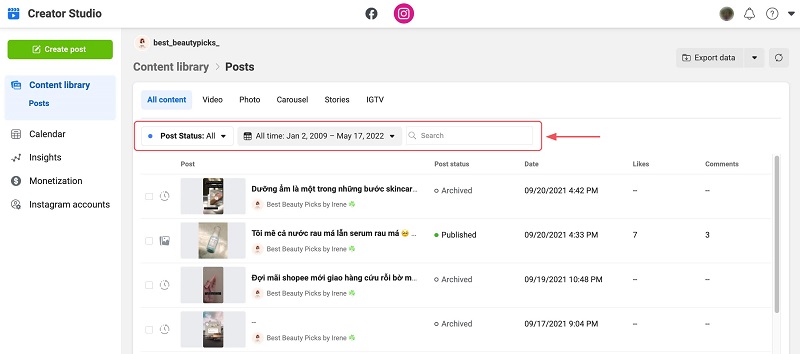 All-time: The length of time you want to find out about your account's performance. This feature is very useful for you to get a quick weekly/monthly/quarterly report on your account's performance. Wouldn't it be helpful for the brand manager to ask you to report on the performance of your

Instagram account just 30 minutes before the team meeting?
Note: You can export this report in excel format to easily present in that team meeting. Click Export Data in the upper right corner of the screen.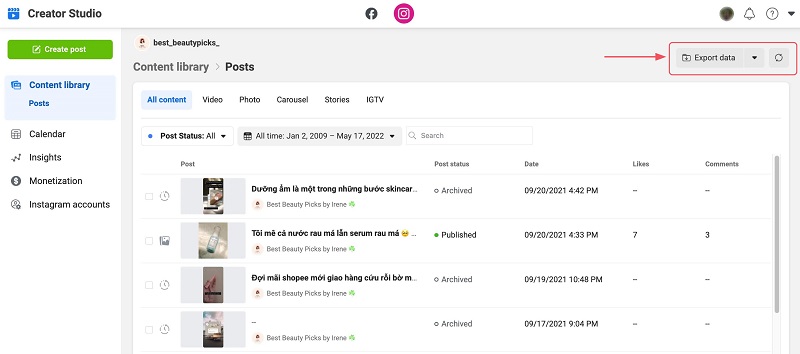 Search: Bar to search for content according to the keyword you want to look up. Type the keyword you want here, information about the posts containing the keyword will appear in a split second.

After you've set up the data input conditions in the filters above, let's find out how Instagram Content Creator helps you track the interaction of a specific post, story, carousel, or IGTV. Go to an example of a post
In addition, you can choose Go to post to review the content of the post shown to visitors, Edit post if you are not really satisfied with the interaction of the posts and want to make some edits such as the caption, add a location, or tag another account in the post.
Note: You should note that Instagram Content Creator can only help you with tracking the performance of individual posts, but cannot help you compare the performance of different posts. You should use Instagram App and check this information. 
#2. Create and schedule Instagram posts
Create posts
Instagram Creator Studio allows you to create and schedule posts with photos or videos in under 60 seconds. Note that you cannot post content formats like Stories and Reels with Creator Studio, but only posts in the Instagram Feed.
Select "Create Post" and choose the format you want to post: Instagram Feed or IG Video

Choose a format, for example, Instagram Feed.

Write a caption (up to 3000 characters, 30 tags, and 30 hashtags) and insert your favorite icon in Your Post.

Select the location and image file in the sections below
Note: You can also tag other people in the image, crop or delete the image at the corresponding icons at the bottom of the image
With the Advanced Setting tag, you can hide the comment of the post if you want, and especially apply the feature of inserting Alt Text – hiding short keywords describing the image to optimize SEO – this makes your post have the ability to reach a more diverse target audience
Schedule content 
After you are sure with the content and image of the post, you can choose Schedule mode in the triangle button next to the bottom right blue Publish button, select Schedule, and set the time you want the post to appear in your feed.
Then check the list of Scheduled posts in Content Library to make sure you have scheduled it successfully.
#3. Get your target audience insights 
Not only does it help create posts and schedule posts, Instagram Creator Studio also gives you a number of insights from your target users, so you can track and create content that tells the right story they want to read. The only drawback is that this function only allows you to track your users for the last 7 days – so the data is only meaningful for a week period – much shorter than long-term plans that most businesses aim for.
Activity Insights
Select Insights to start capturing information about your target audience and their activity and interactions on your Instagram account
With the Activity section, you can track the number of visits to your Instagram profile, and the number of website visitors you associate with the profile from your follower list in the Interactions category.
As for the Discovery category, you can track a graph of how people who aren't part of your followers have reached your account, be it from their search bar or they see your post on Instagram's Explore section. and go to see the whole account. This shows in the Reach and Impressions metrics.
Bear in mind that:
Only insights for posts and stories published since you converted to a business or Creator Account will be shown.

Both paid and organic activity are included in your account's insights and metrics.
Audience insights
With Audience, you collect your target customers' demographics such as their age, gender,  location, and when they are most active. These insights help you determine the brand story that your target audience wants to hear about your brand and post time to achieve high engagement, then go back to the Schedule step to schedule posts accordingly.
Imagine you are a content creator specializing in the lessons that Generation Z should learn on the way to starting a career. When you understand the insights of your target audience, you will know how to create engaging and valuable content. As your Instagram grows, you can call for donation campaigns from fans to continue making more quality content. Giving value to get value in marketing always works like that
And yet, the prestigious Instagram site also provides a foundation for affiliate marketing –  when other brands want to combine with you to create content, especially with Creator with good product review content. Besides, user-generated content is a trend in recent years, when 93% of marketers agree that consumers trust content created by customers more than content created by brands and User-generated content tops marketing tactics by influencing over 90% of shoppers' purchasing decisions
Monetization Insights
This feature shows the various brands with whom you've worked and earned money from your posts. The "Brand Collabs Manager" feature aids in keeping track of all such business collaborations.
Wrapping Up 
Instagram Creator Studio is a 3-in-1 tool that helps you manage content for your Instagram account, create and schedule posts, analyze user insights, and think of profitable growth for your business or personal page.
With our above guide, we hope you will keep leveraging the outstanding features of this tool to continuously engage with your customers. 
Hey, want to know more about OneCommerce? CHECK IT OUT!