Etsy is another marketplace where you can buy or sell online, similar to Amazon. However, you can find handmade items and craft supplies primarily sold on this eCommerce platform. And that is also the reason why this platform has become so popular with many online merchants and businesses.
In addition, you and your business have to prepare the right strategies to succeed in this eCommerce business. Although there are similarities among eCommerce platforms, there are also differences about how to run ads on Etsy. 
Learn about the Etsy policy beforehand
Before you can get started, you will have to learn the policies for advertising on this platform. Here are some of the important points that you need to clear out at the beginning:
Etsy has the right to make any change and notify you at any time.

Etsy also has the right to terminate campaigns at any time.

If you agree to any automation, you will give Etsy permission to run something on your behalf. 

By no means should your ads and promotions be offensive.
These are only some of the tips for Etsy marketing. Therefore, you should spend some time and read through Etsy's marketing policy. 
How to run ads and promote your shop on Etsy?
Once you've read through the policies to know what you can and cannot do, you're ready to learn how to run ads on Etsy.
There are many factors to consider when you want to run ads on Etsy successfully. However, we have some suggestions below that we think you might want to optimize first for your Etsy business. 
Make your listing titles SEO-friendly
Titles always play an important role in your product listings no matter where you are selling. It is one of the best ways to attract customers at first glance while looking for something to buy.
Therefore, it is a good practice to create SEO titles so that your product listings will get in the customers' search results.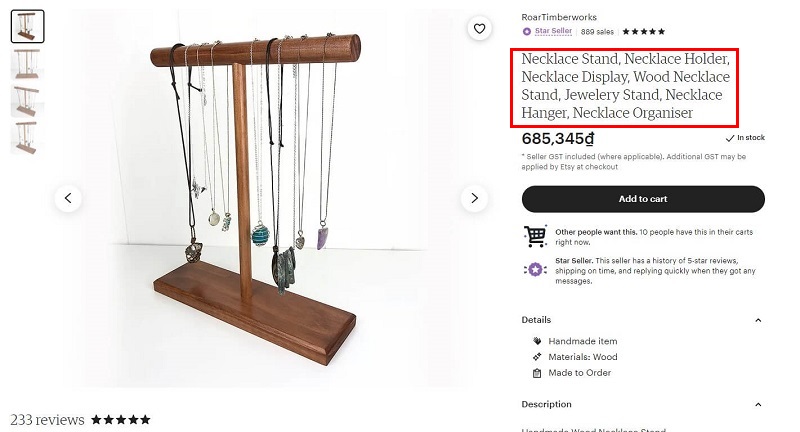 As you can see from the picture above, the seller tried to fill out all of the keywords related to the product. Although it looks cramped, it surely helps customers find what they're looking for with such a title.
Therefore, you should do keyword research within your niche to find your customers' interests. Moreover, you should avoid using a broad keyword such as 'jacket' alone. Try to be more descriptive like 'leather jacket' and it is more likely to match with a search result from a customer.
Remember to re-list your products regularly
Besides relevant or most search results, Etsy also detects recently listed items and pushes them to the top of the search page. In other words, there are higher chances of getting first place in a customer search result every time you list an item.
At first, it may look like hard work when you have to re-list your items all over again. Fortunately, you don't have to. You can ensure your items are continuously at the top of the search results by using Etsy's Auto-Renew tool.
With this tool, you can re-list your selected items at any given frequency, getting them at the top at each time. Additionally, Etsy will charge you $0.20 for each time your item re-list. We consider this is a fair price as there are over 30 million active buyers on the platform each day.
Therefore, this is a great price that comes with a great result, reaching more customers every day. 
How to run ads on Etsy tip: Use promoted listings
In addition to traditional listings, you can also use the promoted listings to gain prominence from other Etsy product listings. By choosing promoted listings, you can pay per click and keep your item at the top of the search results. 
Additionally, your promoted listings will include the word 'Ad', showing that it is a paid campaign. However, it will contribute to the demographics and search tags that you have selected.
More importantly, you can also start asking for reviews from customers once you've got some sales. This eventually helps enhance your listings' prominence even further. However, getting reviews will require patience and time. Therefore, we recommend utilizing social media promotion and word-of-mouth advertising to boost your marketing.
Take stunning photos of your items
All online marketplaces share one thing in common, which is they all need stunning product photos to attract customers.
No matter where you are selling your products, you will fall behind your competitors if the photos of your items look boring. Therefore, you must put more time and effort into taking photos that inspire your customers.
On the other hand, if your budget is not enough to invest in advanced equipment, you can simply use tools to edit your photos. By combining viewing angle, lighting, and filters, you can produce high-quality images without using any fancy camera. 
? A small tip:
You can edit photos
directly
on your smartphone. There is already an editing tool on every phone. So, why not take this chance to elevate your product listings?
Social media is a powerful way to promote your products and reach more potential customers. Fortunately, there are Etsy's media tools that will help you get the job done.
As a result, you can quickly share important updates, milestones, or even promotions from your shop. You can share them on sites such as Facebook, Instagram, Pinterest, and Twitter, attracting worldwide users to your Etsy shop.
Utilize sales and coupons
By offering coupons in your shop, you will have a smart marketing strategy in the guide of how to run ads on Etsy. With these coupons, you can get more new customers and retain customers' loyalty.
Moreover, these promotions can have a more strategic role than you might think. They encourage customers to buy, add more products into their carts, or even clear out old inventory.
Therefore, you should take advantage of coupons and sales to drive more sales to your shop more easily. Besides, you can get more customers' loyalty for their next return and purchase as well. 
Final thoughts 
Now that you have known the essentials of how to run ads on Etsy, you're ready to promote your store to success. Moreover, you should remember to combine these aspects to ensure getting the best results (or search results) for your product listings.
Hey, want to know more about OneCommerce? CHECK IT OUT!