Etsy is one of the popular online marketplaces that attract millions of buyers every day. And that's also what made you join the eCommerce business in the first place. However, it is not easy to get sales when there are hundreds or even thousands of sellers on Etsy.
That also means you are up against lots of competitors on the market. Therefore, you will need to learn how to optimize Etsy product information to get the upper hand on the market. 
Now then, let's dive into the tips to help you with optimizations!
Why would you want to sell on Etsy?
If you are focusing on selling handmade items, Etsy will be the perfect place for your business. According to Statista, there are 4.6 million active sellers and 81.9 million buyers in 2020. Moreover, Etsy reached $1.7 billion in annual revenue in the same year.
Besides those statistics, some reasons make Etsy become one of the most popular online marketplaces:
Quick and easy setup
It is simple to set up an Etsy shop. The process is user-friendly with no coding skills required. And, the navigation is also quick and simple.
Be cost-effective
Sellers only pay $0.20 to list an item on Etsy and another 5% of the selling price for each item sold. Therefore, sellers won't have to worry-sick about the costs and fees.
Welcome Community
You can find a helpful and engaged seller community on Etsy. This is the place where you can ask questions, exchange your stories, or even get support.
How to optimize your Etsy product information
There are a lot of factors that can affect your Etsy search ranking. Fortunately, you can control and optimize some of them, gaining advantages for your product information. 
As a result, you can follow these tips and create more chances to match your items to the customer's search results.
Each tag in a product listing is an additional opportunity for it to show up in customers' search results. In other words, unused tags will become missed opportunities. Therefore, you should use all of the 13 tags available to all of your product listings. 
Rule of thumb to follow
?
If you cannot imagine a phrase to appear in the Google search bar, you shouldn't include it in your tags. 
You should write your tags in multi-word phrases and use language with a natural sound. Moreover, you should add variety to your tags and make your items unique. You can also add tags that describe your products, how it was made, and who it is for. 
Be specific with categories
This is one more aspect that you should consider. Categories on Etsy can also act as tags for your listings. Therefore, you can have more opportunities to get your listings found by adding more specific categories. 
Moreover, Etsy's categories start with a broad category and then get more specific. So, you can get greater visibility once you've categorized your product listings to the most specific subcategory.
Use short and easy-to-read titles to get customers' attention
This factor is one of the most common ones, yet easily ignored by many sellers. You should keep in mind that the more concise your titles are, the more understanding your customers feel when they read your product listings.
Although the order of words in your titles does not affect directly the search ranking, putting the important keywords first will make it easy for shoppers to understand what you're selling. As a result, this can help you get more clicks and sales from search results, which eventually improves your search rankings.
Take the best photo and put it first
You can tell that the first photo on your listing will become the thumbnail image. And that is also what shoppers see while browsing the search results. Therefore, you can encourage them to click on the thumbnail with a detailed photo showing what is for sale.
Besides, don't forget to optimize thumbnail size. It will make your product images adapt to the Etsy platform and bring the best experience to the buyers.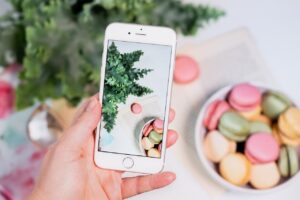 Furthermore, you can either take pictures of your item on a white background or in a more real-life scenario. Whatever the case is, this first image should help shoppers imagine your product in their daily lives.  
However, don't forget the other photos in your listings. Although the first photo can help attract shoppers, other images will decide whether they become your customers or not. Therefore, you must not take photos lightly.  
How to optimize Etsy product information? Add relevant attributes 
Attributes can describe specific characteristics of your products, such as color, size, height, width, and occasion.  Therefore, the attributes in your listings can act as tags, helping your product match the customers' search results.
Moreover, you might also add more unique attributes to a category while adding more specific categories to your product listings. For example, when you want to list a ring, you will add attributes for the ring size and material. 
All of these attributes will help shoppers know exactly what they are looking for when your product pops out in the Etsy search results. Additionally, you don't have to add a phrase as a tag if it appears in your attributes.
Provide clear policies for your shop
Clear shop policies will help buyers know what to expect when they purchase from your Etsy shop. It can be about the shipping method, the shop's physical location, or working hours. As a result, buyers won't feel unsatisfied if an order arrives late.
Therefore, having clear shop policies can bring a positive impact on your Etsy shop and search placement. 
This is another factor that sellers usually forget to complete for how to optimize Etsy product information. The titles and tags should be in the language which you chose when creating your shop. Besides, you should also remember that adding tags in a different language from your shop's language will not help your listings appear in search.
Moreover, Etsy automatically translates the titles and tags that you add into another language. Therefore, we recommend tagging your products in your native language while setting up if you can speak many languages.
Final thoughts
The above are some of the best practices of how to optimize Etsy product information for your online shop on this platform. You should also keep in mind that you cannot always get sales even if you have detailed and high-quality products unless your listings show up.
So, remember to spend time optimizing your listings on Etsy and land those sales!
Hey, want to know more about OneCommerce? CHECK IT OUT!