Merchants worldwide, rejoice! Ali Reviews has just unveiled the new Yearly Plan. This exciting package unlocks significant cost savings and takes the user experience to new heights.
Ali Reviews' Yearly Plan
You can achieve significant savings by switching to Ali Reviews' Yearly Plan, which provides a 30% discount compared to our monthly pricing.
It can translate into a considerable boost to your bottom line, allowing you to allocate resources more effectively while enjoying the full suite of Ali Reviews' powerful features.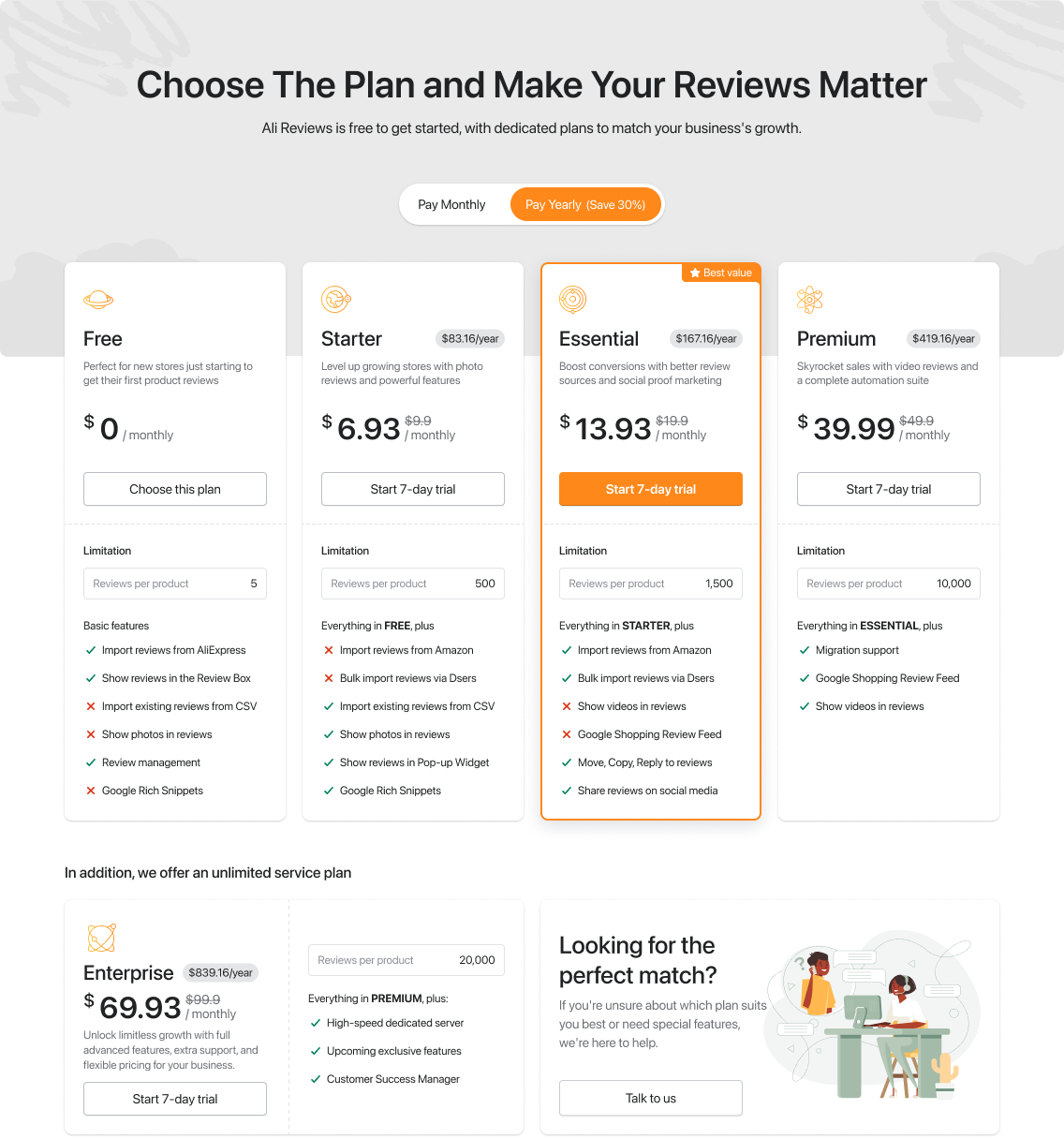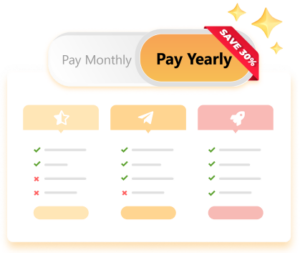 Save 30% With A Yearly Subscription
Got ambitious goals for the year? Leverage the power of our yearly plan to save 30% and increase your returns.
SWITCH TO YEARLY PLAN
Fresh Pricing Plan Interface Design
We have redesigned our pricing interface to make it easier for you to compare plans and choose the one that best suits your needs. Our clear and concise presentation allows you to quickly grasp the key differences between each plan, ensuring you select the optimal option for your business goals.
New Updates
Monthly Order Limits Removed
Furthermore, we have removed the monthly order limit from all pricing plans. It means you now have the freedom to send review requests via email or SMS after each purchase, thereby expanding your outreach efforts. 
Discontinuation of Free SMS Credits Offer
We have decided to terminate the 'Give Free SMS Credit' promotion to streamline and improve our services. We are confident that our New Yearly Plan and enhancements will provide you with even better value than before. 
If you received free SMS credits as part of your current plan, switching to a new plan will not grant you additional credits. However, the SMS credits you already have from your current plan will not be affected or taken away.
Review Limit Changes in Enterprise Plan
We have changed the review limits in our Enterprise plan. The maximum number of reviews per product has been updated from Unlimited to 20,000. This change will allow us to better distribute resources and ensure that all users have access to the reliable and efficient services they expect.
Stay informed, stay ahead
We encourage you to explore our New Yearly Plan and discover the benefits it can bring to your business. As we continue to innovate and evolve, we remain committed to providing you with the best possible features to build and manage your online reputation, maximize conversions, and achieve your business goals.
If you have questions or concerns, please contact support via live chat or email support@fireapps.io.