The New Widget Hub has arrived, providing exciting new features to improve the experience for you, merchants, and customers. With a clean storefront design, multiple customization options, lightning-fast loading speeds, and a boatload of other features, it's the ideal solution for boosting your review widget experience.
Visually stunning review widget design
With the New Widget Hub, we have harnessed the power of global design trends to create an interface that's clean, attractive, and likely to leave a lasting impression. Our talented designers have successfully revamped the review widgets with an innovative flair that perfectly matches your needs and those of your customers.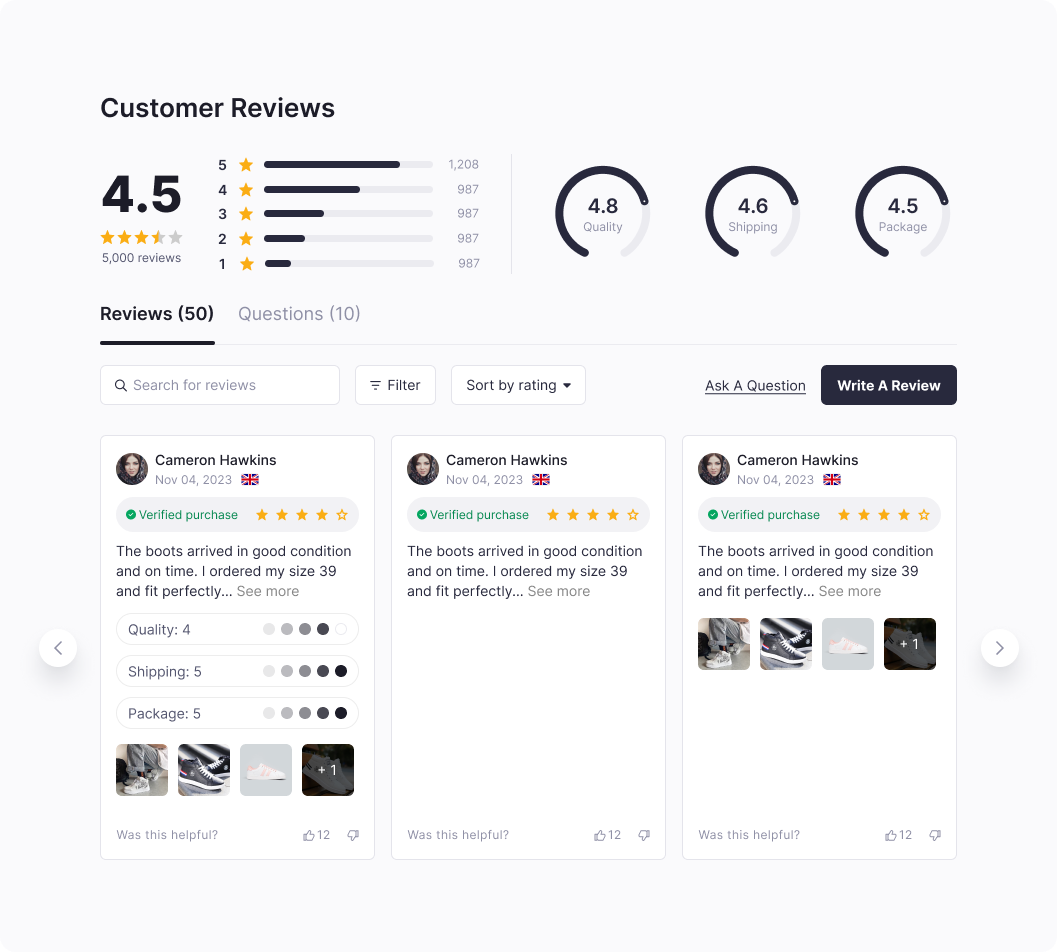 Outstanding customizability
With the guiding principle "Small changes – Big impact," the New Widget Hub equips merchants with potent customization tools. A well-thought-out design makes adjustments simple and accessible to all merchants. 
Every aspect of designing your widget is logically organized into four sections: Basic Settings, Generate Styles, Widget Content, and Advanced Settings.
It's now easier than ever to ensure that the visual style of your widget fits the rest of your site, producing an engaging and attractive whole for your visitors.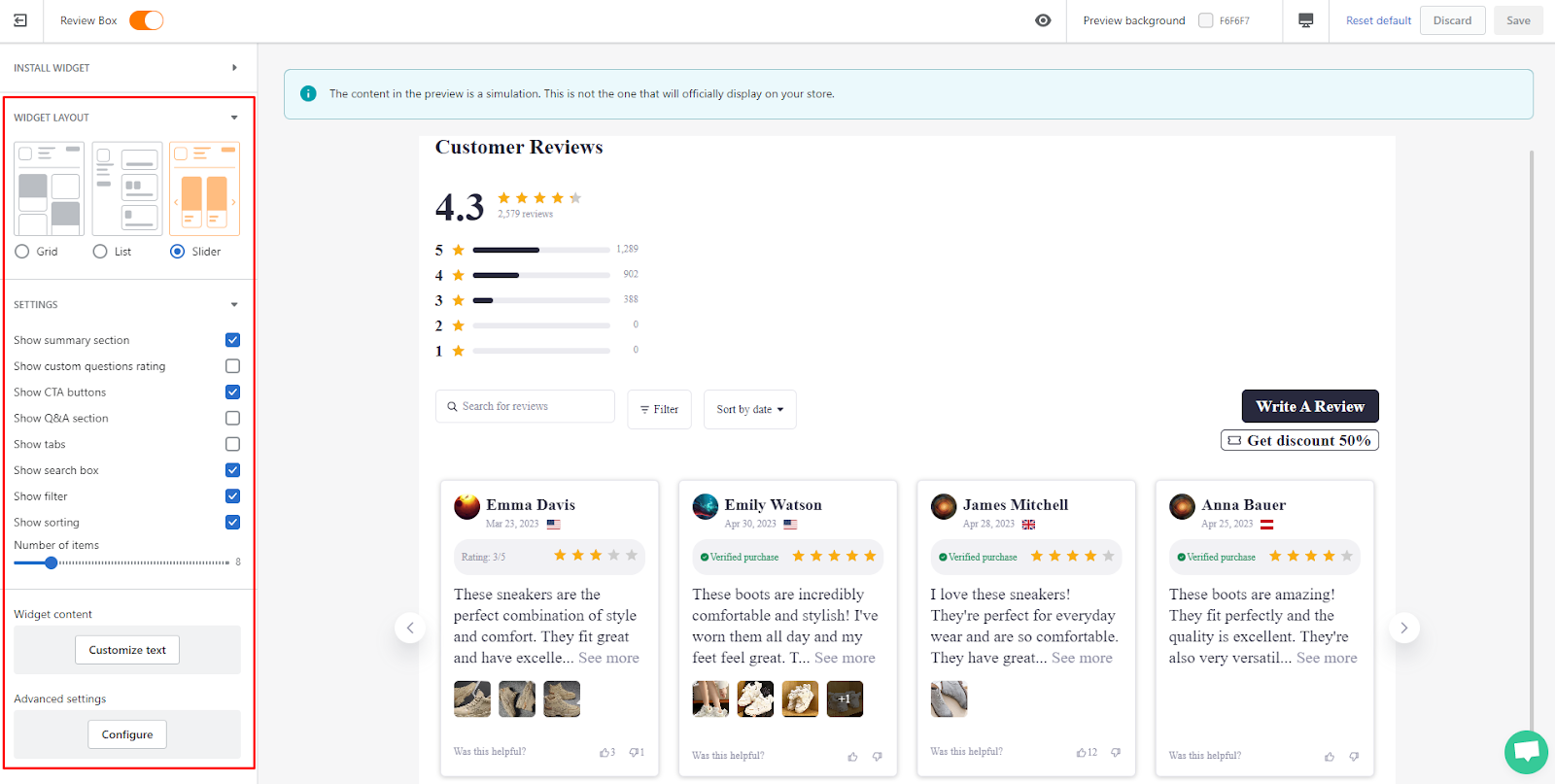 Lightning-fast loading speeds
The New Widget Hub provides lightning-fast loading times. Our advanced technology reduces the size of images, uses app-data meta fields and CDN layers, and fine-tunes the server and front-end code to make your review widget run faster. 
Seamless integration with Shopify themes
Ensuring compatibility with the latest versions of Shopify themes, the New Widget Hub seamlessly integrates with Theme 2.0 while preserving full functionality for Theme 1.0. This compatibility means you can effortlessly incorporate our stunning review widget into your preferred theme, maintaining a harmonious and visually appealing storefront.
With the latest update, the Review Widget Hub now supports multilingual displays based on the store's languages, eliminating the need for additional app installations. This feature enables merchants to seamlessly cater to a broader audience, providing a localized shopping experience to international customers.
Free upgrade with Confidence – Here's What You Need to Know
If you've been using our previous widget and are considering an upgrade to the All-New Widget, we have some important notes to share with you:
Free Upgrade: The transition to the All-New Widget Hub comes at no cost to you. We want to ensure all our users can seamlessly benefit from the latest features.
Smooth Transition: Upgrading to the All-New Widget Hub will be a breeze! The migration process will be completed in seconds, causing minimal disruption to your workflow.
Retained Settings: We've preserved some of your existing settings during the upgrade process. For example, your star rating setting will be carried over, making the transition hassle-free.
Important Consideration: While most of your settings will be retained, a few might be removed, such as Carousel settings. We recommend being aware of this before making the switch.
Temporary Editing Limitations: To ensure a smooth and error-free transition, the editing feature of the widget will be temporarily unavailable during the migration process. Rest assured; this is a short-term measure to avoid any issues.
Review Widget Absence: As part of the migration, the review widget will be temporarily absent from your storefront. However, it will promptly reappear once the migration is complete, captivating your customers.
*Please remember that the migration process is irreversible and cannot be undone. This upgrade is a one-way process, so make sure you're ready before proceeding.
Once you're ready, promptly return to your email to finalize the upgrade process!
We hope you'll enjoy the All-New Widget Hub's enhanced features and improved performance. Thank you for being a loyal user, and we're confident that this upgrade will further enrich your experience!
If this change affects your store in any way, please let us know via live chat or email support@fireapps.io, and we will assist you promptly.