Our new review components focus on boosting customer engagement and making product reviews more vibrant and engaging. Let's explore the changes introduced in this update:
Media Gallery for Review Box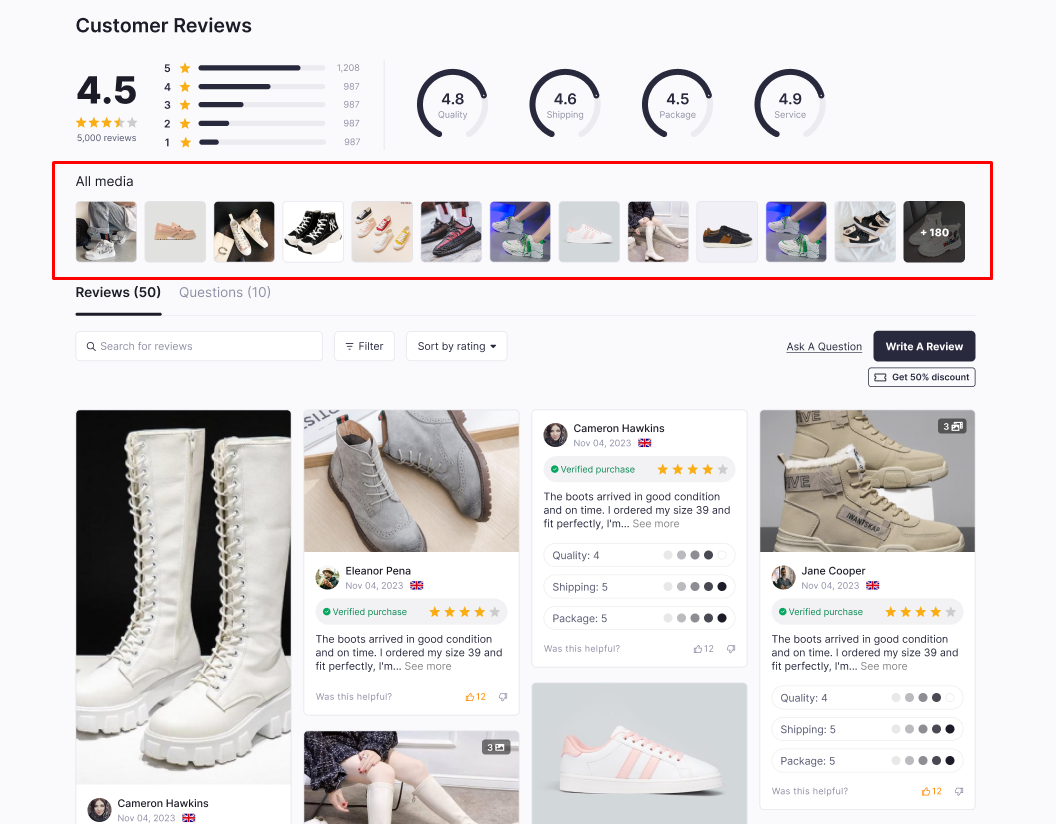 Ali Reviews has taken product reviews to a new level with the Media Gallery for the Review Box. Display photos and videos from all reviews below the star rating section on the Review Box. It makes your Review Box more visually appealing and helps customers quickly access all review photos and videos and catch how the product is used in the real world.
To enable this feature, go to Settings of Review Box and choose "Show media section."
This feature is available from the Essential plan.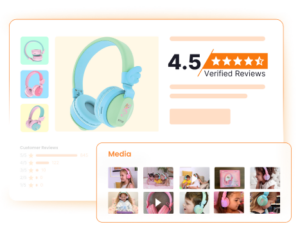 Show a Real-World Look at Your Product, Faster
Add the Media Gallery to your Review Box for immediate access to real-world product visuals, increase customer trust, and drive more sales.
ADD MEDIA GALLERY
Review Box in Cart Page
In-Cart Reviews display product reviews to your customers right on the shopping cart page without navigating away from the page. This is the perfect way to reduce cart abandonment, boost your confidence, and make informed purchase decisions.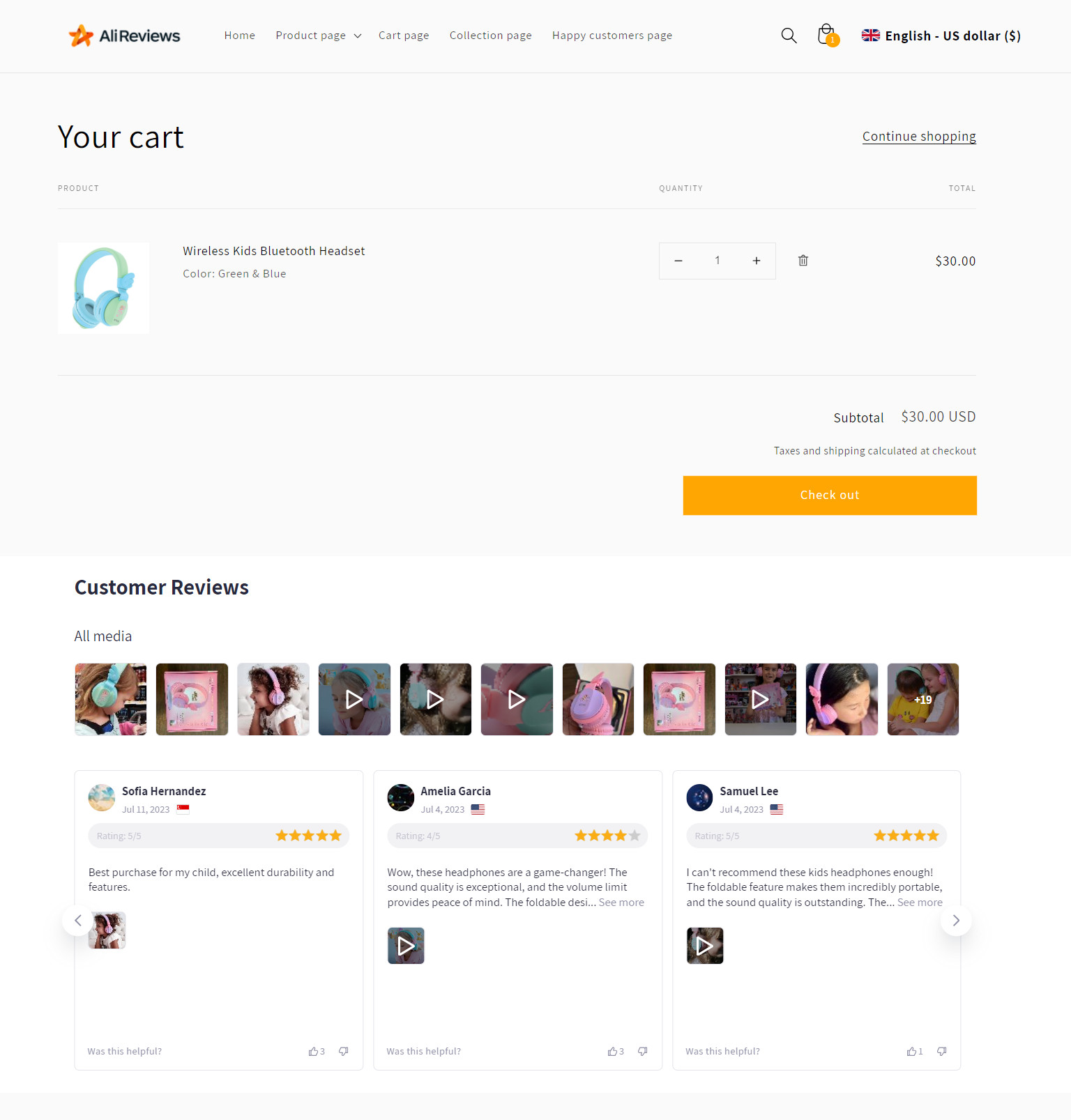 Imagine your customers are about to buy a new pair of shoes. But before they click the "checkout" button, they want to make sure they are the right shoes for them. With In-Cart Reviews, they can see what other customers have to say about the shoes, which, in turn, encourages them to buy.
Add In-Cart Reviews to your store's design in the App Block section of the Theme Editor.
New Review Badge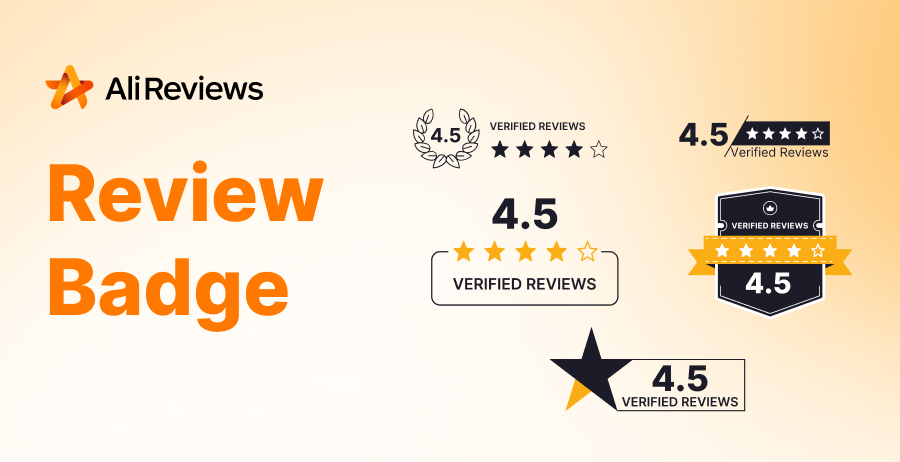 This Review Badge shows customers that your business is trustworthy, which can lead to more conversions. It provides a snapshot of the total average rating of your store or product, so customers can see at a glance how other customers have rated your products and services.
Ali Reviews has many templates for Review Badges, so you will surely find the one that best resonates with you. On top of that, whichever you pick, you can effortlessly display them on any section or page of your store.
You can easily add Ali Reviews' Review Badge to your store's design in the App Block section of the Theme Editor.
This feature is available for all plans.
Improvements
We value your feedback, and it has played a crucial role in driving improvements in Ali Reviews:
Accelerated Widget Loading:

We have optimized our widgets to load faster on the website, ensuring a smoother and quicker user experience.

New Question Notifications:

Our latest feature allows merchants to receive email notifications when customers post questions. This facilitates a quicker response time, ensuring merchants can provide timely assistance.
If you have questions or concerns, please get in touch with support via live chat or email support@fireapps.io.