We're excited to introduce our latest platform, packed with great features to boost your review collection efforts. Explore these exciting updates.
Targeted Discount
Meet our new targeted discounts allow you to customize the types of reviews reviewers can receive. You can now incentivize customers to provide different kinds of feedback, such as text, photo reviews, or video reviews. 
This customization ensures that you receive the specific review content you desire, enabling you to highlight the aspects of your product that matter most to your store.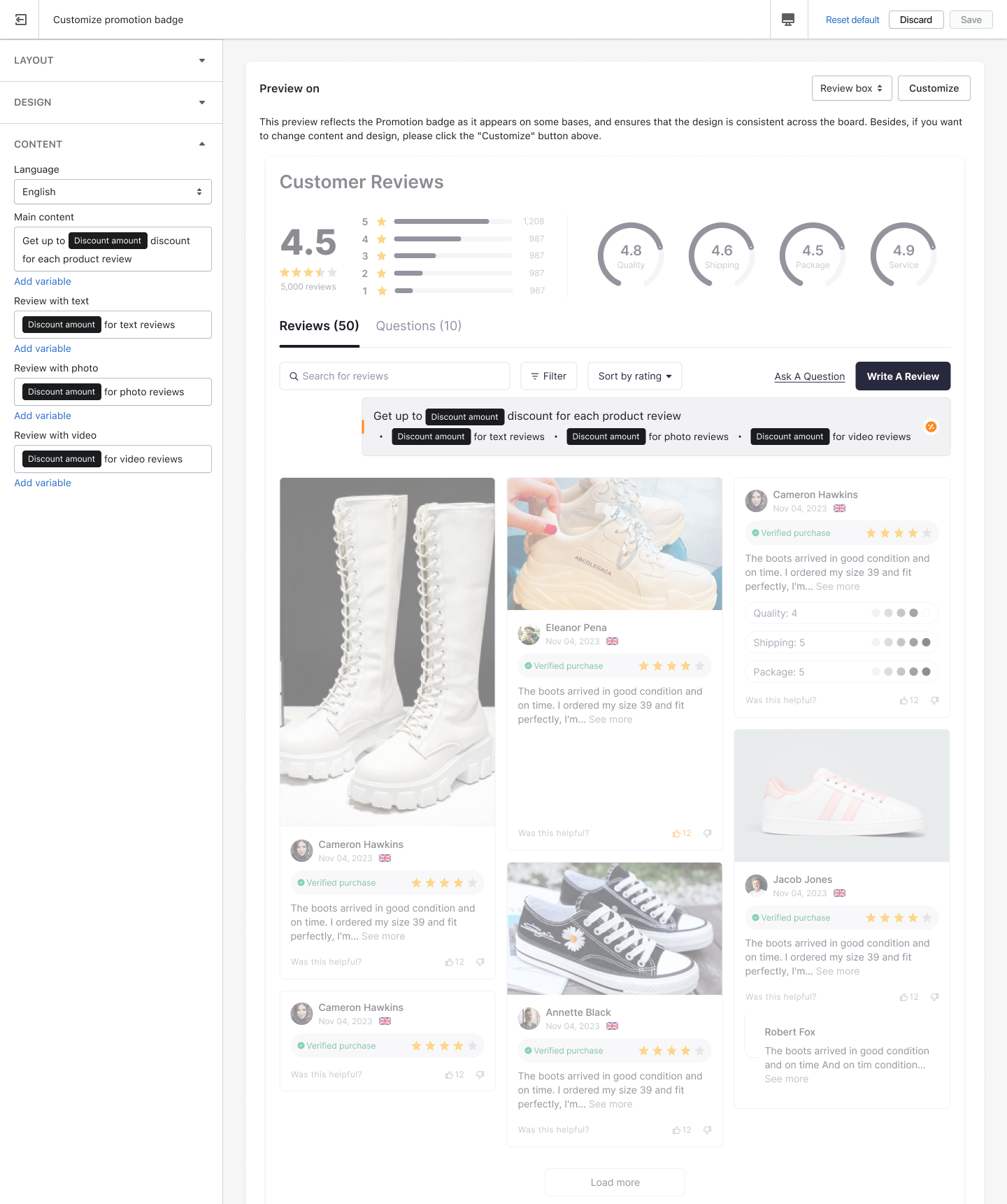 Here's how the improved discount feature will benefit you:
Unique discount codes:

The targeted discount function enables the generation of one-time-use promo codes applicable to selected review kinds.

Validity period:

With the new version, you can set a validity period for the discount code. An expiration date on a discount code can increase the sense of urgency, which in turn can increase sales. 

Enhanced visual reviews:

Visual content is crucial in driving customer engagement. Now, you can increase your chances of collecting compelling visual reviews, including photos and videos. By implementing a tiered discount system, such as offering $5 off for text reviews, $10 off for photo reviews, and $20 off for video reviews, you can incentivize customers to provide more engaging feedback.

If the customer submits two or all three types of reviews, the system will automatically recognize and send the discount with the highest value to the customer.

Verified Buyer:

You can specify that the discount code should only be sent via the review request. This setting restricts discounts from being applied to storefront reviews.

Multilingual support:

We now support English, Portuguese, and Simplified Chinese, making it easier for global merchants to generate attractive discounts.

Effortless management in Shopify's discount section:

Automatically sync the code in the Shopify Discount section, simplifying discount management and tracking the code usage of your app.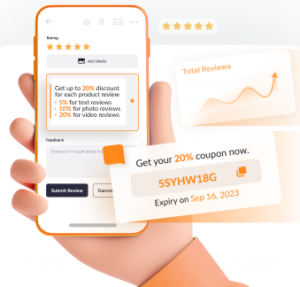 Hit The Bullseye With Targeted Discounts
No more one-size-fits-all. Let's customize discounts based on review type and receive the review material you want.
TRY FOR YOURSELF
Maximize customer engagement and foster trust
Targeted discounts and more features are now available. These fantastic updates provide you the ability to increase customer engagement, broaden your audience, and inspire confidence in your brand. 
If you have questions or concerns, please reach out to support via live chat or email support@fireapps.io.