In Socialshop v4.0, we're more than delighted to announce to you that Socialshop now supports pushing products from Shopify to TikTok Shop – a social commerce channel with endless sales potential. 
In this article, we'll show you what TikTok Shop is; 04 reasons why should you leverage it for your business!
Let's find out together!
TikTok Shop at a glance!
TikTok Shop is a shopping feature that empowers businesses and content creators to showcase and sell products directly on the TikTok platform through in-feed videos, Livestreams, and the shopping display tab.
This opens up great social commerce opportunities for brands since your customers can view products, add to cart, check out and give reviews about their shopping experience all in one place – the TikTok app.
📝 Please be noticed that if you're not residing in the territories where TikTok Shop is available, you may not access it yet.
However, with its exponential growth in Southeastern Asia countries, it's just a matter of time until TikTok Shop expands globally. 🤗
04 reasons why you need to leverage TikTok Shop
But is TikTok Shop worth trying? Well, short answer: Yes! We know you already have lots of things to take care of as a store owner, but leveraging TikTok Shop should be your top priority as well.
Here are 04 main reasons why you should open a TikTok Shop today:
#1. Gain pioneering advantages
As mentioned, TikTok Shop isn't available worldwide yet, so if you're living in the countries where you can open TikTok Shop, then the question isn't 'Why' but 'Why not?'
When you open a TikTok Shop now, you can start expanding your presence on this giant platform. And when your competitors can open a TikTok Shop, you have already been a few steps ahead and have better brand visibility than your competitors who join the game late.
#2. Higher engagement rate
The average engagement rate on TikTok Shop is around 3% – 9%, which is even higher than Instagram at around 3% – 6% and far higher than Facebook at only 0.5% – 0.99%. This is because video format stirs up people's emotions more effectively. 
For further explanation, with a short & entertaining video, you can easily give your products a context, showing how it works in a real-life setting.
#3. The TikTok algorithm does not 'play favor'
While other social and eCommerce platforms take time to analyze content and user behavior, the TikTok algorithm works in the opposite direction. It distributes a piece of content to a small group of people first and then tests those people's interactions before bringing that piece of content to the masses if the content meets its community standards.
So as long as you invest consistently in creating creative and entertaining content, having thousands of orders in 1-2 days is normal if your content goes viral, which otherwise, is impossible on any other platform. 
#4. Shoppertainment trend is on the rise
Covid-19 has nurtured a new trend of shopping called 'shoppertainment', in which people take part in entertaining activities (watching TikTok clips, playing online games, watching live streams) first, and then the demand for shopping comes naturally.
According to TikTok, 50% of TikTok users admitted they discovered new products or brands when using the platform. The noteworthy point is that 89% of them have actual buying demand after watching TikTok videos. 
A piece of typical evidence is the hashtag #TikTokMadeMeBuyIt has 8.1 billion views, showing users don't have the need to purchase anything until they browse TikTok.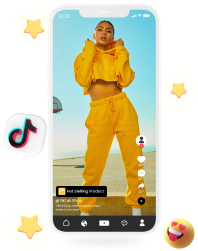 Push Shopify products to TikTok Shop in clicks!
Effortlessly push all products to TikTok Shop & unlock your endless sales opportunities!
GET FREE APP
Hooray! Socialshop now supports TikTok Shop!
Still reading? Well, it means you're serious about expanding to TikTok Shop, right? If so, we're more than delighted to bring you good news: you can now use Socialshop to push your Shopify products to TikTok Shop within clicks!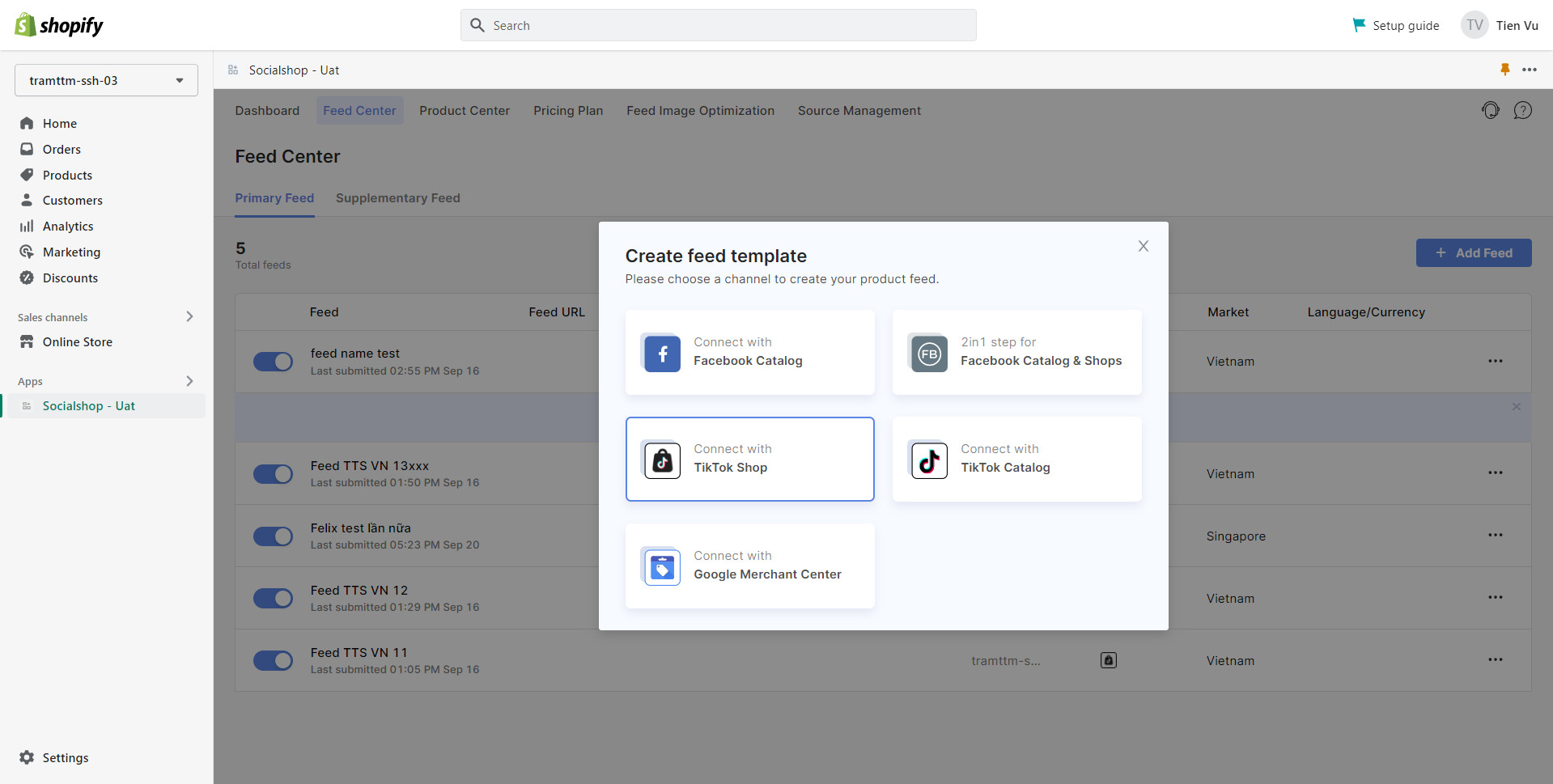 💡 See the brand-new 'Connect with TikTok Shop' we've just added for you? Click on it and follow our step-by-step instructions to successfully push your products to TikTok Shop.
After your product feed gets approved, it will show up as shown in your TikTok Shop Seller Center.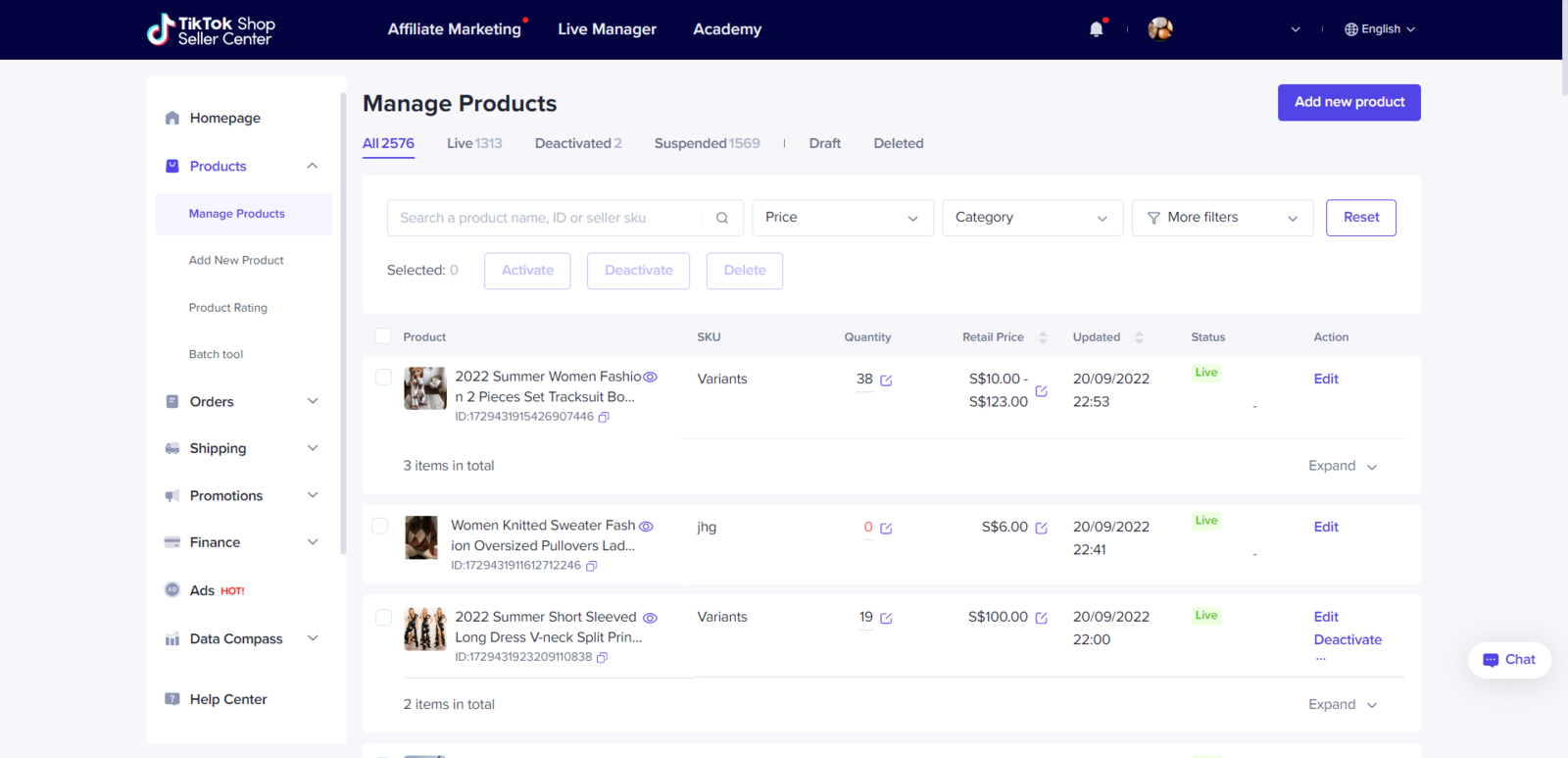 Ready to push products to TikTok Shop?
That's it! We hope this brand-new feature will ease up your selling journey on TikTok Shop so you could unlock endless sales opportunities on this potential social commerce platform. 
Should you have any questions or concerns regarding Socialshop v4.0, don't hesitate to reach out to our dedicated customer support team at support@socialhead.io  
And if you're interested in TikTok Shop then we bet you may also love to read more about our article on How to Leverage TikTok to Drive More Traffic & Sales (2022)