We're glad to bring some new updates to Transcy that are sure to improve your experience using the app.
Particularly, we've improved Transcy's navigation and brought you the brand-new Account Page.
Let's dive right in and find out what Transcy V4.37.1 has to offer!
Improved Navigation With A Sticky Top Bar
Now, when you log in to Transcy, you will notice a sticky top bar like this at every tab of the Transcy app.
This update will help you better maneuver and navigate around the Transcy app without switching back and forth just to toggle on the language switcher or watch our tutorials.
Introducing Transcy's 'Account Page'
Plus, in this version, we also add the Account Page to the Transcy app. Simply put, on this page, we'll summarize all the essential information during your journey with Transcy, including:
Store information

: email, default language & currency, market

App information

: plan, billing cycle, published languages & currency (number)

Transcy wallets

: count word, no. of product translated, no. of glossary created, no. of image replaces, no. of page auto translated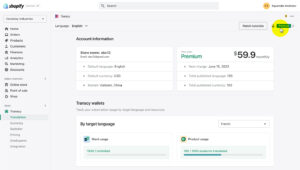 The newly-added Account Page will give you a better overview of your app behavior, thereby helping you leverage Transcy's features more effectively.
Wrapping Up!
We hope the new UI-UX enhancements we brought to Transcy can improve your experience using the app.
If you have any questions or concerns regarding Transy's latest version, don't hesitate to contact us at support@onecommerce.io.