Twitter has a vast audience, making it an excellent platform for advertising products and services as well as sharing content.
As a result, if you're searching for tools to assist in advertising your business, Twitter is a good choice.
In our blog today, we'll give a list of useful tips for you to do brand marketing with Twitter SEO.
#01. Retweet on Twitter
If you're searching for a technique to do Twitter SEO, retweets are one of the most efficient ways to grow your reach.
Furthermore, unlike on Facebook, asking for retweets is completely acceptable, and you will not be punished for including this explicit call to action inside your posts. 
So, feel free to ask for a share.
Take Vast, for instance, this brand collaborates with Truman Factory to hold a giveaway contest. In this way, the brand can incentivize people to retweet and grow their follower list.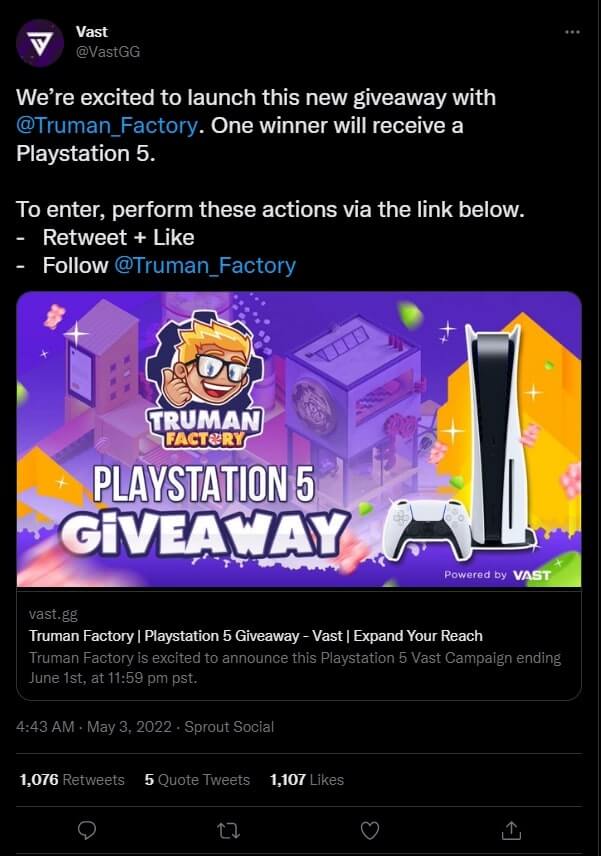 Write shorter updates to make room for retweets. This way, your retweeters will be able to remark on and reference people in the information they are sharing. 
Retweets should be no more than 120 characters long.
You might, for example, organize a giveaway on your brand's Twitter and urge other people to retweet your post.
You will be able to reach a much larger audience this way.
#02. Use targeted keyword
Why not use keywords to reach your targeted audiences on Twitter when you use them to optimize your brand's website?
You can include keywords in your Twitter profile to help Google link your account with relevant terms.
Alternatively, you may use the same keywords in your tweets or as captions for your pictures on Twitter.
The greatest thing is that, like Google, Twitter keyword searches adjust for misspellings, synonyms, slang, and other variations.
When a user searches for "love pizza," wide match results may contain phrases like "loving pizza" or "I looooove pizza."
#03. Optimize your profile
Long-term searchability will be provided by optimizing your Twitter profile. 
Also, maintaining a consistent username and handle across all of your social media with your business name and website improves your findability.
To begin, you should avoid using digits in your username and handle because it may appear spammy to Google.
Next, you should avoid changing your Twitter identity or handle on a regular basis since it can confuse your followers and lead you to lose them.
Furthermore, it will remove your verification badge (if you already have one) when you do so.
#04. Focus on Your Bio
After your username, the next most significant item you can modify is your bio. It's lengthier than a tweet at 160 characters, and it may be important for your SEO.
To begin with, it's highly indexable material and the first few lines of your Twitter bio will appear in the description of your page.
As a result, it is critical to make your bio stand out. 
#05. Include links in your Twitter
To rank well in search engines, your Twitter profile needs the same thing as any other website: a variety of links. 
Link to your profile whenever possible, and include strong keywords in the anchor text.
There are other possibilities, but according to SEO guidelines, the main page of your company's website has the greatest authority, therefore this is the most logical decision.
You may always link to a special landing page in case of a temporary campaign or event.
You can increase the amount of authority your Twitter profile receives from search engines by encouraging others to link to it as well, such as using it in an author byline when guest blogging.
#06. Stay Focused With Your Tweets
While it may be beneficial to have some fun with your Twitter account and stray from your main topic at times, you must stay focused and routinely produce tweets that are on-topic and keyword-rich.
It's vital to understand that in Google's view, your primary Twitter profile is just like any other page with a headline, body material, and links. 
If the content is keyword-rich, it is more likely to rank well, just like any other page.
Keeping your tweets targeted allows you to preserve that keyword-dense text, providing Google with exactly what it wants to see.
This will also encourage Google to rank your Twitter page higher than other, for instance, less-focused accounts.
Obviously, if you want to increase brand awareness, you must make your social accounts visible in Google Search Results.
Add a markup code to your website and provide your chosen social accounts, such as Twitter or Facebook, to Google. More precise information may be found on the Google Developers website.
In short
Twitter is an ideal tool for marketing businesses and services as well as sharing content.
We hope that our tips will be of great assistance to you in advertising your business on Twitter as well as executing SEO on this platform.
If you find this blog useful, please share it with your friends and colleagues who may be interested in doing brand marketing on Twitter.