It is the busiest time of year for customers. It is also a rush time for store owners like you to fulfill as many orders as possible and meet quarterly sales goals before the year ends.
Chris Conrady, a guru in e-commerce, loves the fourth quarter. He believes the holiday season presents an incredible opportunity to exponentially grow your brand while building up some cash reserves for the new year. 
Although he sold his eight-figure brand last year, he achieved close to $300,000 in sales in his first Q4 five years ago. The sum shocked both him and his partner. He eventually had to disable the advertisement because of the large number of orders.
Afterwards, he prepared everything for tenfold sales in the fourth quarter of 2018. He ended up earning more than $200,000 on Black Friday alone. Profits surpassed $50,000.
His achievement is not by chance; it is the outcome of well-thought-out STRATEGY. Here are the fundamentals of his strategy that have been simplified to help you maximize revenue and close the year strong. 
Let's get started.
#1. Know your numbers
"Seriously. This is very important!" says Chris Conrady.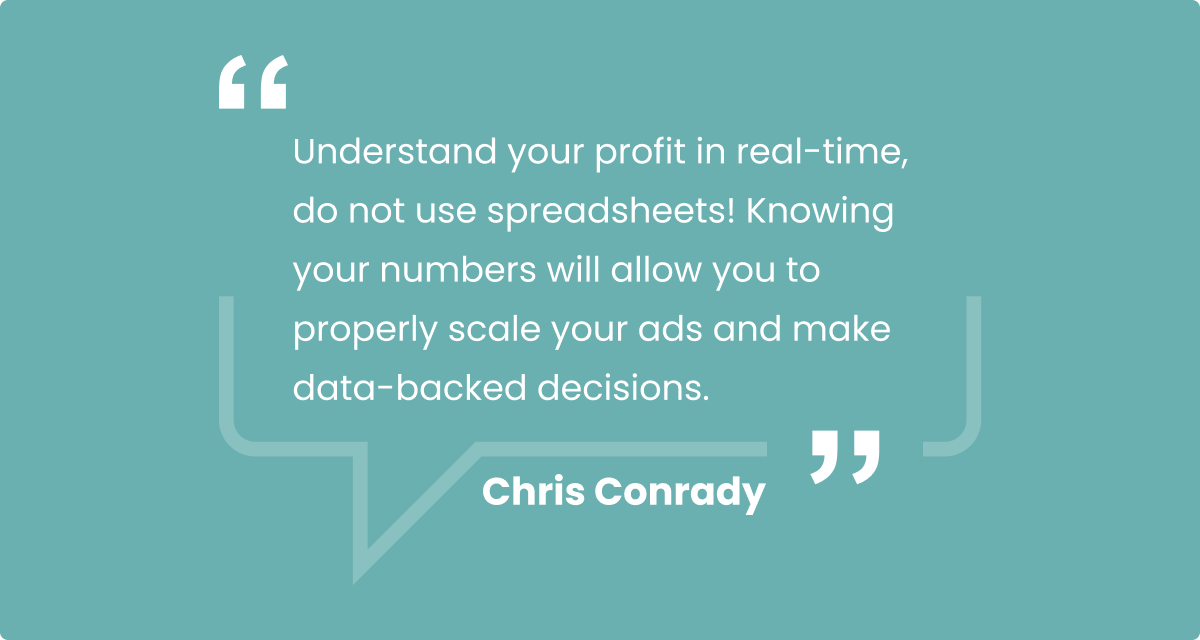 Promoting your products with ads is a great way to boost sales before the end of the year, but if you aren't using data to drive your strategy, you could be hurting your business instead of helping it.
It is not only important but also required to know what your customers want at any given time. So, the first step is always to collect data in real-time and decide what steps to take next. 
If you're considering using spreadsheets to keep data up-to-date, don't. Spreadsheets can't update data in real time. And manually inputting data adds more work.
So what's the deal? Get yourself an app that can collect all the real-time data and information about your store. Chris Conrady recommended taking advantage of TrueProfit, a real-time profit and LTV tracking app. You can learn more about TrueProfit from Chris Conrady in his video. 
Unveil Your Real-Time True Profit

No more spreadsheets. Track your profit, costs, and other financial metrics in one place! Start Tracking
TrueProfit enables real-time tracking of the cost of goods sold, ad spends, and more. It eases your pain with a simple setup process, so you'll only configure it once and leave the rest to it. Plus, the powerful profit tracker with time-series line charts can help you analyze all changes to store data at different time ranges. 
#2. Email marketing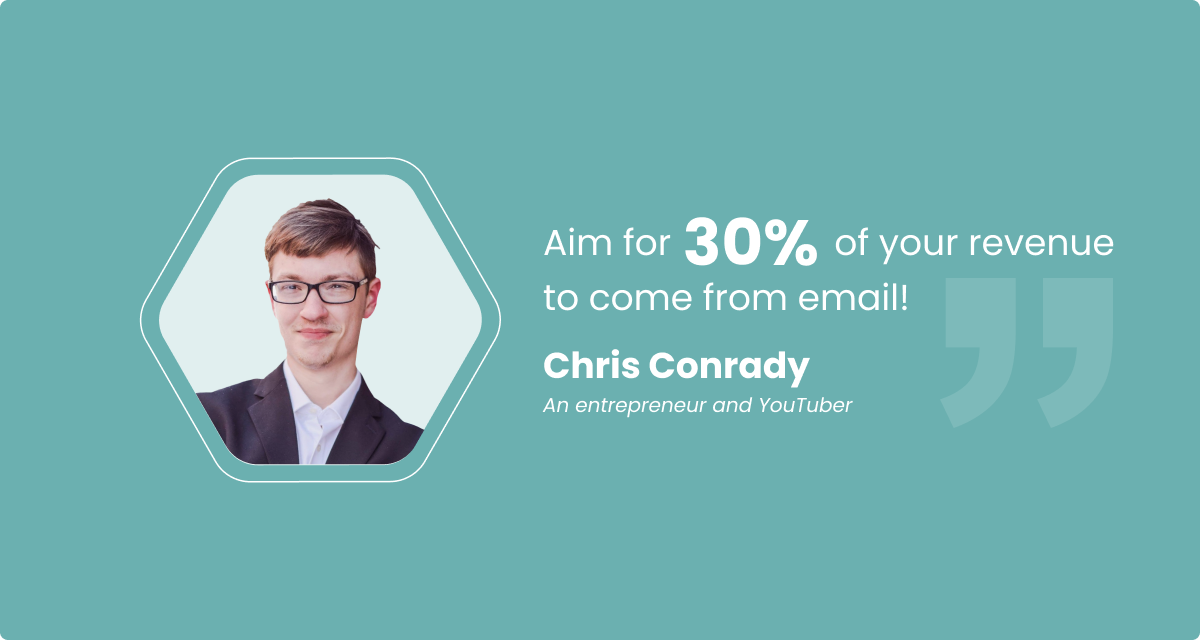 "Email is the greatest tool you have. I learned a lot from Ezra Firestone about this. Aim for 30% of your revenue to come from email," Chris Conrady shares. "When it came to BFCM, we were sending out 3 emails per day to various lists. Have your campaign emails written, planned, and scheduled in advance!"  
Email marketing helps increase website traffic, convert visitors to buyers, and nurture leads into sales. It's a terrific way to boost happy customers.
With the amount of sending 3 emails each day, do you worry about your emails being marked as spam? They will not if you give valuable content to the right audiences at the right time. 
Here are the three keys to creating effective email marketing that your customers will like:
Determine who your audience is by drafting their personas

Priority Initiatives:

Why do buyers choose your store over others?

Success Factors:

What operational or personal results does your buyer persona want from you?

Perceived Barriers:

What issues make your buyer doubt your store?

The Buyer's Journey:

What steps does this persona take to find and choose a solution to overcome Perceived Barriers and meet Success Factors?

Decision Criteria:

What factors of competitor offerings are most important to your buyers?
Segment your email list to make emails more relevant
Demographics:

Age, gender, job title, and income level can reveal a lot about a person's wants and interests.

Location:

Geographic area segmentation is an important technique. Particularly for stores where a customer's location can influence their purchasing decision.

Customer behavior:

Send emails to customers based on their behavior, such as emails they opened and pages they visited.
Send timely, relevant content
The answer to the question "When is the best time to send an email campaign?" is that it depends on your target audience. We agree that that is an uncool answer. Unfortunately, it's true! If you want to send your emails and newsletters at the best time for opens and clicks, continuously A/B test your send times.
Email open rates are more than just delivery times. Customers will not bother opening the email if the content is uninteresting in the first place.
Make your subject lines engaging and delightful.

Ensure your content is relevant to the customer's interests and needs.

Ensure your email marketing template looks great and works on any device.
#3. Upsell
Chris Conrady spent $7 on an add-on technique called "First in Line". "If customers choose this option, they get their order fulfilled sooner. When you sell custom products, this is very effective (and profitable)," he says.
The goal of upselling is to persuade customers to purchase more costly items than they intended. It's a lucrative sales approach that gets good results.
If you own an online store, skipping upselling means missing out on potential earnings. So, let's get into it now.
Choose an appropriate product to upsell
Relevant products are the key to a successful upsell. Upselling involves offering a more expensive option for the product the customer is considering purchasing. The product should be similar to the one being replaced but better in some way.
Make a product comparison page 
Most shoppers conduct online research before buying. They're comparing the pros and cons of each product based on factors like cost, quality, reputation, and availability.
So, a product comparison page is an excellent way to highlight the aspects of two items separately, citing their benefits and relevance to a specific buyer. Customers can easily compare products with products that are being sold as upsells without having to go to different pages.
Leverage an upsell app
Upsell apps are essential if you want your Shopify customers to spend more money on your store. With the right upsell app, you can maximize your revenue from each customer. 
Taking the top spot is OneUpSell, a terrific upselling app that can help merchants increase conversion, sales, and average order value. 
Leverage Promotions To Double Your Sales

01-click post-purchase upsell without disrupting the customers' buying journey.

Try OneUpSell free
OneUpSell comes with various engaging promotional campaigns.
Volume discounts – Quantity breaks: Offer Buy More, Save More discounts. For example, Buy 2, Save $10, or Buy 3, Save $15.
Volume discounts – Spend goals: Provide discounts or free gifts based on the value of the customer's cart. For example, spend $50 and get 10% off!
Product bundles: Offer bundles of products that go well together or are often bought together to get customers to buy more than one thing at once.
Flash sales: Boost conversions with time-sensitive offerings. Create a landing page with conversion-boosting tools.
Price editor: Schedule and edit various product prices (all/collections/specific) with automatic rollback.
OneUpSell has beautiful, ready-to-use templates that will get your sales season off to a great start in no time.
Conclusion
"If you follow these tips, you'll almost always see positive results. It will make this time of year much more enjoyable!" Chris Conrady stated.
As you work hard to entice customers and boost revenue in the final quarter, don't lose sight of the need to improve for next year.
Chris Conrady's conversation with OneCommerce was open and sincere. More articles drawing on the insights of eCommerce experts to win more sales will be coming soon. Keep an eye out!
About Chris Conrady
Chris Conrady is an entrepreneur. He helps business owners get more leads and customers through social media strategy and digital marketing. His self-titled YouTube channel has 145K subscribers.
2016: Embark on an eCommerce business
In 2016, he and his business partner, Julia, opened a store called "CaseOverStock" where they sold phone cases, but the project failed.
During that time, they decided to start another business called "Friendly Paw." The store had the typical AliExpress products that were shipped directly to the customers. In terms of marketing strategy, they've collaborated with influencers, spending $40 for a shoutout. Influencer marketing generated $40,000 in sales over the following three months.
2017: Start a print-on-demand business
Chris Conrady and his partner sold Friendly Paw for $5000 in 2017 and opened more dropshipping stores. 
Because of the difficulty of sending products to customers, they looked at many alternative business models. They came upon the print-on-demand business, which provided customized products to boost brand awareness. In the first month, their print-on-demand store, Pet Canva, made $19,000 (from influencers) and $50,000 (from Facebook ads) in sales.
In 2018, they made a profit of $450,000.
2019: Build a YouTube channel
In 2019, he created a YouTube channel to share his eCommerce thoughts and experiences. After one of his YouTube videos went viral, he earned $8,000 per month, which was a big win.
2022: Keep going with new projects
Chris Conrady is back after an absence of one year, and we couldn't be happier to have a conversation with him. He has started working on a new project called NothingButThePresentMoment.com.
Meanwhile, Julia and her team are developing a program to help businesses manage orders efficiently.