This September marks a significant event: Ali Reviews, Transcy, TrueProfit, and 10+ other leading eCommerce solutions have united under one new brand – OneCommerce. Let us take you along on our new journey!
What is OneCommerce?
OneCommerce is an eCommerce Solution Platform dedicated to growing sales for eCommerce businesses. It synergizes the power of 12+ leading eCommerce solutions that cover 12+ different areas across the industry.
All of OneCommerce's solutions focus on helping eCommerce merchants win customers throughout all stages of the customer journey. The big names include Ali Reviews, Transcy, TrueProfit, and many more.
With OneCommerce, online sellers can:
Expand their touchpoints with potential customers
Customize the storefront and enhance on-site experience
Boost conversion rate and increase order value
All of this combined to help online sellers grow sales MORE EFFECTIVELY with LESS EFFORT.
Why do you need OneCommerce?
If you're thinking you're fine with going back and forth installing independent applications, OneCommerce is here to prove you the opposite.
After 7+ years in the industry, we witness a common practice among eCommerce merchants: installing a bunch of separate applications that have little connection to each other to support them to grow more sales. This approach shows a bunch of downsides when going into practice in the long run. One of the most obvious ones is merchants losing potential customers at some points in the sales funnel before they come to the last step of the customer journey: purchase.
Now with the combined expertise, technology, and data across 12+ areas, OneCommerce offers all the applications you need to effectively acquire leads right from the moment they visit your store and make them become your actual consumers.
Our vision doesn't stop there. Understanding that merchants need more than just applications to succeed, we also offer first-class services to satisfy the more complicated demands of fast-growing store owners. From page speed optimization to website audit and multi-language translation requests, OneCommerce is an all-inclusive package that can cover it all for you.
Numbers Speak Louder Than Words
It's our honor to have been trusted by the most sophisticated customers from all over the world along our 7-year journey. From now we want to bring you even greater satisfaction with the new mission.

Our Mission
Feel free to leave the heavy lifting to OneCommerce because it's our mission to help SME merchants achieve their selling goals by solving problems throughout the sales funnel with the help of proven technology and experts.
Our Products
Now, let's see how OneCommerce's products help online merchants win customers at every stage of the sales funnel.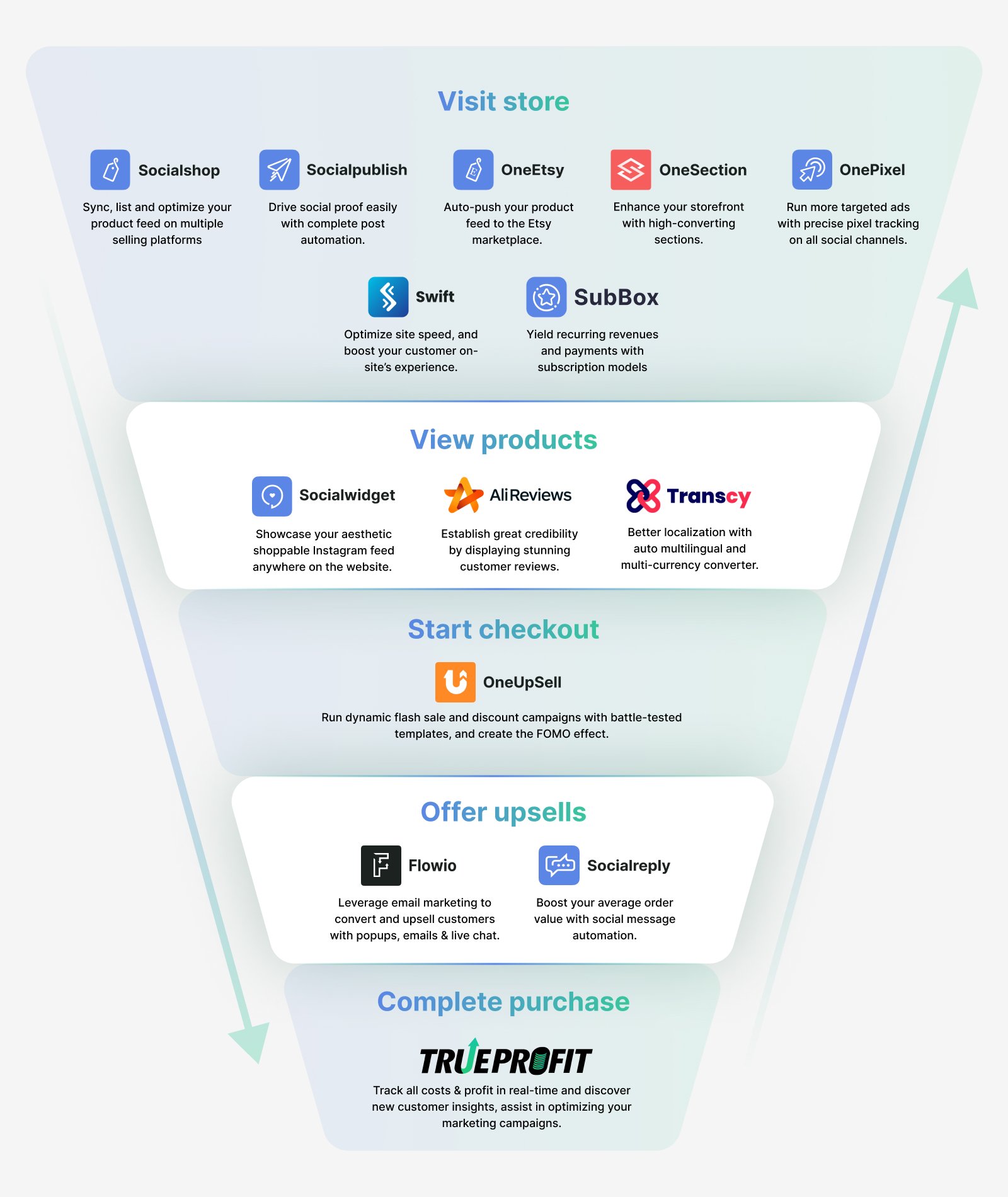 Our Services
Choosing OneCommerce means that you'll be backed up by humans, not just robots. We offer top-notch expert services and take care of the most sophisticated requests from you – our customers.

All combined to help merchants achieve more remarkable sales performance. It's high time to level up your eCommerce game with OneCommerce.