ECommerce has come a long way over the last decade. From the humble beginnings of internet stores set up in garages to today's 5.7 trillion dollar industry, eCommerce has seen its ups and downs. 
Besides, the eCommerce industry is going through a transformation, and technology is playing a major role in that. Sellers are adopting technology to create a more seamless and personalized shopping experience for their customers. And customers are expecting a higher level of convenience and personalization. 
So, it's no secret that in order to gain the advantage, businesses need to be ahead of the curve and on top of  2023 eCommerce trends. With that being said, merchants who can adapt and embrace the changes quicker will be the ones who thrive not only in 2023 but in the years to come as well.
Without further ado, let's dig right into the 12 key eCommerce trends that you, as a merchant, must not miss out!
12 rising eCommerce trends that are promised to explode in 2023
The eCommerce industry is constantly changing and coming out with new trends. If businesses don't stay updated, they'll quickly get left behind. As of what's happening at the moment, we can see there is a shift back to in-store shopping when the pandemic is under control. Moreover, due to inflation & financial crisis, people have become more mindful of their spending.
So, what can we expect to see in the 2023 eCommerce trends in the year ahead?
1. Buyers prefer using voice search while shopping
According to Insider Intelligence, more than a third of Americans possessed a smart speaker at the beginning of 2022. According to Statista, this currently accounts for 60% of US households and is anticipated to reach 75% by 2025.
According to statistics from The Future of Commerce and Customer Engagement, an increasing number of individuals will use voice search for online buying as well, with voice commerce revenues predicted to reach $30 billion or more by 2024.
You may be wondering why? Here are a few reasons why buyers prefer using voice search as a key eCommerce trend while shopping:
More convenient

: people can place orders while their hands are free to do other things, such as driving or house cleaning.

Fast and efficient

:

71%

of shoppers prefer to conduct queries by voice instead of having to type out a long search query.

More accurate

: voice recognition has come a long way until now. According to Aokmarketing,

voice search is now more accurate than traditional search

, so shoppers are more likely to get the results they're looking for.

More ubiquitous

: A recent survey revealed that

35.1%

of consumers use virtual and voice assistants daily, with smart speakers (Amazon Echo, Google Nest, and Homepod) becoming increasingly popular – it is estimated that

three-quarters

of all US households of the US population will own one by 2023.
Therefore, as a merchant, you need quickly adapt to this new eCommerce trend and seek to offer your customers the shopping experience they need.
Bonus Tips?
You should pay more attention to the content and keywords you use. If you want to optimize your site for voice search, then use keywords that sound like they would be part of a conversation, question-type keywords, or the ones that match the way people naturally speak.
2. Chatbot is the best assistance when you're not online
In recent years, chatbots have been popular not only for their ability to communicate well and quickly with people but also for the ways they can help businesses save time and resources.
According to a survey by Hubspot, 90% of customers said that an "immediate" response is important or very important to them when they have marketing or sales questions. 
And 60% of customers defined "immediate" as 10 minutes or less. You know what this means – If you don't respond to your customers' queries quicker than your competitors, you might lose a chance to sell. 
Because of that, more and more store owners are using chatbots as "assistants" for their customer support team. The bot is online 24/7 and can be set up to answer present and frequently asked questions from your customers. 
Thanks to technological advances, chatbots can provide more tailored service and product recommendations, making the shopping process more efficient and more enjoyable. This is really a promising eCommerce trend that will explore in 2023!
Bonus Tips?
As more eCommerce businesses start to use chatbots, the development of chatbots is sure to continue to make improvements. Here are some ways that chatbots can be used to improve the customer experience:
Use chatbots to

recall key information

about previous orders, eliminating the need for customers to retype details.

Entrust chatbots with the job of

answering questions about products or services

. This can help reduce the time CS representatives need to spend on each call.

Use chatbots to

provide personalized recommendations

to customers based on their past purchases.
Discover the handy ECom toolkit for 2023

You can download this 2023 Kick-Off Toolkit for FREE and stay updated at all times! Take me there
3. Live shopping has been the hottest eCommerce trend
E-commerce is here to stay, and the competition is getting more fierce than ever before. Today store owners need to be more creative in order to win more customers and get more sales. One of the hottest eCommerce trends has been live shopping or live streaming. 
For your information, live shopping means that the sellers will present their products through live streams (often on a social media platform like Facebook or TikTok), allowing customers to ask questions, receive responses, and make purchases in real time. This is known as live selling and interactive buying. 
In 2021, this strategy brought in $300 billion in China, where it first found success. Since then, it has expanded to the rest of the world as a result of websites like Facebook and Amazon joining the trend. In fact, it's predicted that the global live-streaming market will reach $247 billion by 2027, according to live-streaming statistics.
Although the trend is still in its infancy, the US live sale market is anticipated to reach $25 billion by 2023. However, with the involvement of major companies like Walmart, Nordstrom, and Macy's, its popularity is predicted to soar real soon. 
So, Have you ever wondered why live commerce is so popular these days?
First and foremost, this method is not just about selling goods between merchants and customers, but the critical point of this method is its high level of interactivity. 
Customers feel more connected to the product and the sellers/ live streamers when they can see them in real-time and even interact with them to ask questions about the products they are interested in. This creates a more personal shopping experience that often leads to more sales and a higher level of customer loyalty. 
More so, live shopping can reduce the return rate by up to 40% when compared to other traditional selling methods.
Bonus Tips?
If you want to create the best live shopping experiences for your customers:
Go live consistently at the same time

: This will help nurture a group of loyal viewers who know when to expect your live streams.

Try a test run before your first official live stream

: This will help you iron out any technical wrinkles and to practice your presentation skills.

Promote your live shopping streams

: Make sure potential viewers know when and where to tune in by posting about it on social media and other channels.

Engage viewers actively and directly

: Live streaming is all about interactivity, so make sure you're talking to your viewers and addressing their questions & concerns in real time.
4. Inflation issues lead to less shopping demand
When the cost of living rises faster than incomes do, it becomes difficult to keep your current living standard. Businesses may find it hard to keep prices competitive enough to attract customers, while consumers may have to cut down on non-essential spending.
According to the US Inflation Calculator, the inflation rate for 2022 is estimated to outperform previous years by a significant margin, sitting at just over 8.2%. 
To give you a clearer view of how big this number is, let's compare it to the highest inflation rate in recent years, which was between 2012 – 2020, where it only hit 2.3%.
As prices continue to rise, consumers will become increasingly diligent researchers in an effort to find the best deals on the products they want. This is sure to lead to a decrease in overall spending.
Bonus Tips?
As sellers, we can't control the inflation rate. But you can find out ways to increase your average order value by upselling your old customers rather than investing in finding new ones.
In this case, OneUpSell – the all-in-one upselling solution, is just what you need. The app offers various upselling options, such as post-purchase upsell, volume discounts, free gifts, or bundle discounts. It's super easy to set up and comes with battle-tested, stunning templates that are fully customizable to suit your brand guidelines.  
5. Omnichannel selling is a must, not a plus
In the modern business world, selling through multiple channels is no longer a luxury – it's a necessity. As a matter of fact, consumers are buying products on various different channels. Businesses need to be where their customers are.
The omnichannel selling eCommerce trend has started since 2022 and is forecasted to continue to dominate in 2023 and beyond – when there are more newly born selling channels than ever. It challenges store owners to provide a consistent but diversified shopping experience across all channels, whether in-person, online, or through a mobile app.
In fact, customers who use multiple channels when shopping have a 30% higher lifetime value than those who stick to one channel. In other words, omnichannel selling could be your more profitable move for 2023. 
If you're still not convinced, let's look at the statistics. According to a joint study by Harvard Business Review, around 73% of consumers prefer shopping across multiple channels. This is compared to 7% of consumers who shop online exclusively and 20% who shop merely in-store.
In addition, when compared to single-channel marketing, an omnichannel selling marketing strategy can result in a 494% increase in purchase frequency and an 83% growth in AOV (average order value) per order.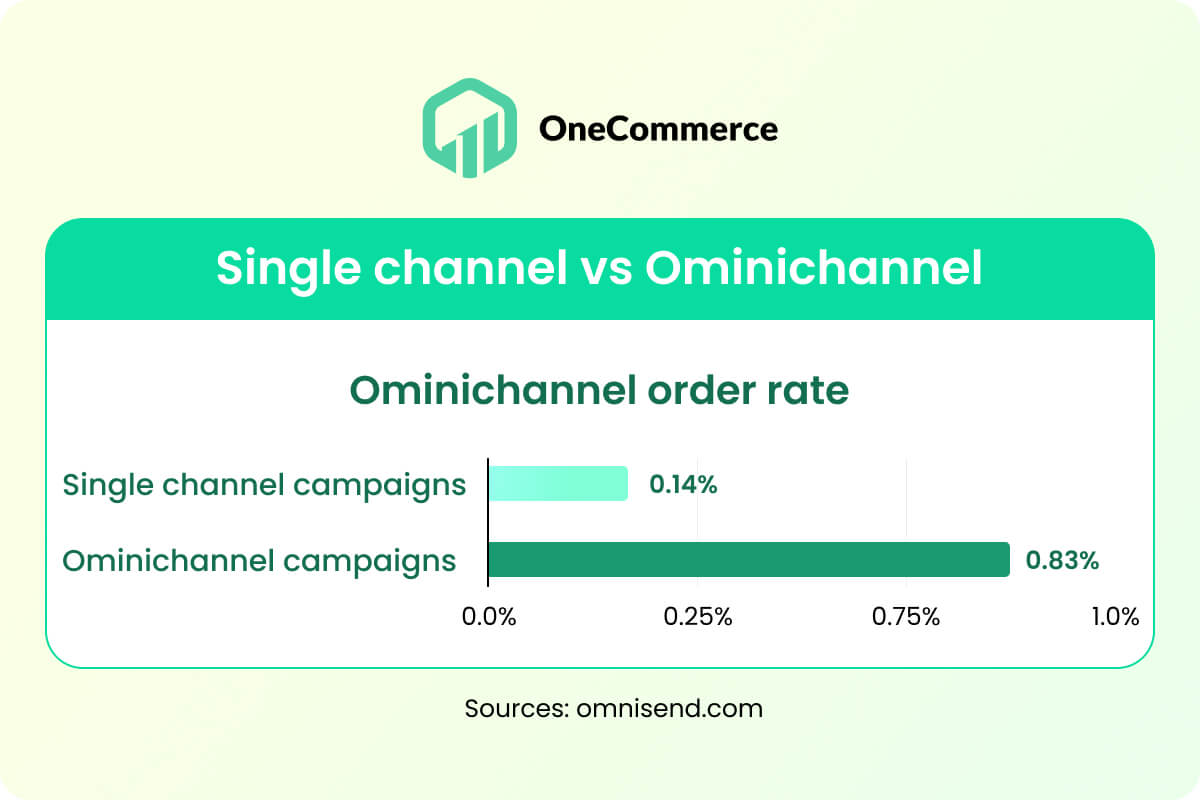 Bonus Tips?
Omnichannel selling sounds easy, but it takes a lot of effort to upload, optimize and manage your product feed on different sales channels. In this case, you'll need to have a multichannel feed management tool to automize the whole process. 
Our recommendation is FeedHub (ex Socialshop)*– the ultimate multichannel feed solution from OneCommerce. FeedHub helps you automatically sync your Shopify product feed to Facebook Shop, Google Merchant Center, and TikTok Shop without breaking a sweat. 
Not only that, the app gives recommendations on how you can improve your product feed to meet the platform's requirements and increase your chances of successful product listings. 
More importantly, you'll get to manage all of your product feeds from one place.
6. Everyone is creating digital content
As digital content becomes increasingly prevalent, it will become a requirement for businesses to have a digital presence. 
Digital content can take many forms, including articles, videos, infographics, stories, audio content, and many more. 
Creating a robust digital presence will help businesses to build brand trust and credibility with their audience, as well as stand out from the competition. In the coming years, those businesses that don't embrace digital content will be at a HUGE disadvantage.
Bonus Tips?
When you create digital content that resonates with your audience, you can help shift their behaviors and better show them your values as a brand.
Here are a few tips to make the most out of your digital content strategy
Make sure all of your content fits into your sales funnel.

Think like a publisher when creating content.

Refine and document your editorial process.

Review, refresh, and replace your content regularly.

Use your network to help you create better content.
7. Most people now shop on mobile devices
With the holiday season upon us, retailers are expecting a surge in mobile shopping. This is thanks to the growing popularity of smartphones and tablets, which make it easier than ever to shop on the go.
According to data.ai, mobile shopping is growing in popularity with a predicted 22% year-on-year increase in visits, totaling 450 billion globally. 
This doesn't even include China, where mobile shopping app usage is expected to reach 850 billion sessions. And it's not just younger shoppers who are using their phones to shop.
Besides, the data has predicted that there will be 28 billion shopping app traffic sessions in the US on Android phones by the fourth quarter of this year, which is an increase of 10% from last year.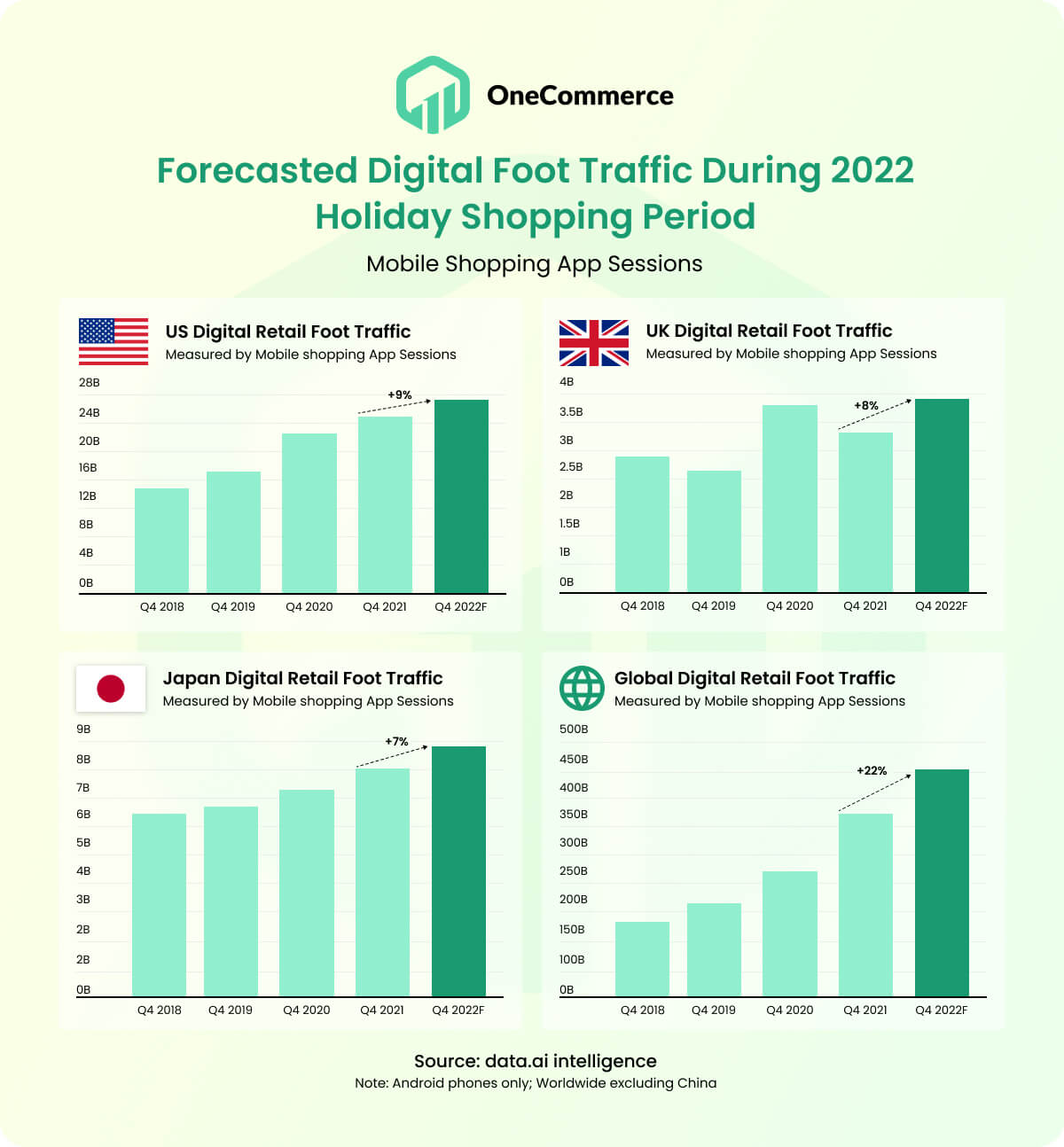 Bonus Tip?
With all that being said, it's fair to say that mobile shopping will be trending in not just 2023 but from now on. Therefore, brands that want to stay relevant need to build their website with a mobile-first mentality. 
This means creating experiences that are built for mobile devices from the ground up (not only reducing the size of your desktop to fit on a smaller screen). It also means you need to offer payment options that are friendly to phones (like Apple Pay, Paypal, Venmo,.. ), and make mobile checkout quick and easy.
8. Consider environmental sustainability if you want to sustain your business
The triple bottom line (TBL or 3BL) approach is gaining traction in the eCommerce world as more people realize that environmental sustainability is not only the right thing to do as a citizen but also makes good business sense. 
In fact, even during a financial crisis, consumers are still willing to pay more to buy from sustainable brands. According to the Economist Intelligence Unit Limited 2021, the demand for eco-friendly goods has increased by more than 70% globally since 2016.
Also, another report said that 52% of shoppers worldwide say that environmental sustainability has become a more important factor in purchasing decisions because of the pandemic. So, as a business owner, you will need to be willing to adopt emerging 2023 eCommerce trends.
For example, according to the Stanford Social Innovation Review, employees at a Unilever tea factory in England saved the company €47,500. They reduced the waste of 9.3 tons of paper by suggesting the company change the size of paper tea bags. This is a good signal, right?
Despite the many benefits of environmental sustainability, some businesses are still hesitant to make a move. Don't be! The key is to take a phased approach, starting with small changes that can make a big impact. Every little bit helps, and eventually, those small changes will add up to a big difference.
Bonus Tips?
If you want to join the increasing number of brands "going green," here are some small examples of this eCommerce trend and how you can do so: 
Utilizing sustainable materials to create products.

Incorporating eco-friendly packaging.

Offering customers sustainable shipping options (e.g., "bundling" items together rather than shipping them individually as they become available).
9. Sell-in subscription models
Selling in subscription models means that customers that use your products or services on a subscription basis pay a weekly, monthly, or annual price for your products/services. 
As the name suggests, this business model generates recurring revenue. Following a predetermined amount of time, customers can renew their subscriptions. With this technique, you may use the connections you have with your clients to generate a consistent flow of revenue.
The sellers and shoppers can benefit from subscription-based revenue structures. As a customer, you can automatically renew a contract for a good or service you anticipate using again soon.
Instead of needing to re-engage clients more frequently, a business can retain them for future transactions. You guarantee monthly recurring revenue (MRR), which can sustain your company through the most trying circumstances.
A subscription model can be a very successful and profitable way to run your business for the correct product, brand, and sector.
How do we know this could be one of the top 2023 eCommerce trends? The global subscription e-commerce market is expected to experience a compound annual growth rate (CAGR) of 68.40% from 2022 to 2027. And in the next few years, the global subscription e-commerce market will continue to grow as more and more consumers express preferences for personalized products and curated services.
The subscription model is not without its challenges, however. The most obvious challenge is that customers may cancel their subscriptions at any time. To prevent this, businesses must focus on delivering value and creating an excellent shopping experience. They also need to make it easy for customers to renew their subscriptions.
Another challenge is that the subscription model can be difficult to scale. As businesses grow, they may need to increase their prices to maintain profitability. This can be challenging, as customers may be unwilling to pay more for a product or service they already use.
Bonus Tips?
That's why you should diversify your store's subscription offers and give your customers the best experience being your subscribers. However, Shopify doesn't support built-in subscription features, so you'll need a robust tool like SubBox.
With this app, you can give your customers various subscription offers. When a customer purchases your subscriptions, SubBox by OneCommerce will automatically create orders and process payments according to that customer's subscription plan. Plus, you can boost customer retention and experience with the Customer Portal, smart email triggers, and more! 
10. Influencer marketing is still a trend
Influencers will continue to be valuable assets for brands and businesses. They have the ability to help your brand reach a large audience and engage with them in a natural and meaningful way.
This is a win-win relationship. The brand gets to reach its potential customers, while influencers have more ideas and budget to create relevant yet interesting content for their fans/followers.
Marketers find that influencer-generated content receives an average 8x more engagement than branded content.
There's a controversial saying about so many influencers being paid to say things about the products & the brand. In our opinion, as long as the content is genuine and transparent, consumers can still trust the KOLs. So, there is no reason why this shouldn't continue to be one of the key eCommerce trends for 2023 and even years ahead.  
Bonus Tips?
In 2023 and beyond, when working with an influencer, think bigger than just advertisements! Instead, allow the influencers or content creators to create content that the audience will find valuable. 
11. Videos marketing is replacing image marketing
If a picture is worth a thousand words, then a single minute of video is worth about 1.8 million words.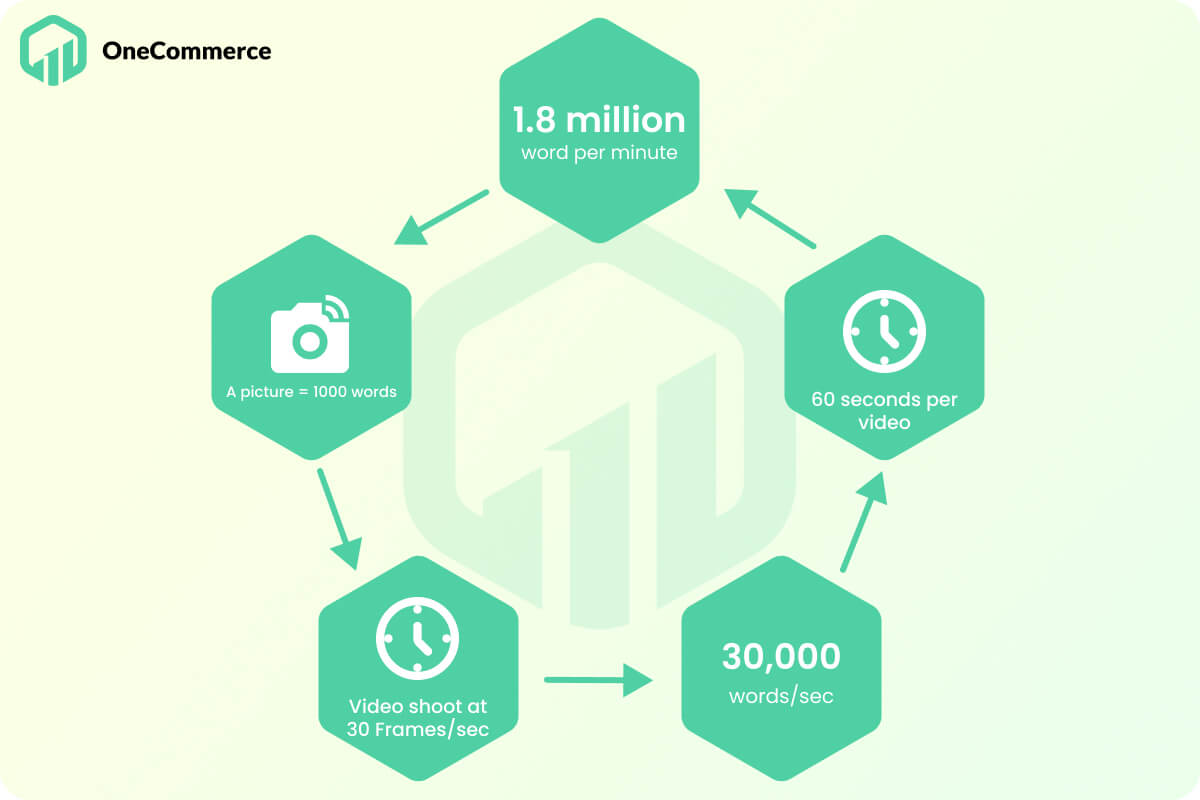 (Source: Idearocket)
Image marketing is good, but it's no longer the only way to reach consumers. Videos are becoming increasingly popular as a means of marketing, and there are several reasons why we say this.
Bonus Tips?
And in addition to creating videos, you can also create shoppable videos like shoppable posts. With a shoppable video, consumers can click on one of the embedded clickable links, which will take them to a page with more information about the product or an online purchase page.
12. Social commerce is on the rise, especially TikTok
Social commerce is rising as shoppers increasingly turn to social media for product discovery and purchase inspiration. 
This eCommerce trend is largely driven by the popularity of short-form video platforms like TikTok, giving rise to a new generation of social media influencers.
It is predicted that in 2023  more than half of the users in the US will purchase an item they saw on social media. 
Of course, this growth isn't evenly distributed among all social platforms. 
TikTok is one of the biggest growth indicators. The number of US TikTok Shop buyers is expected to

rise by 72.3%

this year,

reaching 23.7 million people

worldwide.

In comparison, Instagram Shop will have

41 million buyers

with a growth rate of

9.0%. Meanwhile

, Facebook Shop will have

63.5 million buyers

at

a growth of 11.9%

.
With these stats, it's all there for a reason. On TikTok, it is always "entertainment comes first, commerce follows." This makes it a unique platform that is poised to take advantage of growing 2023 eCommerce trends.
So, next time you ask us which social commerce will be the rising eCommerce trend in 2023, we will definitely start talking about TikTok.
Bonus Tips?
Businesses are starting to see the potential of TikTok as a way to reach and engage with their potential customers. Here are some tips for using TikTok in eCommerce trends for your business:
Keep your videos short and sweet

: Since TikTok users prefer shorter videos, you need to make sure your creatives are concise and to the point.

Use creative visuals

: Think outside the box and come up with creative ways to showcase your products or services.

Use hashtags

: Use relevant hashtags for your industry or business to increase the chance your videos reach your target audience.

Be engaging

: Make sure your videos are interesting and engaging enough to make viewers comment, like, and share them.
The secret to long-term success is staying motivated
The eCommerce industry is booming and is expected to reach $6.3 trillion by 2023. If you're looking to get into this eCommerce game, now is the time! It can be hard to keep up with all the latest changes. But with careful planning and foresight, you can position your business for success in the years to come.
We hope you found this article on 2023 eCommerce trends helpful in some ways. Our goal is to help you stay ahead by staying informed on the latest changes and developments in the eCommerce industry. If you want more content like this, please let us know in the comments.
Discover the handy ECom toolkit for 2023

You can download this 2023 Kick-Off Toolkit for FREE and stay updated at all times! Take me there