Localize your Shopify store with 1 click

Unlimited words and page view

Seamless integration with Shopify Markets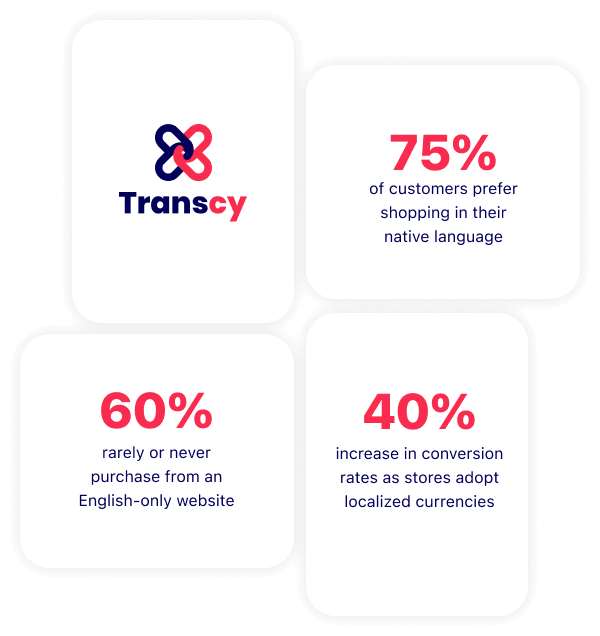 One-size-fits-all stores won't help you tap into the global market
A tailored store with the local language, currency and content will be far more appealing to international customers, clearing any uncertainty and confusion usually found with cross-border shopping.
Sell in native languages
Reach new markets and customers with our automated translation tool
With 1 click, translate all store content into multiple languages (Homepage, Product pages, Cart page, Checkout page, Blog, etc.).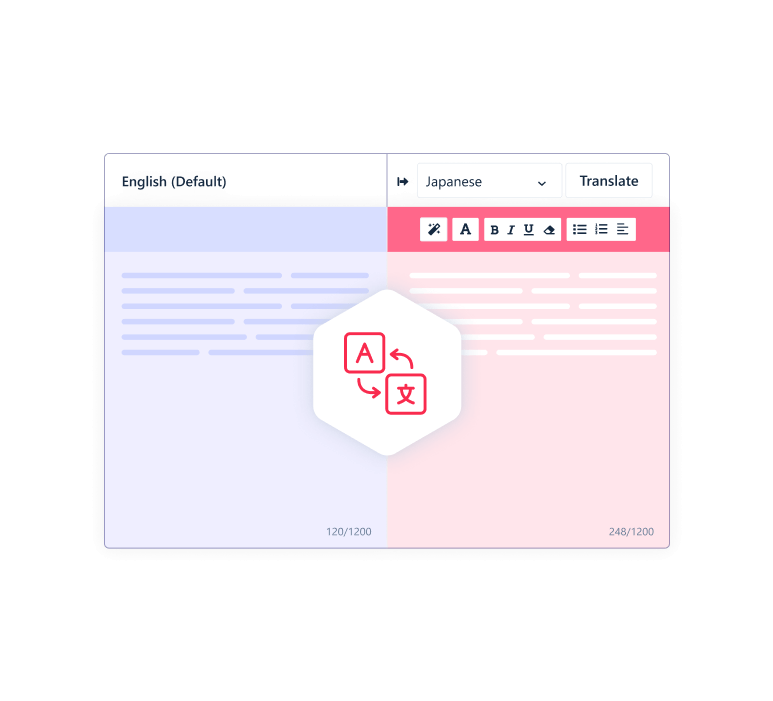 Draft, rewrite or refine translations for the desired user experience.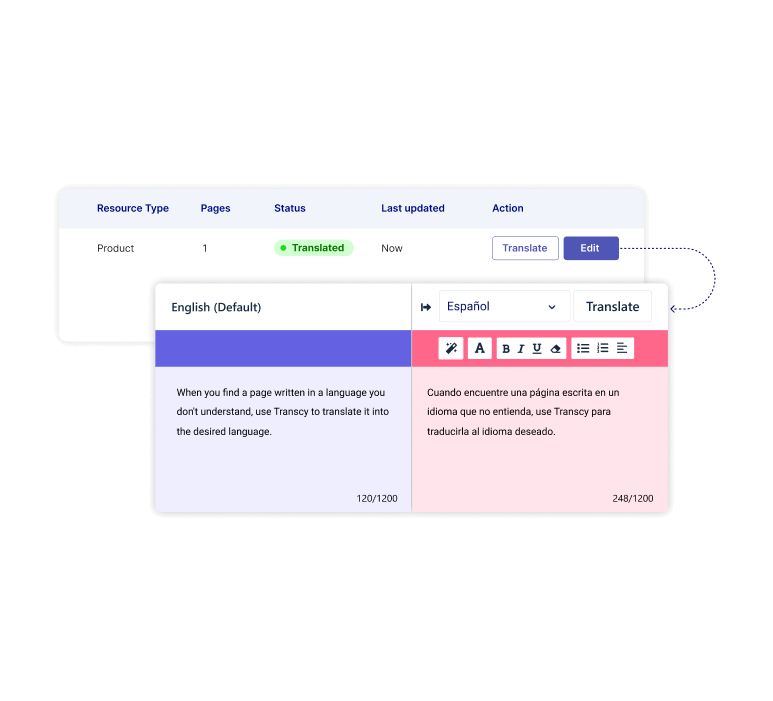 Display different images to each market's local preferences.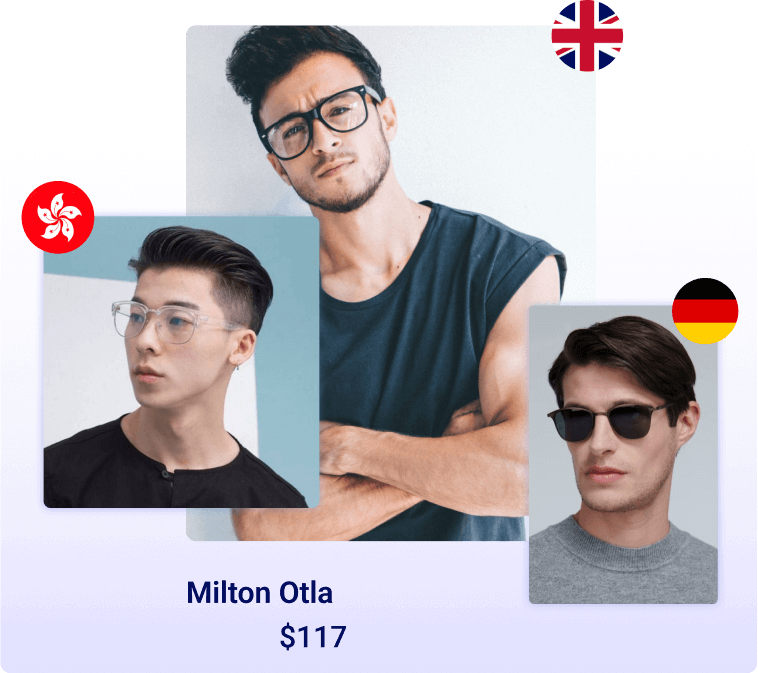 Everything on-site gets translated, including content by front-end apps (Free Shipping Bar, Ali Reviews, Loox, Sales Pop up ‑ Social Proof, etc.).
Sell in local currencies
Increase conversion rate with currencies that customers are familiar with
Let customers view product prices, shipping fees, taxes, and tips in their own currency, wherever they're located.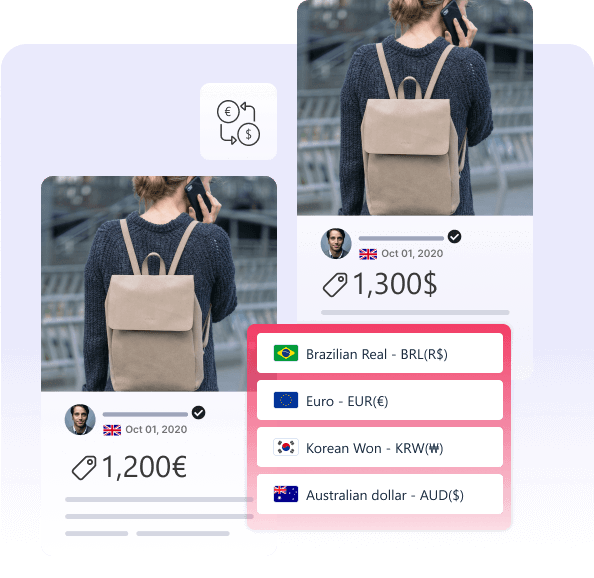 Exchange rates are updated daily & can be edited manually.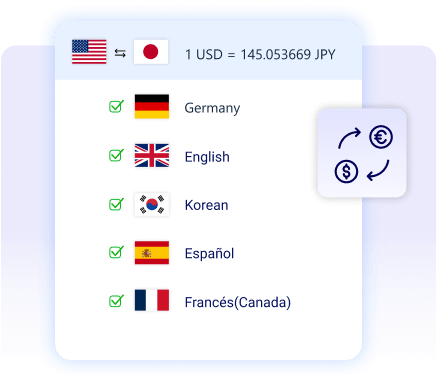 Choose how you want auto rounding works for each currency (round off, round up, round down, custom decimals).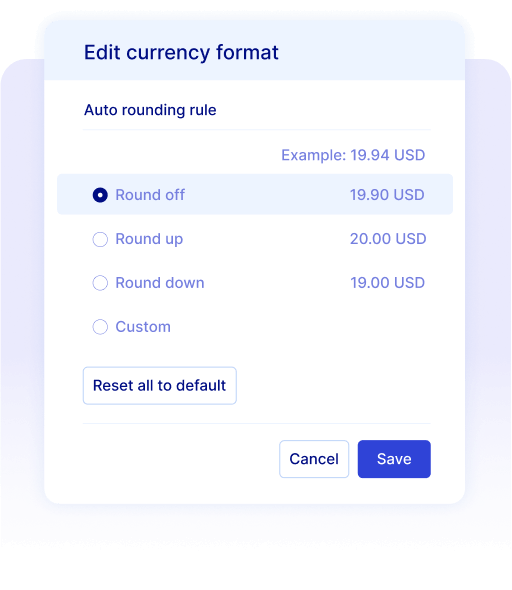 Automate the process
Simply set and forget; our automation tools will take care of the rest.
Transcy automatically detects visitors' locations to display their local languages and currencies. No extra actions are needed!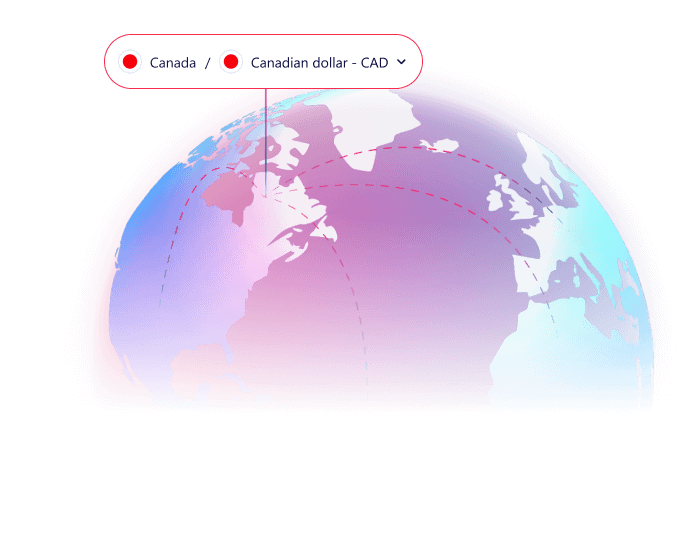 Transcy automatically translates new content whenever you make changes to your website.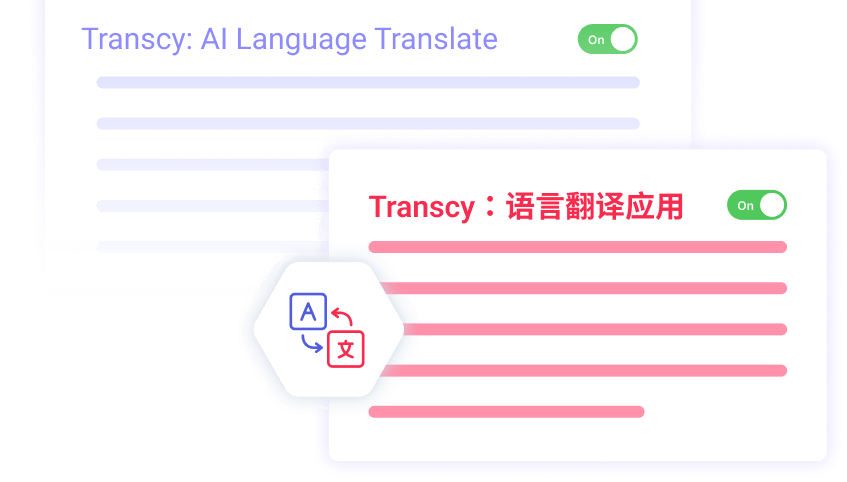 The cherry on top
Additional features that complete the experience.
Display a modern switcher for customers to pick the language and currency they need. Available in many templates with excellent editing capabilities for light & dark themes, desktop & mobile devices.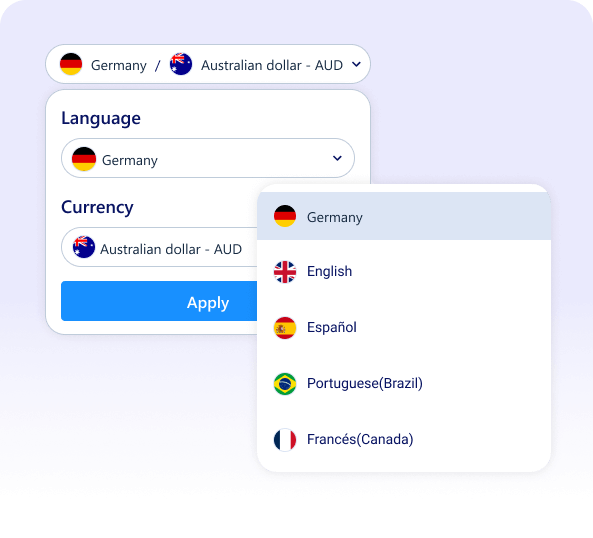 Make your website more appealing to search engines such as Google, Bing, and others. Translate meta tags (keywords, description, and microdata) for improved search engine visibility.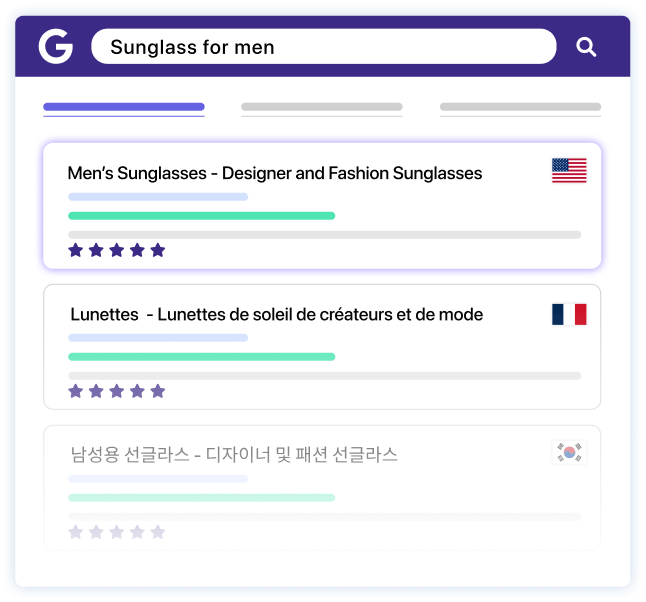 Google Translate API & Shopify native language API compatible.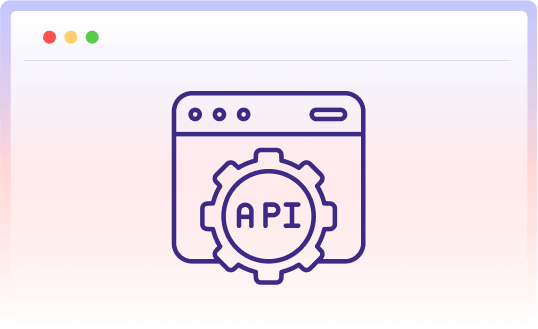 Transcy works with the latest themes and can be used directly in Shopify admin.
"There is a reason why this is the most used app for translation and currency conversion. The interface is well designed and user-friendly; the app syncs flawlessly with no hiccups, and they have great customer service. I was in the process of setting it up and I was messaged via chat to welcome me and walk me through the steps. I'm really impressed - they get my 5 stars."
Seduction Skin Care
Beauty, USA
"Amazing amazing support! I had many questions and problems with my old translation app. So I was searching for an app with more control over my translations, and without so many restrictions (word count, hidden costs, etc.). Pauline's support is fantastic! She helped me with all my problems and concerns and she is such a nice person! She went beyond the normal support and provided extra tips too! Thank you so much! I'm a happy customer!"
Studio Niani
Jewelry, USA
"We have customers from Japan and France, which is why we hope to translate at least some of the important functional pages into Japanese and French for them. Transcy helped us with it and surpassed our expectations - it translated everything flawlessly. The language switcher is highly customizable. The support team is helpful and replies super fast. Can't recommend it enough."
iVANKY
Tech Accessories, USA
"Set up was a breeze! Neville was extremely helpful throughout the entire process. We are located in Miami, Florida and most of our clients are Spanish speaking only. Neville literally held us by the hand and set us up perfectly. Everything looks great on our site. We couldn't be more thrilled! Highly recommended!"
House of Jade Collection
Fashion, USA
"For a long time, I was looking for a translation app for my website, but they all looked complicated and I didn't consider having one until today. This app was so easy and convenient, I should have found it earlier. And their supporter Daisy was so helpful. Thank you."
I Still Love You So
Fashion, Japan
"There is a reason why this is the most used app for translation and currency conversion. The interface is well designed and user-friendly; the app syncs flawlessly with no hiccups, and they have great customer service. I was in the process of setting it up and I was messaged via chat to welcome me and walk me through the steps. I'm really impressed - they get my 5 stars."
Seduction Skin Care
Beauty, USA
"Amazing amazing support! I had many questions and problems with my old translation app. So I was searching for an app with more control over my translations, and without so many restrictions (word count, hidden costs, etc.). Pauline's support is fantastic! She helped me with all my problems and concerns and she is such a nice person! She went beyond the normal support and provided extra tips too! Thank you so much! I'm a happy customer!"
Studio Niani
Jewelry, USA
"We have customers from Japan and France, which is why we hope to translate at least some of the important functional pages into Japanese and French for them. Transcy helped us with it and surpassed our expectations - it translated everything flawlessly. The language switcher is highly customizable. The support team is helpful and replies super fast. Can't recommend it enough."
iVANKY
Tech Accessories, USA
"Set up was a breeze! Neville was extremely helpful throughout the entire process. We are located in Miami, Florida and most of our clients are Spanish speaking only. Neville literally held us by the hand and set us up perfectly. Everything looks great on our site. We couldn't be more thrilled! Highly recommended!"
House of Jade Collection
Fashion, USA
"For a long time, I was looking for a translation app for my website, but they all looked complicated and I didn't consider having one until today. This app was so easy and convenient, I should have found it earlier. And their supporter Daisy was so helpful. Thank you."
I Still Love You So
Fashion, Japan










FREE
BASIC
GROWTH
PREMIUM

$0

$11.9

monthly

$29.9

monthly

$59.9

monthly

plan's PROVISIONs

Words and pageviews

Unlimited
Unlimited
Unlimited
Unlimited

Thanks to your choice and support, we have improved from previous versions. There is now no limit to the number of words or pageviews. The more translations, the more customers you can reach.

Advanced language

1
5
20

Allows you to access advanced features like editing your custom translations, automatically updating new contents, replacing images, and so on.

Basic language

1
1
111
111

Translate your store's entire content, content from third-party apps, and dynamic content within a few steps.

Currency

1
167
167
167

Convert your product prices, delivery costs, or any other type of price into the currencies you want

Translated product for advanced language

1,000
1,000
1,000

The maximum number of product you can translate for each advanced language.

Glossary rule

100
500

Make a rule list before translating. You can have the text translated in a certain way or keep it the same for brand consistency

Auto update translation

10 products
10 collections
100 products
100 collections
100 other resources

Your new store's content will be automatically detected and translated.

Replace image

10 products
10 collections
100 products
100 collections
100 other resources

Imagine how happy your customers will be when they click to the Switcher and see that the posters was designed in their local language.

LANGUAGE

AI neural machine translation

Translate your store content, content from third-party apps, and dynamic content with the best AI neural machine translation from Google in one click.

Edit translation

All resources
All resources
All resources

Allows you to create and save custom translations for all resources, including complex variants and third-party apps.

Manual sync resources

Update your resources at a specific time. It's easy to turn off the syncing action if you don't want to update the translations.

Daily auto sync resources

Transcy will update the translation status of the resources when new content is added to your store, allowing you to notice and translate it as quickly as possible.

Find and replace translated content

Allows you to have quick revisions and create translations right.

Multilingual SEO

Translate meta tags, description tags. Provide unique URLs for each language to ensure your store is easy to find on every search engine.

Replace image

Product pages
Collection pages
All resources

Imagine how happy your customers will be when they click to the Switcher and see that the posters was designed in their local language.

CURRENCY

Shopify Payment integration

Boost conversion rate by applying targeted currency on the cart page when that currency is supported by Shopify Payment system.

Display original price when hover

When a customer hovers their mouse over an item, show them the original price in your default currency.

Auto rounding

Automatically round the price in the selected currencies. You can also add .99 or .95 to the end to make the price sound more attractive to customers.

Cart page notification

Display a notification for customer about the price on the cart page. Often used when selected currency is not supported by Shopify Payment.

AUTOMATION

Auto switch currency

The currency will automatically change based on your customer's location.

Auto switch language

Improve your bounce rate with the redirection feature, allowing you to automatically display your store in your audience language based on their location or browser language settings.

Language and currency assignment

Decide which language and currency customers will be able to see. In Belgium, for example, Dutch is more common, but your customers can still browse and buy in French or any other languages.

Auto update translation

Product pages
Collection pages
All resources

Auto translate newly added contents. Make your target languages always be synced with default language.

ON-SITE SWITCHER

General settings

Choose a popup or a dropdown to show when a customer clicks on the Transcy Switcher. We hope to provide you with better and more options in the future.

Save template

You can also create and save up to 03 new custom templates for desktop and mobile.

Customization

Quickly customize the shape and color of the Switcher's label, text, background, and even its hover status to match your store's branding.

Templates

There are many templates designed to work with most sites. Hence you can easily connect the Switcher to the overall design of your store.

SUPPORT & SERVICES

24/7 live chat and email support

Run into any issues? Get instant help anytime you need with our 24/7 live chat and email support.

Onboarding specialist

A customer success specialist will help you onboard from the very first moment and quickly be familiar with functions and how to use our app efficiently.

Customer success manager

The single dedicated contact you can reach to in case you have any questions or concerns, and helps you to utilize the using of product in order to fulfill your goals. This is also the person who ensures your feedback is heard and acted upon.

Start Now
Start Now
Start Now
Start Now