Live chat with store visitors to provide real-time support and increase sales

Chat, live chat and reply to Facebook, Instagram comments all in one place

Automate conversations for timely support and better conversion rate
Streamline Messenger marketing
Engage with customers and sell products in a simplified way, using Facebook Messenger.
Chat and manage all conversations, whether it's from Facebook Messenger, Instagram Direct or on-site. Easily reply to comments on Facebook and Instagram.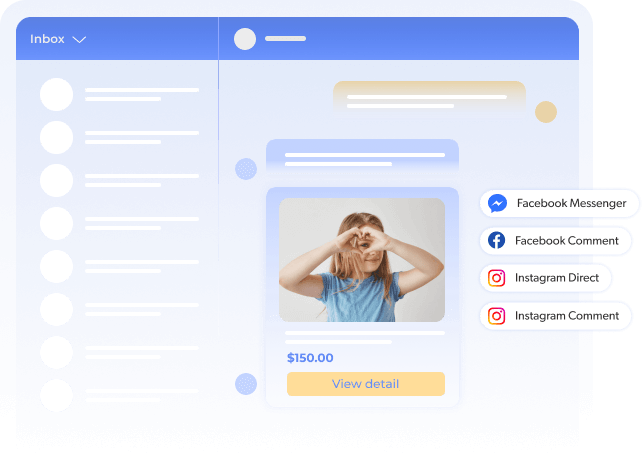 Socialreply makes it easier for you to send product information (with images and links) during a conversation. Simply sync all your Shopify products with Messenger, then you can insert product info at the push of a button.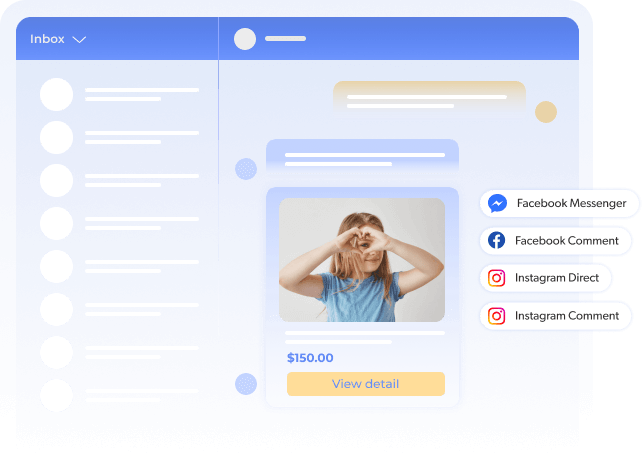 Instantly place an order for your customers and send them the payment information, all while chatting without going back and forth between your store and Messenger.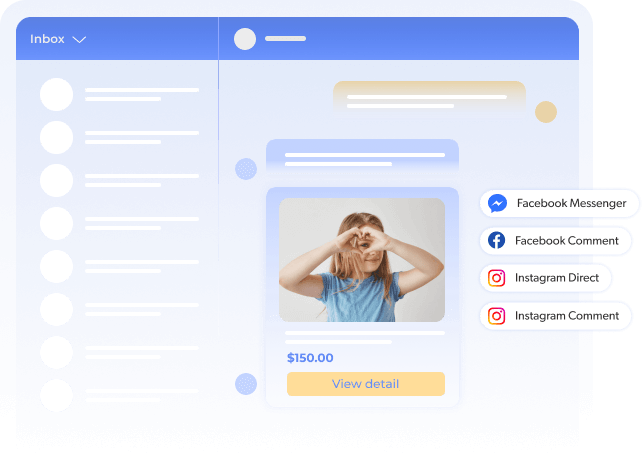 Add customers from Messenger to your Shopify customer list to expand the customer base. Edit and match Facebook customers' information with your store customers for further management and support.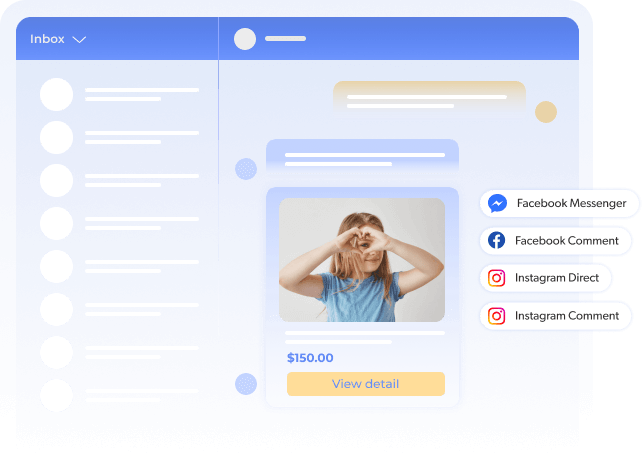 Dive deeper with Live chat, Chatbots and Growth tools
Explore the full potential of Messenger to offer better customer service and grow your business.
Have a Messenger live chat widget on your storefront to resolve visitors' concerns in real time and engage with them in crucial moments. Fully customizable.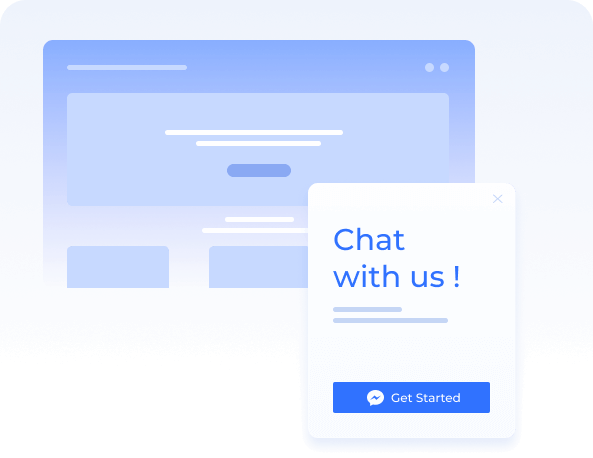 Send the right messages at the right moments to assist, engage and convert. Create multiple chat flows that are triggered by the visitor's certain actions.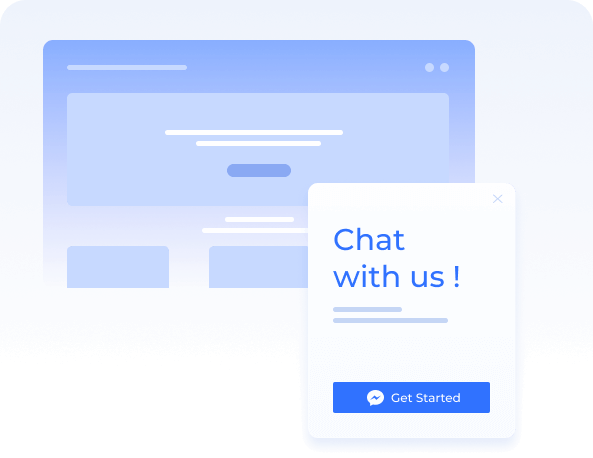 Grow your subscriber base and spark more engagement with subscription widgets.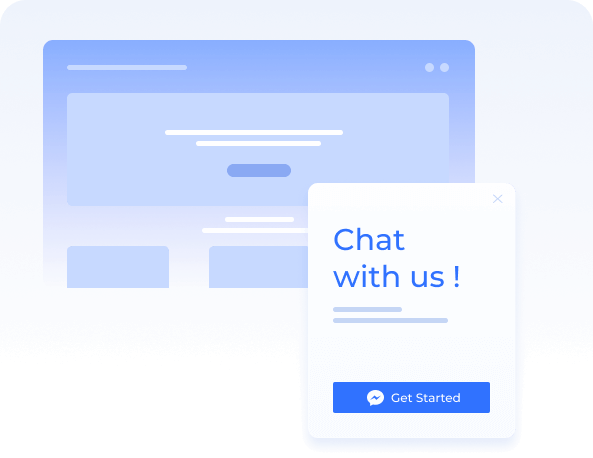 The cherry on top
Complete the experience with these features

Multiple accounts & pages
Integrate with multiple Facebook accounts and pages for seamless customer service
Auto-hide & Auto-reply
Automatically hide and reply to all comments or ones containing certain keywords

Saved Replies
Reply to Facebook, Instagram messages and comments faster using saved message templates
"This is it, the chatbot I was looking for. Super happy with this app and this is the second time I used their app. And once again Rachel helps me and guides me with patience. Awesome app and excellent customer support!"
Boss Lash
Beauty Product, New Zealand
"Using this app to get in touch with my customers. Great app which does what I need. The customer service from Rachel is on point and I couldn't ask for a better experience! Thanks."
Pynt
Shopping & Retail, USA
"Used this app to auto-post my products on FB. It's powerful and has a lot of features that can make the auto-pilot so easy and seamless. The customer service was so great, they solved my problem on the fly."
TOI & MOI
Beauty Product, French
"Better than using Facebook Business to connect to your customers. Much faster as the new FB interface is too slow to load and has too many tracking codes. This platform is very fast to load and gives me a barrier against FB privacy violations."
EPSILON
Retail, USA
"I am using this app currently and it's amazing. Now I can do my work a lot better than previously. The support team guided me to set up the app and they are very helpful. They are very active as I can get them 24/7."
Shoppers
Retail, Bangladesh
"This is it, the chatbot I was looking for. Super happy with this app and this is the second time I used their app. And once again Rachel helps me and guides me with patience. Awesome app and excellent customer support!"
Boss Lash
Beauty Product, New Zealand
"Using this app to get in touch with my customers. Great app which does what I need. The customer service from Rachel is on point and I couldn't ask for a better experience! Thanks."
Pynt
Shopping & Retail, USA
"Used this app to auto-post my products on FB. It's powerful and has a lot of features that can make the auto-pilot so easy and seamless. The customer service was so great, they solved my problem on the fly."
TOI & MOI
Beauty Product, French
"Better than using Facebook Business to connect to your customers. Much faster as the new FB interface is too slow to load and has too many tracking codes. This platform is very fast to load and gives me a barrier against FB privacy violations."
EPSILON
Retail, USA
"I am using this app currently and it's amazing. Now I can do my work a lot better than previously. The support team guided me to set up the app and they are very helpful. They are very active as I can get them 24/7."
Shoppers
Retail, Bangladesh