Really think that quality product images standing alone can help you gain an edge over your competitors? Then think again! We've literally just been through the first quarter of 2022 and cutting-edge technology has been upgraded to a whole new level that far exceeds our expectations.
Ever heard of the saying that goes 'one picture is worth a thousand words? Here's an updated version: 'One AR experience is worth a thousand pictures.'
That's right, online shoppers can't see or touch the products that you showcase in your online store so you have to polish your product image to earn their confidence. But with professional photographers and high-resolution cameras, what makes your online site stand out from the crowd?
To catch up with current eCommerce trends, let's discover Augmented Reality in eCommerce & how to incorporate AR for your brand.
Augmented Reality in eCommerce at a glance 
Though AR has been around since 1968 when computer scientist Ivan Sutherland created an AR head-mounted display system, not until recent years has AR been gradually brought to the eCommerce web design.
And the use of Augmented Reality (AR) in e-site has proven to give online shoppers an unrivaled shopping experience, letting them interact directly with products while laying comfortably in their comfort zone. Thereby, AR bridges the gap felt by consumers between physical and digital stores.
Numbers don't lie, below are some latest statistics on AR's importance in eCommerce:
Augmented reality spending is estimated to reach $60 billion 

in 2020

63%

of customers say that augmented reality

improve their shopping experience
40%

of customers will

pay higher

if they can preview their item by AR tech

78%

of people who have experienced AR claimed that

they prefer these virtual experiences over video content
73%

of mobile AR users reported either

high or very high satisfaction

when they were allowed to try AR experiences
Augmented Reality vs Virtual Reality –  Are they different?
? Quick answer: Yes!
The differences between AR and VR lie in the devices they require and the experience each type has to offer:
AR makes a change to a real-world setting (think Instagram AR filers & Pokemon Go) while VR is completely virtual (think VR headsets used at movie theaters)

AR users can control their presence in the real world; VR users are controlled by the system

AR users can have more control over their presence in the real world and VR users are controlled by the system

VR requires a headset device, but AR can be accessed with a smartphone

AR enhances both the virtual and real-world while VR only enhances a fictional reality
Image source: RubyGarage
Benefits of leveraging Augmented Reality in eCommerce 
Now let's dive deeper into the huge benefits of augmented reality in eCommerce you shouldn't miss out on.
Increase Online Shoppers' Confidence
A large-scale survey as to why customers are returning goods from UPS on 18,000 global online shoppers indicates that the main reason was faulty/ damaged items at 30%. However, this was closely followed by 27% of customers who blamed what they received was 'not as described.
"66% online shoppers say that augmented reality increases their confidence & makes them feel like they're buying the right product."
Since augmented reality offers an immersive experience with 3D visualizations, virtual try-on, and product demos, the tech empowers customers to try before they make a purchase. As a result, AR technology helps reduce return rates as customers can make an informed purchase.
Keep customers more engaged
The longer a visitor stays on your e-site and takes action (scrolling, clicking, hovering, etc.), the greater chance it is for them to purchase. And AR is a powerful weapon you could leverage to achieve that.
If they make a purchase and become a brand advocate, perfect! But even if they don't, the improved engagement means they somehow formed a relationship with your product as well as your brand. This is sure to make them more likely to remember you when they have demand for a similar product. 
At the moment, video is considered crucial in eCommerce. Instructional videos that help customers better understand products increase the time spent on a site and improve conversion rates. 
According to a 2020 research by Vertebrae—which specializes in AR and 3D eCommerce, conversion rates increase by 90% for customers engaging with AR versus those that don't.
Best Practices of Augmented Reality in eCommerce
At this point, we are both well aware of how important it is to incorporate augmented reality into your eCommerce strategy. But how?
Here are the best practices for you to learn from. 
As mentioned above, without an informed purchase, high chances are that customers will return what they bought from you, inflicting further costs to receive the products back. 
However, it is not online shoppers that should be blamed here. At the end of the day, it's because they weren't able to physically check if the product fits their need with their own eyes.
For example, a customer may buy furniture online and later realize it doesn't fit with their existing interior decor. Customers can avoid this if they can preview the item placement before buying it. 
If you are selling furniture or anything that needs to be looked at from different angles, you're sure to draw a lesson from IKEA – a company that incorporates augmented reality splendidly into its eCommerce strategy.
To be more specific, the Japanese furniture enterprise has deployed an AR virtual try-on app called IKEA Place, which allows customers to preview how a chair or a sofa looks in their living room or bedroom without requiring the customers to travel to IKEA showrooms.
Most brands know that people come to social media platforms primarily for entertainment purposes. And because filters are all about fun, many marketers have started to utilize AR filters on social media for three main reasons:
Increasing brand awareness

:

social media filters let sellers bring their products in front of customers and have them test as if they're at a showroom. If the product filter looks stunning, they're likely to post and share it with their social media networks, making them your free 'brand ambassadors
Increasing brand engagement:

customers' behaviors are now more sophisticated than ever before. But one thing for sure is that they still love the beautiful features. So instead of hard-selling your products, consider building a more personalized relationship with them by simply creating stunning social media filters and encouraging them to feature you in their Snapchat or Instagram stories

To stand out:

With so many brands engaging in social media marketing these days, you need to take advantage of modern technologies. Incorporating AR is one such advantage. It's an excellent way to get people to notice what you have to offer.
Gone are the days when make-up aholic had to go to brick-and-mortar stores to use in-store make-up testers. 
If you are in the cosmetics industry, Instagram AR filters are a potent weapon you shouldn't and couldn't miss out on. It's high time you let customers test your products on their beds or on their comfortable sofas.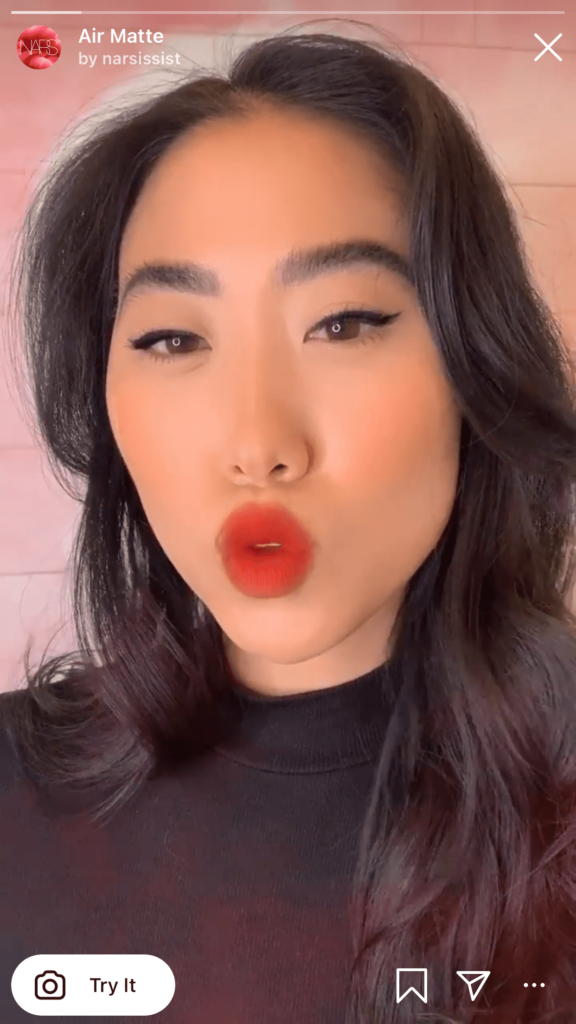 Take NARS, for instance, by creating a face filter named Air Matte, NARS lets people see how the lipstick actually looks on their lips. 
When you take a selfie or record a video using this filter, you have 3 options equivalent to 3 colors of the Air Matte line from the brand. 
However, social media like Instagram and Snapchat are all about sharing fun. That's why apart from product filters, you should create unique and trending effects to encourage your followers to use them. 
Here comes a dreamy Instagram AR filter from Kylie Cosmetics.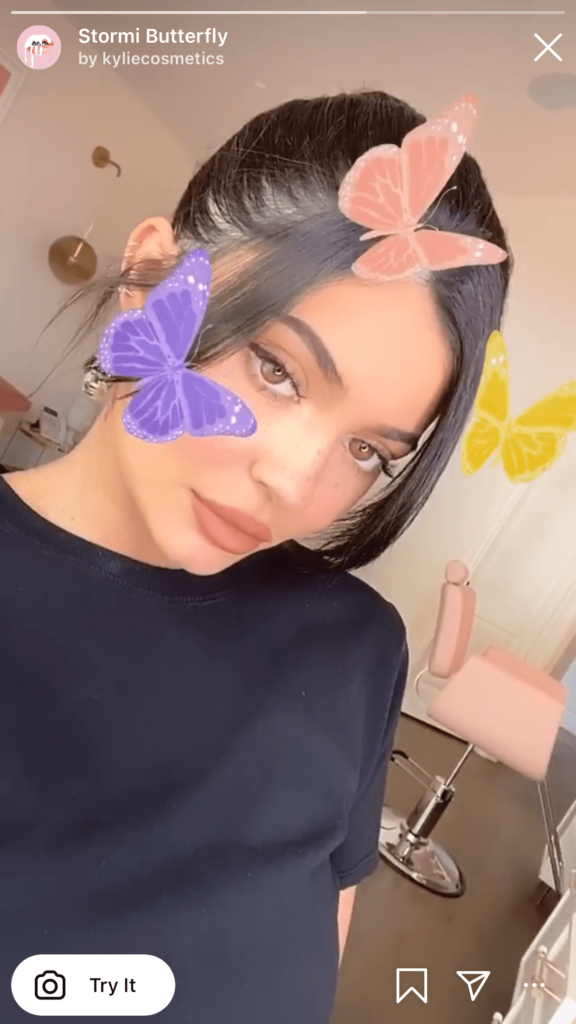 Kylie Cosmetics has many gorgeous face filters like thís besides its make-up tester face filters like NARS.
Thanks to its nice effects and delicate butterflies, Stormi Butterfly is highly shareable and thus can easily go viral. Therefore, it's a perfect way to expand brand reach.
Interactive User Instruction Manual
A massive majority of customers don't want to bury their heads into lengthy and wordy instructional text.
AR user manual apps, on the opposite, scan the product's image and provide instructions on what to do using pointers, animations, and text, making an instruction manual much more vivid and engaging.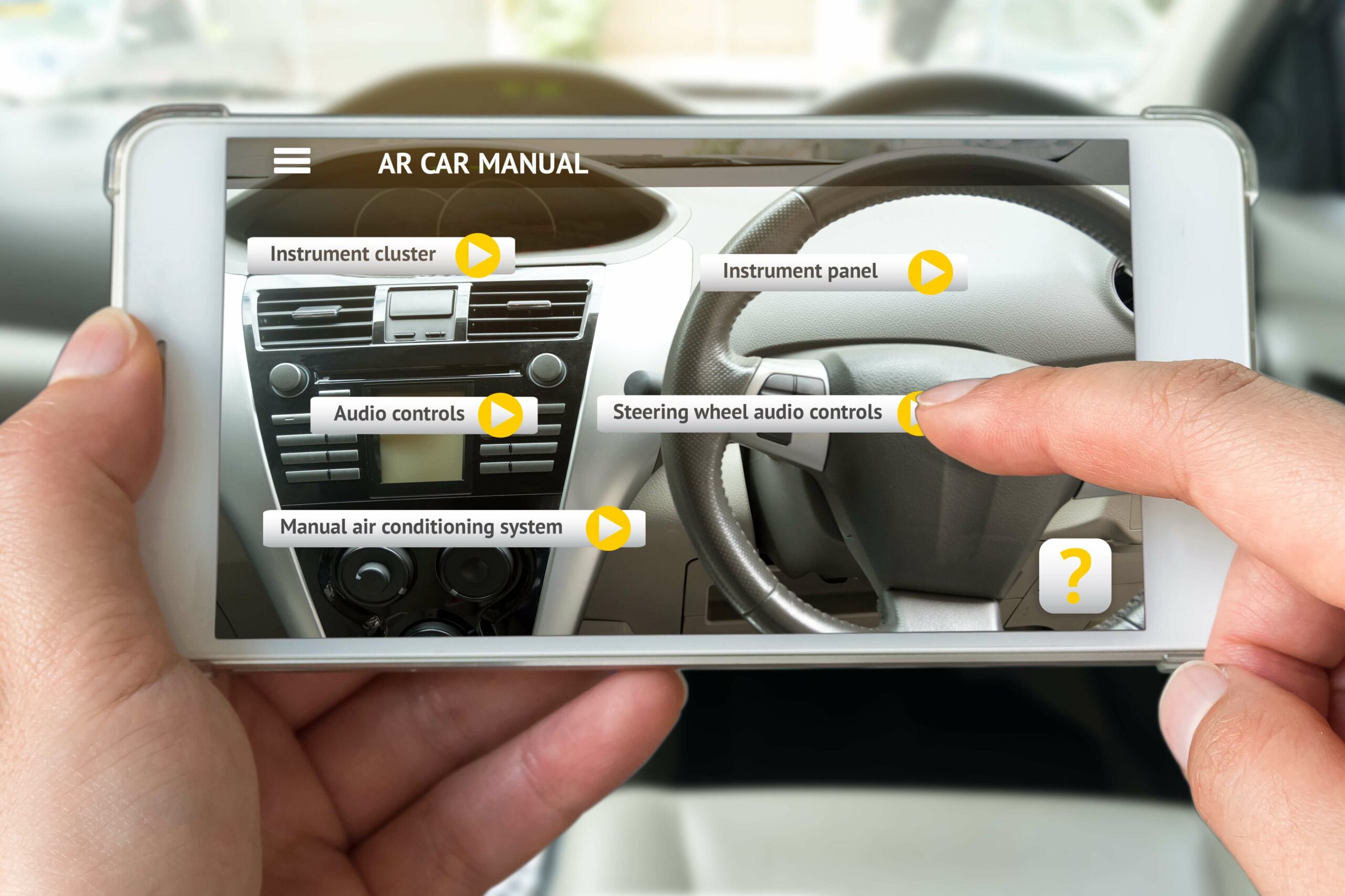 You can use AR apps to indicate components of a product and the functions for users. This makes the process of getting to know the product more interactive and far more interesting.
If you offer maintenance or other forms of services online, AR will help immensely. By using AR prompts, pointers, and animations, you can quickly advise your customers on what to do.
Augmented Reality in eCommerce – Online Shopping's Future!
Amid the pandemic we're encountering now, the eCommerce game has only become more and more competitive. To get cope with your competitors, you need to leverage AR tech and its limitless capabilities today!